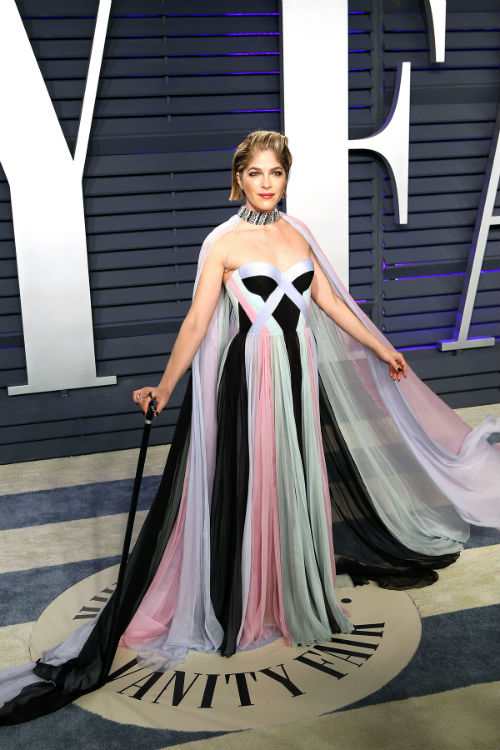 Photo: Selma Blair at the Vanity Fair Oscars Party. Joe Seer/Bigstock
Selma Blair caused a sensation when she posed proudly with a cane, in a Ralph & Russo gown and cape, at the Vanity Fair Oscars Party. That is not a patient seeking pity; rather a human proudly proclaiming that her Multiple Sclerosis diagnosis is not her ENTIRE identity. And she definitely made a statement – not just for herself but for ALL disabled people. Disability won and reigned on the red carpet at one of the most coveted Oscar parties. The courage that Blair had to muster up to be SEEN and the purpose for which she had done so – paid off. And it is safe to say that Blair did not do any of that for pity as she tells Vanity Fair, "there's no tragedy for me. I'm happy, and if I can help anyone be more comfortable in their skin, it's more than I've ever done before."
Any body language expert can tell you that Blair's stance, poise, and demeanor at the event was not that of a defeated person. Instead, she arrived all guns blazing, standing proud as a reigning queen, with her cane only adding to that entirely powerful look, and all of it helped her mission to make sure that people with disabilities stop being invisible. And she did JUST that as she says in her interview with Vanity Fair, "I'm pretty much a nobody in Hollywood. But when I read comments on Instagram from people who were suffering, whether it was from M.S., or anything, I thought, Holy shit, there's a need for honesty about being disabled from someone recognizable." And she hopes to "do this for many people" with her cane being more than just for personal medical support, it was Blair's way of telling the multitude of cane users that they do not need to feel ashamed as canes "can be a great fashion accessory" and she wants people with disabilities to "want to still be part of the living, not a shuffling person people get out of the way for because they're queasy."
The moment we will all be talking about tomorrow is the courageous #SelmaBlair, making her first appearance since announcing her MS diagnosis, at the VF Oscar party. She needs a cane to help walk, but she came to prove that no matter how tough this disease, she is a fighter. ? pic.twitter.com/bCTo0hA59d

— Jessica Radloff (@JRadloff) February 25, 2019
Blair followed her show-stopping moment at the Oscars party with her interview for GMA in which she spoke to anchor Robin Roberts about her initially being "scared of talking," she hopes her appearance has brought awareness to Multiple Sclerosis and its sufferers. For anyone wondering if Blair's mission has succeeded, take a look at the below:
my mum is all for me having a cane as a mobility aid after the oscars – this is why disabled representation both in real life people and characters in media is so important !!! normalise mobility aids !!! normalise disability !!!

Thank you @SelmaBlair

— sleepy niamh (@sunlitniamh) February 26, 2019
For more information on Multiple Sclerosis, please visit National MS Society.
The top points to remember: MS is an autoimmune disease that disrupts communication between the central nervous system and the body; it presents itself differently in every person and is unpredictable. As of now, there is no known cure, but hopefully, Selma's actions towards bringing more awareness will result in increased research funding for the disease.
CALL TO ACTION: Since Selma Blair has increased visibility for disabled and differently able people, we would like to help this cause further. We would like to hear from those people who have felt the positive effects of Selma speaking up for disabled people, those people that feel more needs to be done for positive integrations of all abilities in society, etc. Please share your stories/messages with us via social media or e-mail. For social media, please use appropriate usernames along with customized hashtags such as #hollywoodinsider #hollywoodinsidersapplaudsSelmablair: On Instagram, you can tag us on @hollywoodinsider along with your story or DM us. On Twitter, you can tweet us @hollywdinsdr. On Facebook, you can tag us on www.facebook.com/hollywoodinsidernetwork. Or email us: press@hollywoodinsider.com
More Inspiring Stories From Hollywood Insider
– VIDEO: Episode 7 – What do civilians/public in USA think about universal healthcare? To find out watch Hollywood Insider's episodic series Messages From America
– Why Rami Malek cannot be blamed for the director Bryan Singer's faults
– Bollywood's first mainstream lesbian romance wins hearts all over the world 
– Netflix's Elite is a show where being gay is a non-issue and gay couples are celebrated
– 15 things you might not have known about HRH Prince Charles: the longest crown prince-in-waiting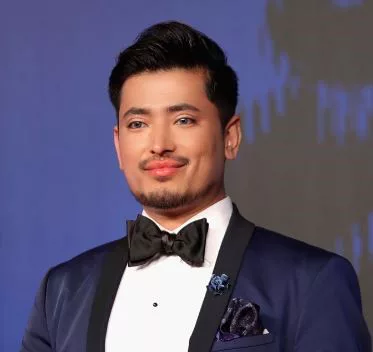 Pritan Ambroase is the CEO and editor-in-chief of Hollywood Insider. He authored the new mission statement which reads: "Hollywood Insider focuses on substance and meaningful entertainment, so as to utilize media as a tool to unite and better our world, by combining entertainment, education and philanthropy, while being against gossip and scandal." It is with that particular intention and under his leadership that Hollywood Insider has transformed into a trusted media platform across multiple channels. Ambroase is also a producer, film director, motivational speaker and a talk show host with a new one in development.
Alongside his career in entertainment and media, Ambroase continues to be a passionate humanitarian and a constant human rights activist/advocate. He started the Humans Of Our World Foundation at the age of 19, and named it that specific name as he wanted humans all over the world to unite regardless of mental/political/physical borders. For the past 14 years, he has actively stood up against injustices and atrocities across the world. He believes in the power of empathy and uses that tool to be there for others across all borders. Some of the many causes he has stood up for – easy accessibility to education,  anti-sexual harassment, disaster relief, healthcare, justice for black, brown and minority ethnic communities, marriage equality, refugee assistance, rebuilding villages, education reform, women's rights, rebrand Africa, police reform, prison reform, anti-segregation in governmental infrastructure, classification of animals as sentient beings, pro-LGBTQ families, anti-trafficking, anti-drug abuse, equity, differently-abled assistance, etc. The foundation's celebrity supporters are Dame Judi Dench, Joanna Lumley OBE, Bear Grylls, Amanda Holden, Andy Serkis and many others.
For more on his biography, please click here. It is his passion for cinema, entertainment and media that drives him to utilize his platform and media to unite all and make our world a better place, all the while entertaining, transforming and educating. It is his long and varied experience in entertainment, education and philanthropy which led him to combine those three elements and include them in Hollywood Insider's mission statement.
To read more about his intention, vision and goals for the media network, please visit the Our Values page by clicking on the link.