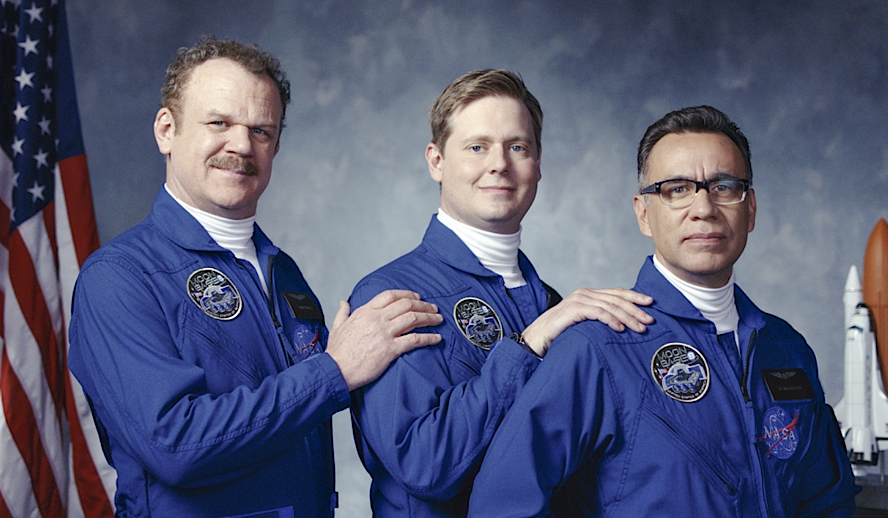 Photo: 'Moonbase 8'/Showtime
As conversations about humans inhabiting planets and moons have grown and become more serious, three incredibly talented artists capitalized on the topical subject matter and brought their comedic and storytelling talents with it, making for a wonderfully interesting and entertaining pilot.  In this creative Three Stooges-esque pilot, Fred Armisen, John C. Rielly, and Tim Heidecker play hilariously flawed astronauts preparing to pioneer a new step for human evolution; inhabiting the moon. There's also a meta, self-aware character within the group that subverts from the stereotypical clique that the other three characters play, Superbowl Champion Travis Kelce, who plays the jock.
What's tremendous about Kelce's character too is that his jock personality is the most prominent trait about him, contrary to his true self. By establishing a solid sense of place and setting, it's clear who these characters are and what's going on around them. The audience is dropped into a day in the life, and within just a few minutes, it's like hanging out with your new funny best friends in a place you've always dreamed about. Every plot point is engaging, and the creators did an excellent job of telling a compelling and unique story, keeping laughs at the top of the priority list. Overall, the show's strong writing, and the actors' skilled performances blend smoothly together to create a humorous clash of characters in a literal life or death situation. 
Related article: Seth Rogen: 32 Facts on the Comedy Superstar Who Continues to Be Unstoppably Hilarious
Related article: Top 10 Comedy Central Shows – Ranked!
'Moonbase 8' – A Space Comedy About Overcoming Adversity 
The pilot episode begins by showing every character in their respective roles, doing their character's occupations. Rielly plays the leader, named Cap, who has his heart on his sleeve and can be a pushover but serves as an important role within the entire squad. Armisen plays the overly analytical intellectual, Skip, and is most serious in a reflective way of Armisen's famous deadpan comedy style. Heidecker playing the dry-humored straight man within the trio, Rook, who has a sweet naivety to him overall. One of the funniest and most direct gags is introduced within the first few minutes, and that's Super Bowl champion Travis Kelce playing as himself, Super Bowl champion Travis Kelce. 
The crew is then tasked with planting Appleseed in an unusual way, paralleling some of the real-life duties of astronauts simulating the inhabiting of a planet or moon. Travis Kelce hilariously bullies John C. Rielly, the leader, and most knowledgeable person in the trio. It's difficult not to snicker at every scene with Kelce, just because of how meta, yet different Kelce portrays himself. He even stretches the common archetype of the stereotypical bully/jock, but for an oddly believable humorous reason, on an Apollo mission. Even in NASA in a moon simulation, the nerds can't escape the jocks. 
Related article: MUST WATCH – Hollywood Insider's CEO Pritan Ambroase's Love Letter to Black Lives Matter – VIDEO
Subscribe to Hollywood Insider's YouTube Channel, by clicking here. 
After getting into a conundrum with a water shortage, the trio offers silly and peculiar substitutions for water, and resort to comically desperate measures. The stakes are high for Rielly's character, who wants to repair his family and regain his business, everything is on the line, which pushes his drive and anxieties. Armisen and Heidecker deal with samples regarding appleseed and planting mostly, with their personal lives staying mostly in the shadows during the pilot episode. Then after a pivotal accident occurs, ultimately elevating the stakes even further, the trio has to decide if they're going to call it quits, or persevere through all the adversity.
These guys are clueless in the best ways, even debating what the acronym NASA stands for, and drinking cleaning solution as a last-minute measure. Their lives are literally on the line in this, which accentuates the comedy even more. The pilot successfully provides the character insight necessary to move the story forward, showing what these characters do in life or death situations strips them to the core of who they actually are, making for a steady slope of character growth throughout the first season. At the end of the day, the guys do the right thing, a clever coming of age arc. It's well-crafted writing and character development that makes the show compelling, with comedy that makes for an incredibly enjoyable viewing experience. 
Related article: The Power of Positivity: Ikorodu Bois + Chris Hemsworth + Russo Brothers + Sam Hargrave
Limited Time Offer – FREE Subscription to Hollywood Insider – Click here to read more on Hollywood Insider's vision, values and mission statement here – Media has the responsibility to better our world – Hollywood Insider fully focuses on substance and meaningful entertainment, against gossip and scandal, by combining entertainment, education, and philanthropy. 
The Trio We Didn't Know We Needed 
A magnificent attribute of this show is that the lead actors are also the creators and writers of the show, so they're able to be flexible with their decades-long, and globally acclaimed strengths. Also, in the mind frame of the characters while they attempt to solve an extremely dier conundrum, the comedy is raw, showing the worst but funniest characteristics of people in semi-similar situations. There's a lot that's at stake, rather than their lives, when in isolation and preparing for such a daring mission. Their egos are deteriorating, masculinity hanging on by a thread, and their pride burning by embers. They're hilariously dealing with the constant challenges that come their way with the anxiety of their livelihoods being at stake.
What's best about it too, is that the actors aren't diverting from their best abilities, but accentuating them. Armisen pushes his overly specific, ironic build upon characters that are unique to Armisen's humor, similar to his pseudo mocking of people in Portlandia. Heidenbecker puts his dry, clever, odd humor at full frontal in this too, embodying an everyday Joe with some quirks. And Rielly plays the talented but aloof guy who's heart is much bigger than his brain most of the time. Alas though, when all solutions have been attempted, champagne saves the day, and just when the audience is wishing they knew more about the characters, they cleverly show us more of them. 
Related article: Hollywood Insider's CEO Pritan Ambroase: "The Importance of Venice Film Festival as the Protector of Cinema"
Related article: Live Updates: List of Successes From Black Lives Matter Protests!
Heidecker was known for his work on Tim and Eric Awesome Show, Great Job! and Jordan Peele's Us. He collaborated with Rielly on Tim and Eric Awesome Show, Great Job! who played a character named Dr. Steve Brule, which they later made a spin-off show around the character titled Check it Out with Dr. Steve Brule.  John C. Rielly has the most critical acclaim but has always leaned heavier into comedic roles rather than serious. He brings in the most star power in the trio, garnering an Oscar nomination from his work on Chicago. Then the one with the most comedic chops is Fred Armisen, who is recognized primarily for his work on Saturday Night Live, Documentary Now!, and a myriad of minor but memorable roles in dozens of movies. It's an interesting combination that probably wasn't predicted by anyone but certainly makes for a trio the world didn't know it needed. 
This show is a must-watch for any fans of space, comedy, or simply quality television. 
Click here to read Hollywood Insider's CEO Pritan Ambroase's love letter to Black Lives Matter, in which he tackles more than just police reform, press freedom and more – click here.
An excerpt from the love letter: Hollywood Insider's CEO/editor-in-chief Pritan Ambroase affirms, "Hollywood Insider fully supports the much-needed Black Lives Matter movement. We are actively, physically and digitally a part of this global movement. We will continue reporting on this major issue of police brutality and legal murders of Black people to hold the system accountable. We will continue reporting on this major issue with kindness and respect to all Black people, as each and every one of them are seen and heard. Just a reminder, that the Black Lives Matter movement is about more than just police brutality and extends into banking, housing, education, medical, infrastructure, etc. We have the space and time for all your stories. We believe in peaceful/non-violent protests and I would like to request the rest of media to focus on 95% of the protests that are peaceful and working effectively with positive changes happening daily. Media has a responsibility to better the world and Hollywood Insider will continue to do so."
Vote with a conscience – Register to Vote – Your vote saves lives and ends systemic racism
Ways to support Black Lives Matter Movement to end systemic racism
– Do you know the hidden messages in 'Call Me By Your Name'? Find out behind the scenes facts in the full commentary and In-depth analysis of the cinematic masterpiece
– A Tribute To The Academy Awards: All Best Actor/Actress Speeches From The Beginning Of Oscars 1929-2019 | From Rami Malek, Leonardo DiCaprio To Denzel Washington, Halle Berry & Beyond | From Olivia Colman, Meryl Streep To Bette Davis & Beyond
– In the 32nd Year Of His Career, Keanu Reeves' Face Continues To Reign After Launching Movies Earning Over $4.3 Billion In Total – "John Wick", "Toy Story 4", "Matrix", And Many More
Moonbase 8, Moonbase 8, Moonbase 8, Moonbase 8, Moonbase 8, Moonbase 8, Moonbase 8, Moonbase 8, Moonbase 8, Moonbase 8, Moonbase 8, Moonbase 8, Moonbase 8, Moonbase 8, Moonbase 8, Moonbase 8, Moonbase 8, Moonbase 8, Moonbase 8, Moonbase 8, Moonbase 8, Moonbase 8, Moonbase 8, Moonbase 8, Moonbase 8, Moonbase 8, Moonbase 8, Moonbase 8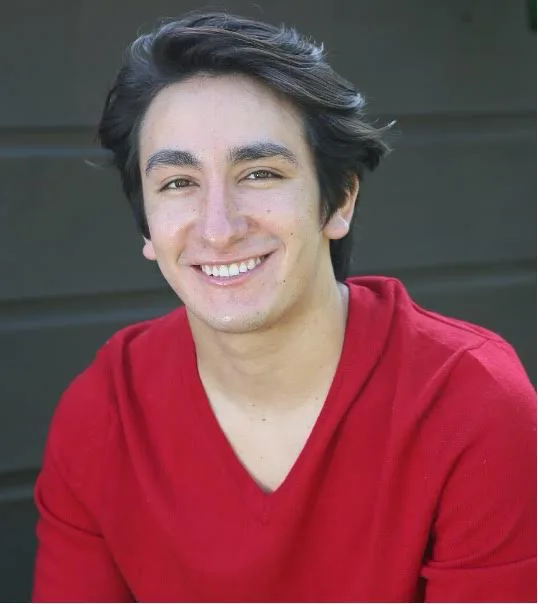 Armando Brigham is a writer, comedian, and actor who blends his adoration of film & TV with his passion for writing. Armando has a keen interest in the powerful impact art and entertainment can make. He sets out to write features and reviews full of honesty, encouragement, and vigor, which is why he's writing for the Hollywood Insider, a place that champions facts, quality writing, and building art up.