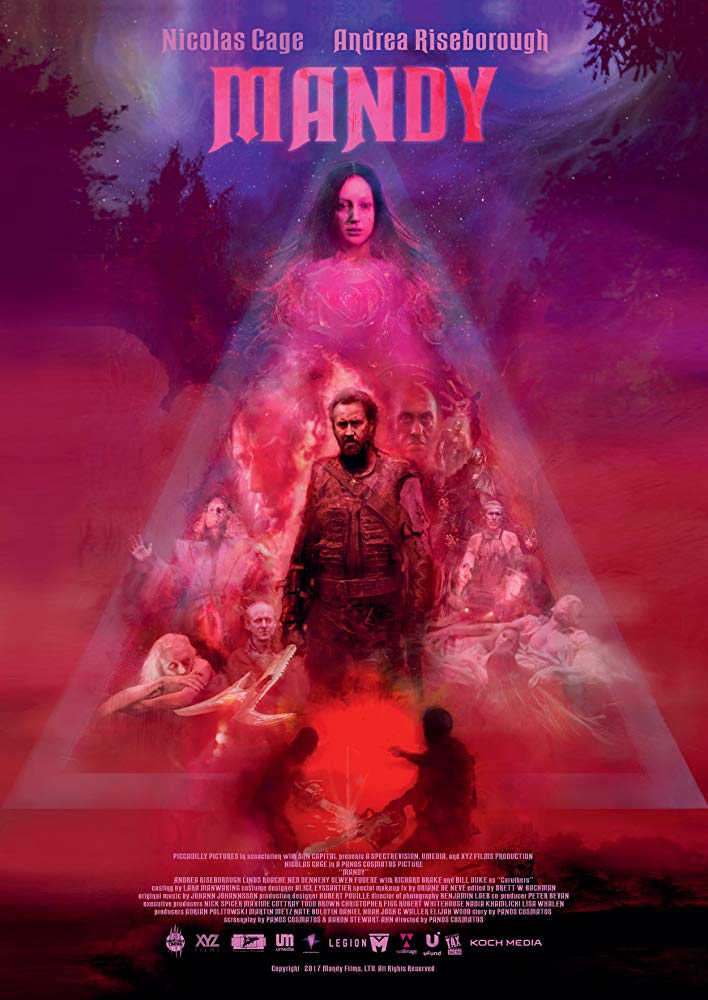 Photo: Allstar/Xyz Films
Mandy is a psychedelic pulp horror film set in the 1980s, starring Nicolas Cage, Andrea Riseborough, and Linus Roache. The film was released September 2018, and quite frankly, did not receive the recognition and appreciation it deserved. Mandy is an extremely sensual film, with remarkable visuals and sound effects that intensify the viewership. The film is about a couple, Red and Mandy (Cage and Riseborough) who live a serene, blissful life in the woods, both seemingly with traumatic pasts they're trying to avoid. The leader of a villainous, hippie cult (Roache) discovers Mandy and becomes fixated on her essence. This results in his cult teaming up with a demonic biker gang to capture and eventually murder her brutally. What's important to know about these two radical groups is that they're both infatuated with this exceptional batch of LSD which has caused them to not only create psychotic and delusional conceptions of life but to live on the cusp of animal and human nature. This murder causes Red to go on a badass, acid-filled revenge trip to avenge his lover's death. The film incorporates psychedelic visuals as if the audience is experiencing this trip as well, and it sends a very ambiguous message about the beauty and terror the extremities of life bring. 
[masterslider alias="ms-77-1″]
In this film, Nicolas Cage gives one of the best (the best in my opinion) performances of his career, as an introverted veteran whose psyche is put to the test when it comes to the most precious being on Earth to him. He transforms into an absolutely violent, psychotic character portraying a loss of sanity so vividly. Josephine Livingstone for The New Republic reports that "his ability to inhabit the extremities of male emotion is a key element to his oeuvre." Scenes depicted of him screaming in absolute horror, drilling chainsaws into people with an absolute loss of empathy, indulging in large amounts of drugs, and shrieks of grievance are what creates this dominant shock effect physically and emotionally. One of Cage's most noteworthy scenes is after Mandy's death, he goes into the bathroom in his underwear and drains a bottle of vodka down his throat in between his shrieks and cries into oblivion. He depicts this vulnerable moment so beautifully of a man who has lost the most important thing in the world to him; his sobbing and whimpering contrasts with the masculine persona he's regularly wearing for most of the film.
Another aspect I truly loved about this film was that Mandy was not characterized as a conventional, pretty girl as most heroines are in movies. Riseborough is portrayed with a unique, ghastly appearance that intrigues all of the characters in this film, upheld as the most beautiful creature. She doesn't appear much within the film after her death, for she soon becomes more of a concept or abstract figure Cage fights for.
Roache also gives an outstanding performance as the hippie cult leader, wherein certain scenes, you can see the split in between his two personalities. On the exterior, for most of the film, he portrays a confident, seemingly all-knowing and well-cultured hippie who leads this twisted cult, the one who claims God has enabled him to take anything he wants on this Earth. But in very brief moments, you can see the extremely fragile, frightened soul with a complete loss of direction and purpose, as the failed musician he is. It's not until he speaks to the "higher power" within himself where he regains his stability. Roache represents both of these personas in such a hauntingly, alluring way with powerful monologues, leaving lasting impressions.
All in all, Mandy is a completely underrated film that, in my opinion, deserved so much more critical attention and appreciation for its powerful acting, visual/audio effects, and for its significant messages.
Watch it. You might just be impressed.
By Juliet Poucher
More Interesting Stories From Hollywood Insider
– Netflix's Elite is a show where being gay is a non-issue and gay couples are celebrated
– How Academy Award Nominee and "star" of Netflix's Roma is utilizing her platform and standing up for domestic workers on an international scale
– Bollywood's first mainstream lesbian romance wins hearts all over the world 
– Why Icon Selma Blair is rejecting pity and instead wants recognition for disabled people 
– Why Rami Malek cannot be blamed for the director Bryan Singer's faults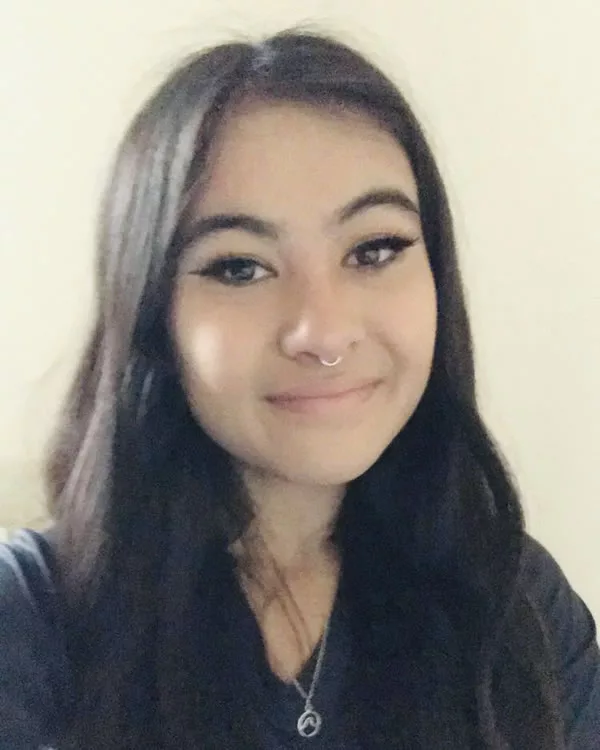 Juliet Poucher is a reviews writer for Hollywood Insider. She has a keen eye for films, art and literature, often analyzing them for hidden meanings. Hr goal with her career and duripromote entertainment with quality actors, meaningful stories, and universal messages.