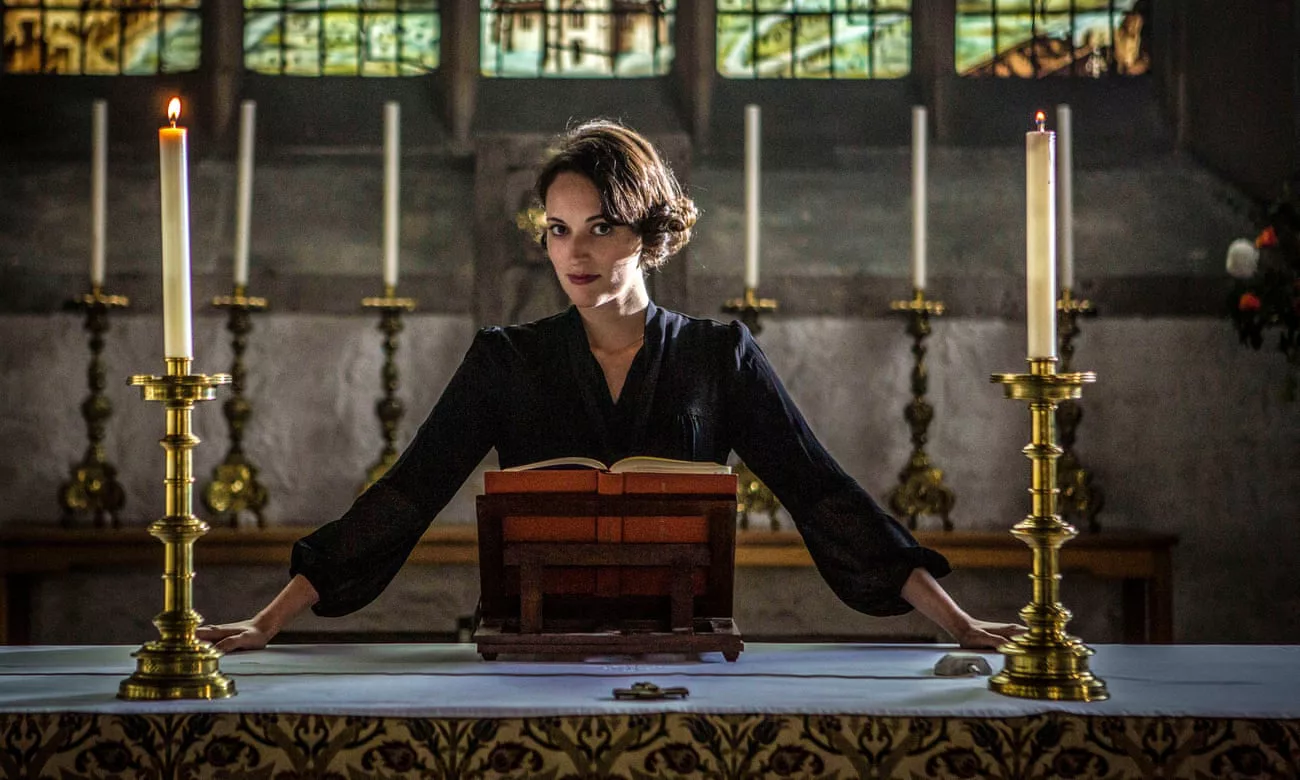 Photo: Phoebe Waller-Bridge as Fleabag. Photograph: Luke Varley/BBC/Two Brothers
Fleabag remains gut-achingly funny and gut-
wrenchingly sad at the same time
"This is a love story," Fleabag (whose real name we never discover) declares to the audience, looking straight down the barrel of the camera. She opens the season in a posh restaurant restroom, cleaning up a bloody nose. After the emotionally battering season 1 finale,Fleabag Season 2 picks up 371 days, 19 hours and 26 minutes later. Left betrayed in one way or the other by everyone around her at the end of last season, we find her unusually well-behaved around the table at a swanky restaurant with her family – none of whom she has had contact within the past year – and, oddly, a 'cool and sweary' priest (hereafter dubbed, The Hot Priest). They are there to celebrate the engagement of her father (Bill Paterson) and her sickly-sweet, vindictive Godmother (played exquisitely by Olivia Colman). And soon enough, we're back to uncontrollable laughter at the awkward bizarreness of this very, very dysfunctional family (at one point, the word 'gangbang' gets thrown out to the table by a very ill-informed dad to describe their get-together). Surprisingly, as the evening progresses, it becomes clear that it's Fleabag that has matured the most out of her family during our time apart – after all, she has been running daily, abstaining from meaningless sex, and eating healthily, even adding pine nuts on salads (which, as we – and Fleabag – all know, is what truly makes a winner of an adult).
This season, like the season before it, remains gut-achingly funny and gut-wrenchingly sad at the same time. Originally a theatre show, also written and performed byPhoto: Phoebe Waller-Bridge as Fleabag. Photograph: Kevin Baker/BBC/Two Brothers/Kevin Baker

Part of the genius of this show comes from the deftness with which it breaks the fourth wall. Fleabag constantly flits between participating in the show and turning around to speak to us, the audience, sharing asides and commentary with just the right flow that it never feels jarring. This combined with Waller-Bridge's airtight writing and spectacular acting (she didn't win that BAFTA for nothing) results in an extremely involved audience that truly connects to Fleabag. She is so full of side jokes and mischievous looks straight to the audience that we are made to feel like another character in their world, a friend that Fleabag takes with her to her adventures. However, the fact that the audience only ever gets to look into their world through her subjective lens means we have to just … take her word for it. Speaking to the audience is Fleabag's way of controlling her narrative when she is unable to control anything else – the audience is another chance to maintain her front, to show off. Until Fleabag gets confronted with the truth, that is. That protectiveness of her grief and weaknesses, not only makes her extremely relatable – who doesn't know that feeling of wanting to hide your insecurities and have control over them? – but makes it feel like we are dealing with real life here. We, as audiences, have gotten used to being the one that characters open themselves up to most, but here is someone who's frightened to share the deepest, most traumatic parts of herself with you – like most people. With Fleabag, you get the sense that she had a life before you got invited into her inner world and her life continues long after we've left her, giving her a mysteriousness and depth to her character that the audience continues to uncover as the series progresses.
And it's not just Fleabag. You find yourself somehow caring for the other (also messed up) characters and Fleabag's relationship with them. Her relationship with her sister, Claire (played fantastically byPhoto: Phoebe Waller-Bridge as Fleabag. Photograph: Luke Varley/BBC/Two Brothers
"There's a little bit of fleabag in everyone and a little
bit of everyone in fleabag."
Of course, let's not forget about the latest connection in her life, The Hot Priest (the brilliant, Andrew Scott). It comes as no surprise to loyal Fleabag fans that she should fall for someone so unavailable. For someone so reliant on using sex as a temporary band-aid for emotional wounds, the priest makes for a very interesting romantic choice. While it's clear that Fleabag is still looking for love in the wrong places, it's also very significant to aiding her healing – for the first time, she allows herself to be loved and by someone who truly sees her ('Where did you just go?' he asks her after another one of her quick asides to the audience, breaking the breaking of the fourth wall and leaving Fleabag reeling) and calls her out when she yet again deflects from revealing too much about herself. Fleabag never seems so sincere and unmasked as when she admits her feelings to him.
In the end, Fleabag is about broken people trying to figure out how to love. As the series comes to a devastatingly tender end (word is, there will not be a season 3), we are left with the feeling that these people who we've come to care for will be OK. They seem to be just a little bit better at loving each other and being honest – "the only person I'd run through an airport for is you," Claire reveals to Fleabag, while her dad tells her, "You're not the way you are because of me, you're the way you are because of your mother and it's those bits that you need to cling to". Fleabag is an exploration of sadness and isolation written to perfection by a lethally funny writer that can pack a whole lot of punch in two short seasons of 23-minute episodes, with not a single throwaway scene or character. It is a delightful watch that everyone can relate to even if you aren't a grieving, 30-something Londoner, whether it's the feeling of struggling against wanting something you know you shouldn't, the temptation of the self-destruct button, or feeling like you always need to be on top of your game and have a solution to your problem before anyone else can comment on them. "There's a little bit of Fleabag in everyone and a little bit of everyone in Fleabag," Waller-Bridge shares to BBC3. While I desperately wish that there was more, we got a beautiful ending in which we leave Fleabag a little stronger and a little more ready to heal than when we first met her in season 1. In the words of Sian Clifford, "The story is complete."
The series is available to watch on BBC iPlayer and Amazon Prime.
Actors: Phoebe Waller-Bridge, Sian Clifford, Olivia Colman, Andrew Scott, Bill Paterson,
Director: Harry Bradbeer
Writer: Phoebe Waller-Bridge
Producers: Lydia Hampson, Hsinyi Liu, Phoebe Waller-Bridge, Harry Williams, Jack Williams, Harry Bradbeer, Kate Daughton, Sarah Hammond, Joe Lewis, Jenny Robins
Cinematographer: Tony Miller
By Bhawana Siwa
More Inspiring Stories From Hollywood Insider
– With his new movie, Once Upon A Time In Hollywood, is Quentin Tarantino saying that he is against streaming services like Netflix?
– Priyanka Chopra slams media for giving online trolls/bullies a larger platform to spew their harmful negativity
– Chiewetel Ejiofor's masterful directorial debut The Boy Who Harnessed The Wind
– What are the struggles of independent films in a blockbuster industry?
– A view of war through the eyes of everyday people in the blockbuster documentary They Shall Not Grow Old