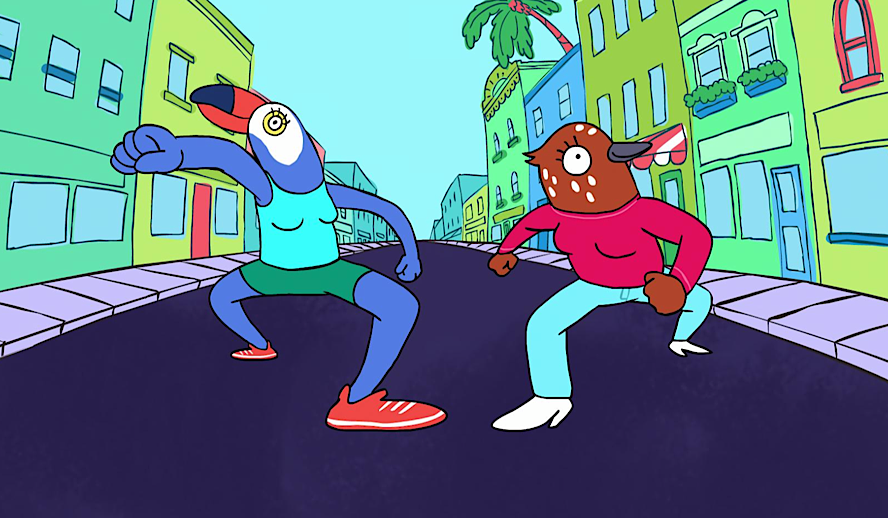 Photo: 'Tuca and Bertie'/Hulu
Lisa Hanawalt's chaotic yet relatable take on millennial womanhood is back for season two after Netflix's cancellation binge. 'Tuca and Bertie', which originally premiered on Netflix in 2019 to rave reviews, has risen from the fire like a phoenix, now calling Adult Swim it's new home (or nest). Now that the second season is halfway through, the series is truly developing into something special, delving deeper into their characters and showing sides of them that they didn't even know. 
The second season uses the characters of Tuca and Bertie to explore the different phases in life that women often go through, whether that is the isolation one feels from not being in a relationship to how trauma affects your seemingly mundane daily life. While 'Tuca and Bertie' is funnier than ever, it also reveals the darkest sides of these lovable characters. 
 Related article: 'In the Heights' – Behind the Scenes and Full Commentary/Reactions from Cast & Crew
Related article: A Tribute to Cannes Film Festival: A Celebration of Cinema, Glamour, and Humanity | Statement From The Hollywood Insider's CEO Pritan Ambroase
Tuca: More Than A Comic Relief 
Season two of the series performs the tough balancing act of the complex comic relief, where in one episode we see Tuca (Tiffany Hadish) becoming mad with power at her new job as a crossing guard then in the next we see Tuca dealing with her insomnia brought on by loneliness. The season's fourth episode, 'Nighttime Friend', is one of the strongest episodes in the season, showcasing a side of the loud and confident Tuca that we haven't seen before. 'Nighttime Friend' follows Tuca and what she does at night when she can't sleep which includes walking the night streets alone, sneaking Aunt Tallulah (Jenifer Lewis) malt liquor in the hospital, and seeing the same faces every night, even having her own regulars on her solo night adventures. One of these faces is a nurse at the hospital, Kara, with who Tuca becomes infatuated. 
'Nighttime Friend' offers a beautiful and awe-inspiring look on loneliness as we watch Tuca mindlessly wandering around the streets at night, everything around her being colored blue to illustrate that sad night feeling. At times the animation almost looks as if Tuca is walking the streets of a Van Goh painting, remaining in blue shadows when she is alone and becoming brighter and wavier once she is joined on her night walks by Kara. 
We see Tuca's nighttime world when she is by herself, eating at a diner, visiting her mother's grave, and talking to a seemingly young boy (he's a late bloomer, okay) from a window who also can't sleep. When we see Tuca let Kara into her world, the two of them eating hard-boiled eggs at the diner, walking through the graveyard, and even singing a lullaby to the stubborn boy, the audience is left with the same emotions that the 'Before' trilogy leaves you with. That feeling of hope and wonder that comes with seeing young lovebirds. 
Related article: MUST WATCH – The Hollywood Insider's CEO Pritan Ambroase's Love Letter to Black Lives Matter – VIDEO
Subscribe to The Hollywood Insider's YouTube Channel, by clicking here.
It can be easy for many comic reliefs to just become the support of the main character, helping their best friend with their problems while having no problems of their own. While Tuca is this to Bertie (Ali Wong), the series explores the effects of always being the supportive friend. While Bertie has her boyfriend, Speckle (Steven Yeun), Tuca doesn't have anyone else, she doesn't have anyone to support her in ways that Bertie can't. This is masterfully shown in 'Nighttime Friend', getting to see what Tuca does when Bertie's asleep and seeing how she looks at couples and big groups of friends with jealousy and disappointment. While it is not only great to see Tuca's problems explored on the same level as Bertie's, her storyline this season offers an emotional and even visual portrayal of loneliness. 
Bertie: The Effects of Trauma 
The last half of 'Tuca and Bertie's' first season focussed on Bertie being a survivor, from getting abused as a child at summer camp to having an abusive boss, Pastry Pete (Reggie Watts). Season two's third episode, 'Kyle', gives a hint of how Bertie is still coping with her trauma, specifically with Pastry Pete. After Pastry Pete makes a painfully accurate "apology video" to address the abuse allegations from season one, his new "apology pastry" comeback snack is overshadowing Bertie's attempts to sell her baked goods. To assert herself against Pastry Pete's competition and the dudebros at her office, she develops the persona of "Kyle" (James Austin Johnson) since she believes that "bros" have it easier. 
Bertie's idea of bros having it easy is rooted in her own trauma with men she considers "bros", like Pastry Pete and Dirk, a cocky coworker who talks down to Bertie. While Bertie sees some of Kyle's methods working, she puts him away in the end after realizing that dealing with her problems through some personified ideal she has isn't helpful. 
Related article: Why Queen Elizabeth II Is One Of The Greatest Monarchs | Her Majesty Queen Elizabeth II of United Queendom of Great Britain & Northern Ireland (Video Insight)
Limited Time Offer – FREE Subscription to The Hollywood Insider
Click here to read more on The Hollywood Insider's vision, values and mission statement here – Media has the responsibility to better our world – The Hollywood Insider fully focuses on substance and meaningful entertainment, against gossip and scandal, by combining entertainment, education, and philanthropy.
The episode that really shines by showing the unspoken effects of trauma is the season's fifth episode, 'Vibe Check'. This episode follows one of the most shied away from talking points of trauma, sexual pleasure. After Bertie has a sexual fantasy about Pastry Pete, she believes that her vibrator is defective. How could she have a sexual fantasy about a man who abused her? Bertie tries to hide this shame from everyone and even continues to blame anything but her own mind for these desires, even blaming the bed since she bought it while she still worked for Pete.
She shamefully confesses this to her therapist, Joanne (Pamela Adlon), and the two discuss how Bertie's trauma from summer camp could have given her a warped perception of her relationships with men, causing her to feel attraction to her recently canceled former boss. Bertie and Speckle then have an honest conversation about this, with Speckle even attempting to be more aggressive in bed, satisfying Bertie. 
While many films and shows explore trauma, they often focus on the short-term effects instead of the long-term effects. 'Tuca and Bertie', focussing on the long-term effects of trauma, gets to explore the aspects that aren't talked about or are even frowned upon, like what is considered "pleasurable" to a survivor after the traumatic incident. 'Vibe Check', not only being a solid vibrator pun, is a clever title for an episode that checks in on the vibes of Bertie, on how she has been coping. The episode's focus on Bertie's sexual fantasies about her abusive boss is not only insightful but it is brave. Brave for exploring how we view sexual desire and brave for exploring how trauma can affect one's own sexual pleasure. 
Related article: The Hollywood Insider's CEO Pritan Ambroase: "The Importance of Venice Film Festival as the Protector of Cinema"
Related article: The Masters of Cinema Archives: The Hollywood Insider Pays Tribute to 'La Vie En Rose', Exclusive Interview with Director Olivier Dahan
Related article: – Want GUARANTEED SUCCESS? Remove these ten words from your vocabulary| Transform your life INSTANTLY
Tuca and Bertie Season 2 – Animation for Women by Women
Season two of 'Tuca and Bertie' is really a showcase of why women's voices in animation matter, and how they can tell their stories in new and insightful ways. While 'Tuca and Bertie' can of course be enjoyed by everyone because who wouldn't like a show that once had Nicole Byer voice a grandmother ghost cake, 'Tuca and Bertie' is really made from a female perspective. Season two, like season one, actively sets out to tell the stories that many women have to tell but remain unheard in mainstream animation, from the isolation one can feel from not being partnered up to how the trauma inflicted by men in power can affect one's daily life. 
The beauty of animation means that diverse stories can be told and heightened through visuals, like Tuca's painting-esque views while she is alone at night to Bertie's sexual fantasies becoming disjointed as her vibrator malfunctions. Animation can allow for all types of stories to be told in different ways, from mundane stories being told with experimental visuals to fantasies coming to life. 'Tuca and Bertie' defines these features by using the medium to not only illustrate these worldviews of women, but to even find the humor in the absurdity of it all. 
Conclusion 
The first half of 'Tuca and Bertie's' second season consists of some of the strongest episodes of animation that have been put on screen, from their insightful portrayals of womanhood to their hilarious bursts of chaotic energy. 'Tuca and Bertie's' second season almost acts like a Flintstones' vitamin gummy, inviting you in with fun and bouncy colors while really helping you become a better and healthier person. It tastes good with its "throw everything at the wall" style of humor and it is good for you with its insightful views of the trials of life. 
'Tuca and Bertie' is available on Adult Swim and on Hulu
Cast: Tiffany Haddish, Ali Wong, Steven Yeun
Created by: Lisa Hanawalt
Executive Producers: Lisa Hanawalt, Raphael Bob-Waksberg, Noel Bright, Steven A. Cohen, Tiffany Haddish, Ali Wong
Click here to read The Hollywood Insider's CEO Pritan Ambroase's love letter to Black Lives Matter, in which he tackles more than just police reform, press freedom and more – click here.
An excerpt from the love letter: The Hollywood Insider's CEO/editor-in-chief Pritan Ambroase affirms, "The Hollywood Insider fully supports the much-needed Black Lives Matter movement. We are actively, physically and digitally a part of this global movement. We will continue reporting on this major issue of police brutality and legal murders of Black people to hold the system accountable. We will continue reporting on this major issue with kindness and respect to all Black people, as each and every one of them are seen and heard.
Just a reminder, that the Black Lives Matter movement is about more than just police brutality and extends into banking, housing, education, medical, infrastructure, etc. We have the space and time for all your stories. We believe in peaceful/non-violent protests and I would like to request the rest of media to focus on 95% of the protests that are peaceful and working effectively with positive changes happening daily. Media has a responsibility to better the world and The Hollywood Insider will continue to do so."
Ways to support Black Lives Matter Movement to end systemic racism
More Interesting Stories From The Hollywood Insider
– Want GUARANTEED SUCCESS? Remove these ten words from your vocabulary| Transform your life INSTANTLY
– Compilation: All James Bond 007 Opening Sequences From 1962 Sean Connery to Daniel Craig
– Do you know the hidden messages in 'Call Me By Your Name'? Find out behind the scenes facts in the full commentary and In-depth analysis of the cinematic masterpiece
– A Tribute To The Academy Awards: All Best Actor/Actress Speeches From The Beginning Of Oscars 1929-2019 | From Rami Malek, Leonardo DiCaprio To Denzel Washington, Halle Berry & Beyond | From Olivia Colman, Meryl Streep To Bette Davis & Beyond
– In the 32nd Year Of His Career, Keanu Reeves' Face Continues To Reign After Launching Movies Earning Over $4.3 Billion In Total – "John Wick", "Toy Story 4", "Matrix", And Many More
Tuca and bertie season 2, Tuca and bertie season 2, Tuca and bertie season 2, Tuca and bertie season 2, Tuca and bertie season 2, Tuca and bertie season 2, Tuca and bertie season 2, Tuca and bertie season 2, Tuca and bertie season 2, Tuca and bertie season 2, Tuca and bertie season 2, Tuca and bertie season 2, Tuca and bertie season 2, Tuca and bertie season 2, Tuca and bertie season 2, Tuca and bertie season 2, Tuca and bertie season 2, Tuca and bertie season 2, Tuca and bertie season 2, Tuca and bertie season 2, Tuca and bertie season 2 and bertie season 2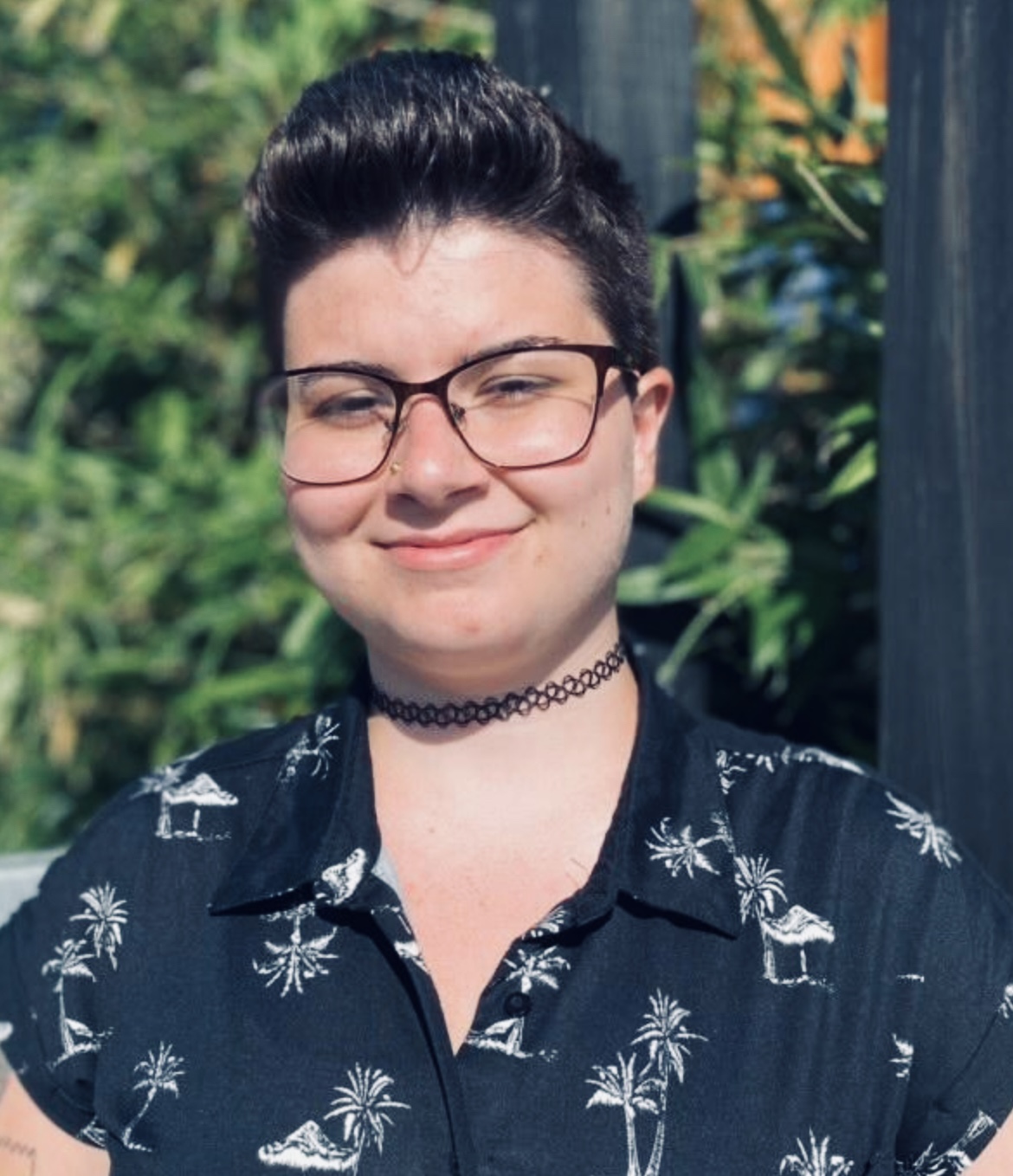 Brianna Benozich is a writer for The Hollywood Insider and a stand up comedian. With a background in screenwriting, she believes that every good story relies on character, story, and themes. Brianna believes that these components, especially with comedies, can start necessary conversations and even open the minds of the audience. She strives to bring attention to underrepresented and overshadowed films and television series which align with the core values of Hollywood Insider's mission to provide meaningful and compelling stories.