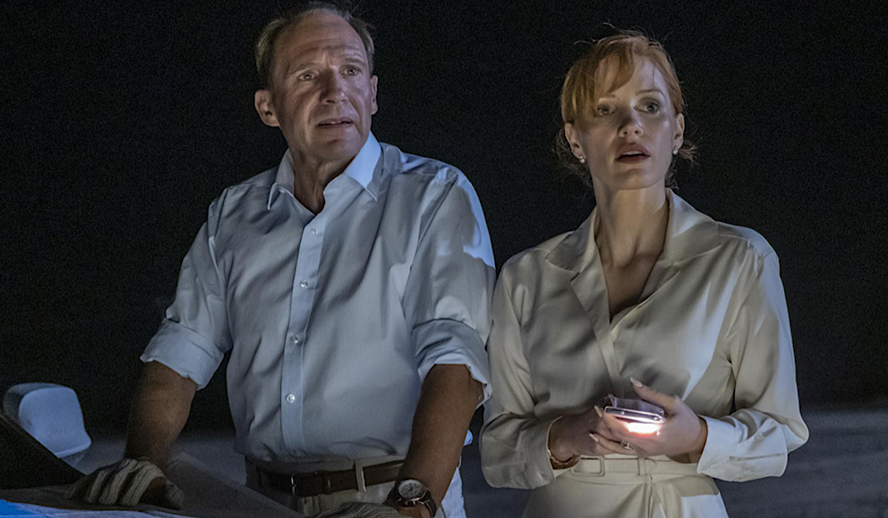 Photo: 'The Forgiven'
The People of the Worlds
'The Forgiven' gets most of its juice from the tension between its two worlds: the sneering, hollow world of the Western elitists and the conservative culture of the Muslim Moroccans. It's a familiar device, but the mileage writer/director John Michael McDonagh squeezes from it is noteworthy. 
These two worlds meet, unfortunately, with a bang, as the bickering Henniger couple speeds their way across the desert on the way to an old-school friend's Moroccan compound. The friend, Richard (played by a wickedly good Matt Smith), is hosting a weekend of intemperance for him and all his sophisticated friends. David (a brilliant Ralph Fiennes) and Jo (a merely ornamental Jessica Chastain) are arguing about David's alcoholism, in the routine sort of way indicative of a failed marriage, when they hit a boy selling fossils on the side of the road. This doesn't exactly help their tattering marriage, and by the time they arrive at the lavish estate, the boy's body splayed out in the backseat, word has already spread among the other partygoers. Richard and his American drunkard partner Dally (an underrated Caleb Landry Jones) usher them in with sympathy and drinks, as if they'd just suffered a flat. Richard and Dally insist that the shaken pair sidle into the party, that it will make them feel better while the police come by and sort things out.
Things to do: 
Click here to read more on

The Hollywood Insider's

vision, values and mission statement here – Media has the responsibility to better our world –

The Hollywood Insider

fully focuses on substance and meaningful entertainment, against gossip and scandal, by combining entertainment, education, and philanthropy.
We see why Richard and the Hennigers are friends: they and the rest of the partygoers are all equally boozy, salacious, and vain elitists. The guests can't seem to stop telling us so, as they take turns eloquently expressing their own shallowness with pride in a very Gatsbian manner. "I like it here," says Tom (Christopher Abbot). "It feels like a country where a useless man could be happy." Despite the intentional unlikeability of the characters, the dialogue crackles among them. Tom, dressed as the god of the bacchanal himself, delivers some especially hedonistic zingers in flirting with Jo.
Soon, though, the slain boy's father, Abedellah (Ismael Kanater) arrives with an associate Anouar (Saïd Taghmaoui) and insists that David return to their home to bury his son. This doesn't go over well with David, who was rumored to have stirred some far-right naughtiness in his school days: "They might be f*****g ISIS for all I know." But Hamid (Mourad Zaoui), Richard's Moroccan butler, appeals to David's humanity. David capitulates, and the three men rattle off in a Jeep into another, bleaker world. 
'The Forgiven' – The Style of the Two Worlds
What follows is a swaying, gorgeously shot dance between the gross immodesty of the partygoers and the austerity of the desert. McDonagh ping pongs between awe-striking shots of Abdellah's desert homeland and the colorful palettes of the stylish compound. If it weren't for McDonagh's dreamy transitions, it'd be hard to believe that the parallel stories are still set in the same country. The same sky David longingly looks for answers in, unsure of whether he'll be killed or robbed, becomes the same one where his drunk wife and friends are watching scarlet fireworks explode. Another time, Abdellah's simmering rage crossfades into a superficial party trick. Color and wardrobe, too, signify a lot of the contrast between the stories. Jo and the Westerners romp around in shimmering dresses and bright suits, while David wears his expensive white suit in a world where Muslim garb is the only appropriate attire. 
Related video: Full Commentary – Cast & Crew Spills Secrets on Making of 'Elvis' | In-Depth Scoop | Austin Butler
Related video: Full Rendezvous At the Premiere of 'Elvis' with Reactions from Stars | Austin Butler, Baz Luhrmann
Related video: Come Behind The Scenes of 'Elvis' | Austin Butler, Tom Hanks and Baz Luhrmann
Related article: MUST WATCH – The Hollywood Insider's CEO Pritan Ambroase's Love Letter to Black Lives Matter – VIDEO
Related article: Why Queen Elizabeth II Is One Of The Greatest Monarchs | Her Majesty Queen Elizabeth II of United Queendom of Great Britain & Northern Ireland (Video Insight)
Related article: All Best Actor/Actress Speeches From The Beginning Of Oscars 1929-2019 | Hollywood Insider
We never have to choose whose "side" to be on in the story. The degeneracy of the Westerners and David's initial apathy toward the boy's father make it easy. But, in a strange way, the opposing storylines mirror a journey of self discovery, one of David's unraveling character in the face of danger. And Jo's, as she justifies her tryst with Tom as the realization she needs to eventually leave David by "thinking of herself for once." McDonagh, adapting from the 2012 novel by Lawrence Osborne, has no compunction implying which one of these stories is worthwhile and real. The comparison is at times a bit overstated, but powerful nonetheless: the trivial issues we deal with on a regular basis are not to be championed or overly dramatized. Compared to a real life, they are a desert mirage.
The Dark Orthodox Morals of the Film
Before David climbs into the Jeep, off to Abdellah's home, Jo asks him: "Are you sorry?"
David tells her, "I'll say I'm sorry."
As the title 'The Forgiven' might suggest, this is also a story about guilt. Fiennes's performance,  reconciling David's prejudice with the weight of his actions, buoys an otherwise heavy-handed writing. As David clatters his way down the road to perdition, he hardly looks at Abdellah, speaking only to Anouar. Through Fiennes's hardened expressions, we see David clinging to his prejudicial views, refusing to feel guilt for a life he feels hardly qualifies as one. And indeed, throughout his journey into this world, the determination trickles from David's face, as he is forced to come face to face with his actions.
Underneath the title in the movie poster is the line "Everything Must Be Faced." It's a line spoken by Abdellah a couple of times throughout the movie, in reference to David's crimes. It's informed by Abdellah's deep Muslim faith, as the movie makes clear, but by no means does it seem to exclude the non-religious. Quite the opposite, we find out, to the extent of a father's grief is tested against the denial of a prejudiced man. 
Related article: The Hollywood Insider's CEO Pritan Ambroase: "The Importance of Venice Film Festival as the Protector of Cinema"
Related article: The Masters of Cinema Archives: The Hollywood Insider Pays Tribute to 'La Vie En Rose', Exclusive Interview with Director Olivier Dahan
Related article: – Want GUARANTEED SUCCESS? Remove these ten words from your vocabulary| Transform your life INSTANTLY
Related Video: Full Commentary on 'Top Gun: Maverick': Tom Cruise, Val Kilmer, Jennifer Connelly, Miles Teller
Related video: 'Top Gun: Maverick' Full Premiere Reactions: Tom Cruise, Val Kilmer, Jennifer Connelly, Miles Teller
Related video: EVOLUTION: Every Tom Cruise Role From 1981 to 2021, All Performances Exceptionally Poignant
McDonagh makes it clear that Abdellah's religious condemnations apply for the whole cohort of Europeans at the compound. In doing this, he does a curious thing. The characters are deplorable from the jump, and we never come close to coming around on liking them, but 'The Forgiven' doles out judgment in a surprisingly explicit way. David, who's emblematic of everything wrong and shallow about the West, becomes the only one who bothers to self-reflect, albeit not of his own volition. 
This is no ordinary tale of repentance or self discovery — though it possesses some hallmarks of that type of film, like a symbolic change of garb — where the characters learn from their prejudice and grow because of it. Despite not being able to honestly apologize before leaving, David's contrition comes spilling out of him at the end. Is it enough? You'll have to see for yourself. But David faces his "sins," meanwhile Jo and his friends continue down their familiar path. Their fates are intertwined, so insinuates McDonagh.
"Everything must be faced" is the last line of the movie, and you hear it in your ears as you walk out of the theater. If you see yourself in any of the Westerners, it might stick around till bedtime.
Written: John David McDonagh, Lawrence Osborne (novel)
Directed:  John David McDonagh
Cast: Ralph Fiennes, Jessica Chastain, Matt Smith, Caleb Landry Jones, Abbey Lee, Christopher Abbot, Alex Jennings, Saïd Taghmaoui, Ismael Kanater, Moraud Zaoui
Cinematography: Larry Smith | Score: Lorne Balfe | Film Editing: Elizabeth Eves, Chris Gill
By Patrick Lynott
Click here to read The Hollywood Insider's CEO Pritan Ambroase's love letter to Cinema, TV and Media. An excerpt from the love letter: The Hollywood Insider's CEO/editor-in-chief Pritan Ambroase affirms, "We have the space and time for all your stories, no matter who/what/where you are. Media/Cinema/TV have a responsibility to better the world and The Hollywood Insider will continue to do so. Talent, diversity and authenticity matter in Cinema/TV, media and storytelling. In fact, I reckon that we should announce "talent-diversity-authenticity-storytelling-Cinema-Oscars-Academy-Awards" as synonyms of each other. We show respect to talent and stories regardless of their skin color, race, gender, sexuality, religion, nationality, etc., thus allowing authenticity into this system just by something as simple as accepting and showing respect to the human species' factual diversity. We become greater just by respecting and appreciating talent in all its shapes, sizes, and forms. Award winners, which includes nominees, must be chosen on the greatness of their talent ALONE.
I am sure I am speaking for a multitude of Cinema lovers all over the world when I speak of the following sentiments that this medium of art has blessed me with. Cinema taught me about our world, at times in English and at times through the beautiful one-inch bar of subtitles. I learned from the stories in the global movies that we are all alike across all borders. Remember that one of the best symbols of many great civilizations and their prosperity has been the art they have left behind. This art can be in the form of paintings, sculptures, architecture, writings, inventions, etc. For our modern society, Cinema happens to be one of them. Cinema is more than just a form of entertainment, it is an integral part of society. I love the world uniting, be it for Cinema, TV, media, art, fashion, sport, etc. Please keep this going full speed."
More Interesting Stories From The Hollywood Insider
– Want GUARANTEED SUCCESS? Remove these ten words from your vocabulary| Transform your life INSTANTLY
– A Tribute to Martin Scorsese: A Complete Analysis of the Life and Career of the Man Who Lives and Breathes Cinema 
– Do you know the hidden messages in 'Call Me By Your Name'? Find out behind the scenes facts in the full commentary and In-depth analysis of the cinematic masterpiece
– A Tribute To The Academy Awards: All Best Actor/Actress Speeches From The Beginning Of Oscars 1929-2019 | From Rami Malek, Leonardo DiCaprio To Denzel Washington, Halle Berry & Beyond | From Olivia Colman, Meryl Streep To Bette Davis & Beyond
– In the 32nd Year Of His Career, Keanu Reeves' Face Continues To Reign After Launching Movies Earning Over $4.3 Billion In Total – "John Wick", "Toy Story 4", "Matrix", And Many More
the forgiven, the forgiven, the forgiven, the forgiven, the forgiven, the forgiven, the forgiven, the forgiven, the forgiven, the forgiven, the forgiven, the forgiven, the forgiven, the forgiven, the forgiven, the forgiven, the forgiven, the forgiven, the forgiven, the forgiven, the forgiven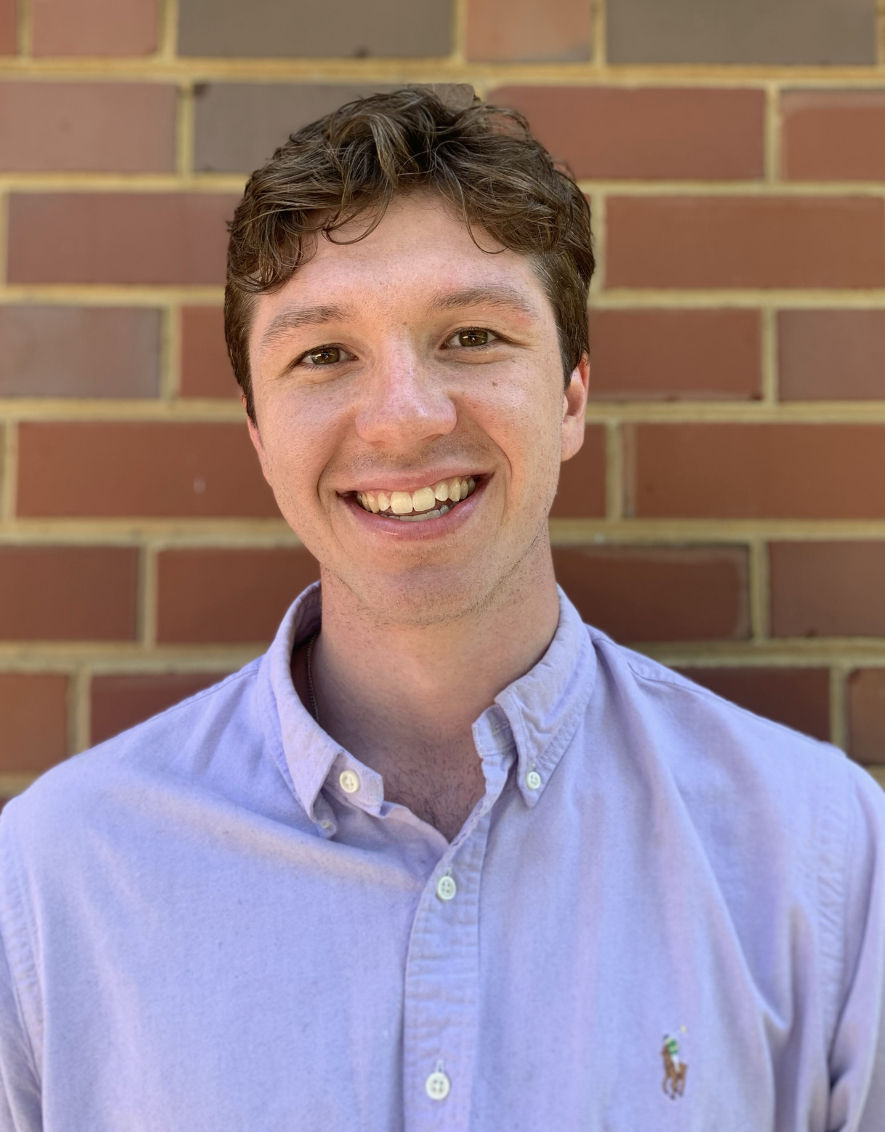 Patrick Lynott is a writer and screenwriter. He cares about Cinema. He cares about meaningful stories. And he cares about preserving and elevating things that people work long and hard on.Despite the incessant barrage of "content" vying for his (and everyone's) attention, he believes it's never been more important to pedestalize labors of real art across from a spectrum of voices. The Hollywood Insider is one of the few networks committed to doing this through substantive coverage of quality entertainment. The future of good Cinema and healthy culture relies on outlets and people willing to champion those values. Here's to that future.