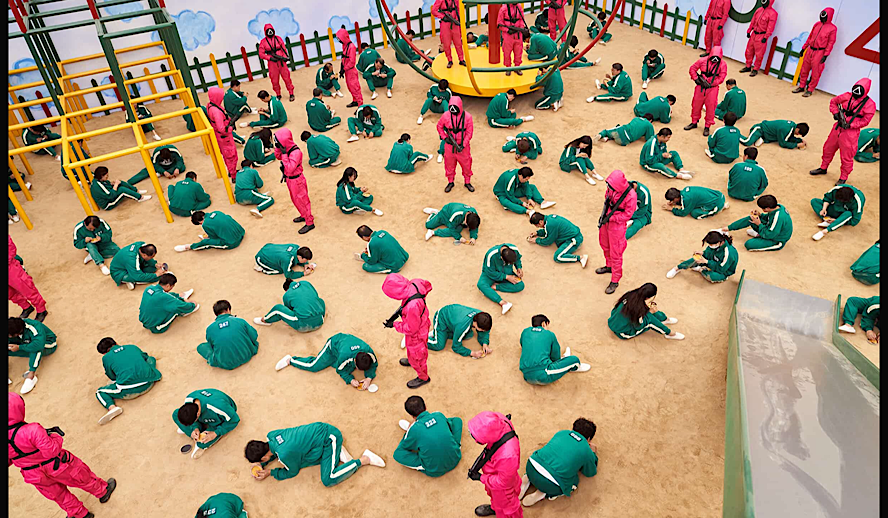 Photo: 'Squid Game' 
After being released on September 17th, the new Korean Netflix show 'Squid Games' has skyrocketed to international superstardom. From TikTok trends of Dalgona cookies to unbelievably ironic tweets from Jeff Bezos, the show's popularity is hard to miss. According to Netflix, it's even on track to become the company's most-watched series globally, already the number one most-watched show in over 90 countries. The nine-episode series was written, directed, and produced all by one man, Hwang Dong-Hyuk. The show is resonating with people across the globe for its decimating commentary on capitalism and wealth inequality, as well as stunning visuals and tremendous acting.
Related article: 'In the Heights' – Behind the Scenes and Full Commentary/Reactions from Cast & Crew
Related article: The Hollywood Insider's CEO Pritan Ambroase: "The Importance of Venice Film Festival as the Protector of Cinema"
'Squid Game' – The Premise
In the opening episode, the main protagonist Gi-Hun (played by Lee Jung-jai) is introduced. He lives with his elderly mother and owes hundreds of thousands of dollars to loan sharks after being laid off and having two businesses fail; not to mention his gambling addiction. According to The Washington Post, "In a country where indebtedness has been skyrocketing — one recent estimate has the nation's total household debt now exceeding its GDP — Gi-hun, a sad-sack divorcé partly supported by his elderly mother, is an Everyman." While waiting for the train, a mysterious man in a suit asks Gi-Hun if he wants to play ddakji, a children's game, for money. If he loses, he either owes the man that money or he can be slapped. After losing several times, and being hit every time, he finally wins. The man offers him a card with a phone number, saying that there are more games he can play to win larger sums of money. Feeling increasingly desperate, Gi-Hun eventually calls and is taken in a van and knocked unconscious.
Upon waking up, Gi-Hun, alongside 455 other in-debted individuals, is told that if they comply with the rules and play the games they can win a valuable prize; if they lose they will be eliminated. After a game of "Red Light, Green Light", it's clear that "eliminated" has more deadly consequences than originally mentioned. Once realizing if they are caught moving they will be shot and killed, the survivors must complete the game successfully. When the contestants argue with the ominously masked supervisors, they are told they can take a vote and leave. Washington Post writes, "But the players aren't just pawns; if the majority of the competitors wish to abort the game with no one winning the prize money, they can. Which means the more upsetting revelation is how many are willing to continue playing and risk their lives and others, all for a vanishingly small chance at hitting the jackpot."
Related article: MUST WATCH – The Hollywood Insider's CEO Pritan Ambroase's Love Letter to Black Lives Matter – VIDEO
Subscribe to The Hollywood Insider's YouTube Channel, by clicking here.
The concept is similar to 'Battle Royale', reminiscent of other dystopian stories such as 'The Hunger Games', with sympathetic and deeply flawed characters at the center. There are also elements of comedy amongst the violence, mostly in the contradictory ways the show is set up. Gory and horrifying scenes use music that feels cheery and off-putting. The bright colors of the set and costume, as well as the simplicity of children's games offset the bleakness of the subject matter in a way that is visually entertaining and stunningly new. Hwang describes the show's narrative as a reflection of the competitive society that we live in today. According to CNN, Hwang said, "This is a story about losers, those who struggle through the challenges of everyday life and get left behind, while the 'winners level up'."
Wealth Disparity In Korea
'Squid Game' is one in a long line of Korean cinema that utilizes themes of social injustice, specifically wealth inequality. One example of this is Bong Joon-Ho's 'Parasite', which earned an Oscar for Best Picture. Joseph Jonghyun Jeon writes in his book 'Vicious Circuits' that a dominant trait of Korean cinema since the Asian Financial Crisis of 1997-1998 (often referred to as the International Monetary Fund Crisis) is its preoccupation with the economic phenomenon. During the crisis, nearly two million Koreans lost their jobs under IMF-mandated restructuring plans. The suicide rate jumped to 20 per 100,000 people, a number that has only risen over the years. South Korea's household debt has also been increasing at the third-fastest rate among major economies. Reuters reports that in a 2019 survey, the government-affiliated Korea Institute for Health and Social Affairs found that 85% of South Korean respondents felt there were "very big" income gaps in society, and people needed to be from a wealthy family in order to be successful.
Related article: Why Queen Elizabeth II Is One Of The Greatest Monarchs | Her Majesty Queen Elizabeth II of United Queendom of Great Britain & Northern Ireland (Video Insight)
Limited Time Offer – FREE Subscription to The Hollywood Insider
Click here to read more on The Hollywood Insider's vision, values and mission statement here – Media has the responsibility to better our world – The Hollywood Insider fully focuses on substance and meaningful entertainment, against gossip and scandal, by combining entertainment, education, and philanthropy.
Korea's biggest daily newspaper, Chosun Ilbo, stated that 4.24 million Koreans (approximately 8% of the population) have borrowed money from three or more financial institutions at the same time. In 2018, 43% of their elderly population lived in poverty, a number three times the OECD average. According to Quartz, "Housing prices are out of control, putting homeownership out of the realm of possibility for millions of Koreans. Young people disillusioned with a financial system that seems rigged are increasingly turning to cryptocurrency, despite its purported risks, as their best hope for a comfortable future." Employment is selective, especially for the underclass, as represented by Gi-hun. Not only has he racked up gambling debts, but he cannot afford life-saving surgery for his mother, cannot support his daughter and is threatened with losing her, and is already in physical danger from loan sharks. Korea, on top of financial trouble, has had a traumatic history throughout the 20th century including Japanese colonization, the Korean War, and almost 40 years of military dictatorship. The financial crisis was just the cherry on top of psychological scars and civil unrest. 
Why Is This Show Resonating Worldwide?
What makes this show such a phenomenal success? It didn't get picked up quickly, in fact, it took Hwang 12 years to even sell the idea, the original concept for the show being conceived in 2008. Many find this aspirational as if to say he struggled with this script for so long and now it's a giant success. However, it feels slightly ironic that a show about the brutality of consumerism and capitalism was hard to pitch to a marketing team. He said, "I wanted to write a story that was an allegory or fable about modern capitalist society, something that depicts an extreme competition, somewhat like the extreme competition of life." The games are metaphors for social aspiration and limited social mobility; in the games, this can look like the struggle for possession or the goal of overcoming those in positions of control or power. The players who are eliminated are carried off in a present-looking box, playing with the idea that a quick death in the game is a gift as opposed to the slow death from poverty.
Related article: The Hollywood Insider's CEO Pritan Ambroase: "The Importance of Venice Film Festival as the Protector of Cinema"
Related article: The Masters of Cinema Archives: The Hollywood Insider Pays Tribute to 'La Vie En Rose', Exclusive Interview with Director Olivier Dahan
Related article: – Want GUARANTEED SUCCESS? Remove these ten words from your vocabulary| Transform your life INSTANTLY
Daily Star writes, "The game itself is a capitalist endeavor. Set in our contemporary reality, 'Squid Game' is far from a fictional gory tale. It is a scathing commentary of capitalism and a literal depiction of life in capitalism, and less of a metaphor for the world we live in." Even the notion that the game is a choice, the players can opt-out if they want, is symbolic. It's not actually a choice at all, it's really just another way for the rich and powerful to control the less fortunate. It's not that there truly is a lack of resources; there is plenty of food around the world and yet so many are malnourished and starving. Chicago Tribune describes this​​ phenomenon, "Scarcity in modern life is as manufactured as the life-or-death scenarios in 'Squid Game'. In the show's view, we are powerless to band together, to refuse to play along or create a different reality. When pushed to the brink, we become selfish or scared, or just beaten down. And ultimately, we turn on one another."
The players are made to believe, much like workers, that anything they do not get is because someone stole it from them. It creates lethal competition, not too far off from real economics. The Daily Star said, "There exists an impenetrable link with a population — a substantial percentage faces desperate financial strains while the niche ultrarich, bored with their extravagant lives, chose to wager on lethal human blood-sport for amusement like betting on horses." The feeling of economic despair isn't Korean specific, but it is rarely explored in American cinema despite being such a relevant issue. The show is a down-right scathing critical look at capitalism and the corporate elite, made even more poignant by the unironic boom of 'Squid Game' merchandise. I'm sure that those tracksuits and face masks are made by happy employees being paid a livable wage with safe working conditions…. right?
Cast: Lee Jung-jae, Park Hae-soo, Wi Ha-Joon, Jung Hoyeon, Lee Byung-hun, Oh Yeong-su, Heo Sung-tae, Anupam Tripathi
Director: Hwang Dong-Hyuk
Writer: Hwang Dong-Hyuk
By Kylie Bolter
Click here to read The Hollywood Insider's CEO Pritan Ambroase's love letter to Black Lives Matter, in which he tackles more than just police reform, press freedom and more – click here.
An excerpt from the love letter: The Hollywood Insider's CEO/editor-in-chief Pritan Ambroase affirms, "The Hollywood Insider fully supports the much-needed Black Lives Matter movement. We are actively, physically and digitally a part of this global movement. We will continue reporting on this major issue of police brutality and legal murders of Black people to hold the system accountable. We will continue reporting on this major issue with kindness and respect to all Black people, as each and every one of them are seen and heard.
Just a reminder, that the Black Lives Matter movement is about more than just police brutality and extends into banking, housing, education, medical, infrastructure, etc. We have the space and time for all your stories. We believe in peaceful/non-violent protests and I would like to request the rest of media to focus on 95% of the protests that are peaceful and working effectively with positive changes happening daily. Media has a responsibility to better the world and The Hollywood Insider will continue to do so."
Ways to support Black Lives Matter Movement to end systemic racism
More Interesting Stories From The Hollywood Insider
– Want GUARANTEED SUCCESS? Remove these ten words from your vocabulary| Transform your life INSTANTLY
– Compilation: All James Bond 007 Opening Sequences From 1962 Sean Connery to Daniel Craig
– Do you know the hidden messages in 'Call Me By Your Name'? Find out behind the scenes facts in the full commentary and In-depth analysis of the cinematic masterpiece
– A Tribute To The Academy Awards: All Best Actor/Actress Speeches From The Beginning Of Oscars 1929-2019 | From Rami Malek, Leonardo DiCaprio To Denzel Washington, Halle Berry & Beyond | From Olivia Colman, Meryl Streep To Bette Davis & Beyond
– In the 32nd Year Of His Career, Keanu Reeves' Face Continues To Reign After Launching Movies Earning Over $4.3 Billion In Total – "John Wick", "Toy Story 4", "Matrix", And Many More
squid game, squid game, squid game, squid game, squid game, squid game, squid game, squid game, squid game, squid game, squid game, squid game, squid game, squid game, squid game, squid game, squid game, squid game, squid game, squid game, squid game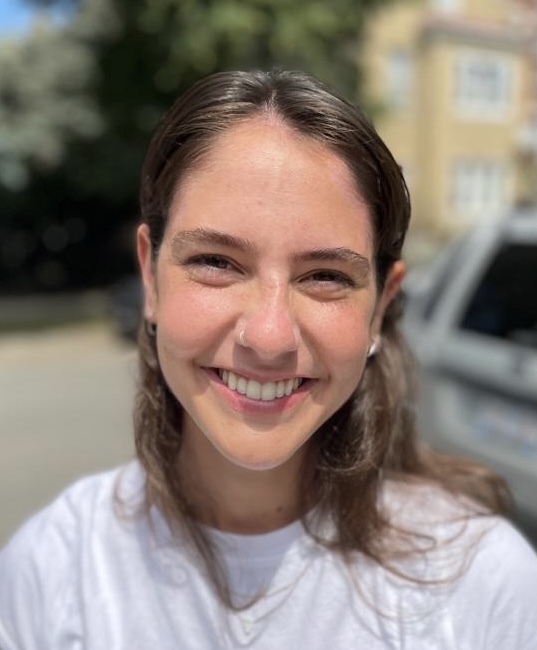 Kylie is a writer obsessed with entertainment, most notably in film and television. Her background in screenwriting tends to make her focus on dialogue and development of characters. Although she enjoys watching new material with a critical eye, she is very easily entertained and quick to laugh. 
The Hollywood Insider's
dedication to journalism without gossip is something that she values, along with their dedication to meaningful representation and substantial storytelling.  She enjoys finding the balance between relatability and artistry, no matter the format.