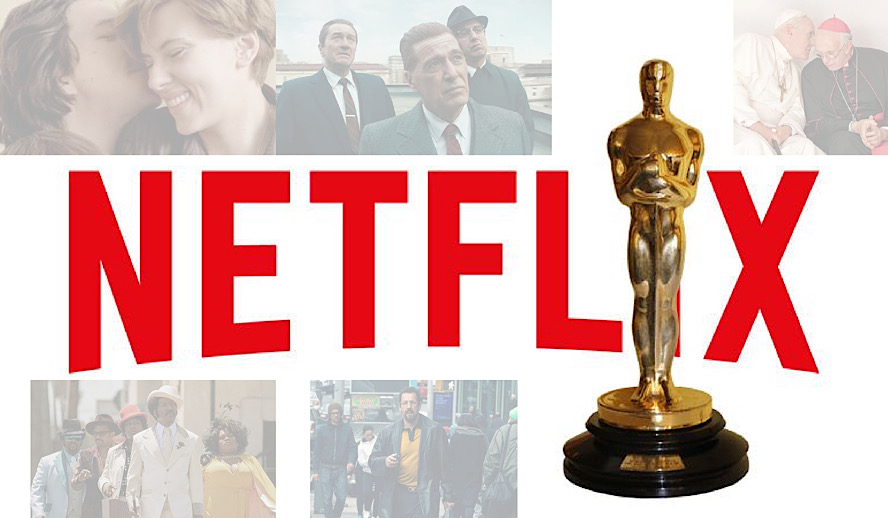 Photo: Netflix Vs Oscars
The Oscars has been notorious for trying to push away Netflix films.  The Academy has a notion that streaming services cannot make quality films like a studio.  However, clearly this notion was proven wrong with Netflix's Roma and Amazon Prime's Manchester by the Sea. Though, Roma did win three Oscars in 2018: Best Foreign Language Film, Best Cinematography, and Best Directing, the film missed out on so much more.  The film earned 7 nominations in other categories, but its calibre was simply not recognized. It is clear to see now that Netflix wants to be acknowledged on the level of a studio-produced film.  Otherwise, they would not be trying so hard to make artsy films such as The King, Irishman, Marriage Story, Uncut Gems, Dolemite is my Name, The Laundromat, and more.  All of these films are from critically acclaimed directors with extremely talented actors backed by a high-quality screenplay.  All of which are ingredients for an Oscar-worthy film, but will they take it seriously?
Martin Scorcese's latest masterpiece has drummed up discussion online, both positive and negative.
The Irishman has been at the center of awards conversation for the past week, winning 14 various awards throughout the month, and nominated for 36 others.  Scorsese's latest film about the murder of Jimmy Hoffa has been a hit on the platform. More than 26 million people have watched the film within the first week of it being on the platform. Of course, this also generated interesting discourse online, both positive and negative.  Within the first 5 days, The Irishman had managed to receive an impressive 17.1 million views, however, only 18% of those viewers actually finished the film to full completion. This started a discussion on "Is the film too long?", "is it necessary?".  Then there are defenders of the film, who say that the editing of the film makes the lengthy runtime feel like a breeze. Anna Paquin has also been at the center of discussion for the past couple of weeks, as she only has a few lines of dialogue. She plays Peggy, Frank Sheeran's daughter.  Peggy grows up resenting Frank and his actions, and thus never speaks to her father. People argue that the lack of presence may be sexist in an all-male film and comparisons have been made to Margot Robbie's Sharon Tate in Once Upon a Time…in Hollywood.  These discourses, while controversial, has helped give the film more notoriety and propelled it into the awards conversation, similar to Once Upon a Time…in Hollywood. Despite all of this,  five of those 36 nominations came from the Golden Globes, considered to be the second biggest awards ceremony of the year. And the categories it has been chosen for are Best Picture, Best Director, Best Screenplay, Best Supporting Actor. Irishman also leads the way in the Critic's Choice Awards with 14 nominations.  A Netflix film has never been so dominant and present in an awards conversation.  It appears as though critics across the board are agreeing that this is a work of art that needs to be recognized and awarded, despite the fact that it was produced by a streaming platform. 
All Best Actor/Actress Speeches From The Beginning Of Oscars 1929-2019
Audiences and critics alike have sung praises for Adam Driver and Scarlett Johansson's intense, heart-breaking performances in Marriage Story.
The other Netflix film that seems to be in the Best Picture race is another Netflix film, Noah Baumbach's latest divorce drama, Marriage Story.  As it hit Netflix over the weekend, it generated a deep and meaningful conversation similar to that of The Irishman a couple weeks prior.  Besides people lauding praise for Adam Driver and Scarlett Johasson's intense and moving performances, people shared their feelings about going through their breakups, divorces, or being a child of divorce.  This film resonated emotionally with many people, and I do believe that voters will and do remember that.  This film too, has been racking up quite the number of awards this season leading up to the Oscars. Adam Driver, in particular, may be a front-runner now for Best Actor, as he has racked up an impressive 19 awards for his performance in this film. Marriage Story too dominated the Golden Globes earning a nomination for Best Drama, Best Actress, Best Actor, Best Supporting Actress, Best Screenplay, and Best Original Score.  Both The Irishman and Marriage Story have proven that they are forces to be reckoned with this awards season, and cannot and should not be pushed aside.  
Reactions From Cast & Crew of The Irishman
Uncut Gems and The Two Popes can prove to be surprise, late-year Oscar contenders.
Besides Marriage Story and The Irishman, there are a couple of Netflix movies that could find their way into the Oscars conversation.  One of which is Uncut Gems, a crime-thriller directed by the Safdie brothers and starring Adam Sandler.  Through this season so far, Adam Sandler did pick up quite a few nominations from critics circles and a win from the National  Board of Review for his serious, yet wild performance. Before this, he was not really taken seriously as a Best Actor contender. However, these nominations could generate more conversation around him, and the film, and propel him to the Oscars for the first time since 2003. Many people also seem to forget that The Two Popes just hit Netflix over the holiday weekend, which could be an Oscar contender, as it is a quiet, contemplative film. From what we see, it can be compared to Green Book, two men bond through their differences, have a meaningful conversation, and reflect on their lives and the future of the Church.  This is the kind of film that the Oscars loves to award, slow meditative films. Also, it stars Jonathan Pryce and Anthony Hopkins, two incredible actors that I find it hard to believe that the Academy will ignore.  
A new era of filmmaking is beginning inside Netflix.  
By signing these prestigious directors and talent,  Netflix is hoping to rebrand. Instead of being known for just entertaining content, they want to be known for deep, meaningful films.  This is the first time I can remember that Netflix movies are generating a conversation, besides just controversy.  People all around the world are talking about Marriage Story, as it may bring up old wounds, and it shines a light on an ugly aspect of life we try to ignore. 
Ultimately, the Oscars cannot ignore the discourse and praise around these films, as much as they might like to. Netflix deserves to be considered based on talent and merit – for which they have shown credibility. Oscars have got to keep up with changing times in Hollywood and Netflix and its content have earned their place in it. 
By Stephanie Bock
More Interesting Stories From Hollywood Insider
– A Tribute To The Academy Awards: All Best Actor/Actress Speeches From The Beginning Of Oscars 1929-2019 | From Rami Malek, Leonardo DiCaprio To Marlon Brando & Beyond | From Olivia Colman, Meryl Streep To Bette Davis & Beyond
– Stop Pitting Duchesses Kate Middleton & Meghan Markle Against Each Other, Both Can Be Great Without The Other Being Torn Down
– Why Queen Elizabeth II Is One Of The Greatest Monarchs | Her Majesty Queen Elizabeth II of United Queendom of Great Britain & Northern Ireland
– Video: Full Commentary & Reactions From Stars on 'Star Wars: The Rise Of Skywalker' With J. J. Abrams, Adam Driver, Daisy Ridley, John Boyega, Oscar Isaac, Keri Russell, Mark Hamill & Team
– Video: Full Commentary & Reactions From Stars On 'Bombshell' With Charlize Theron, Nicole Kidman, Margot Robbie, Jay Roach & Team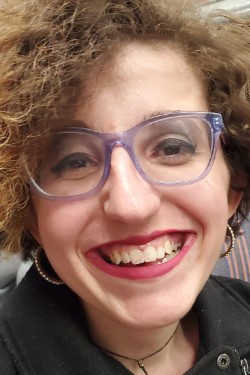 Stephanie Bock is a writer for Hollywood Insider. She is an impassioned storyteller who puts all of her energy into her writing and film. Having grown up with a strong passion for both literature and cinema, she now writes short stories, scripts, and film reviews in her spare time. As a fan of films and shows of all kinds, she enjoys discussing deep and meaningful cinema and uncovering hidden gems.