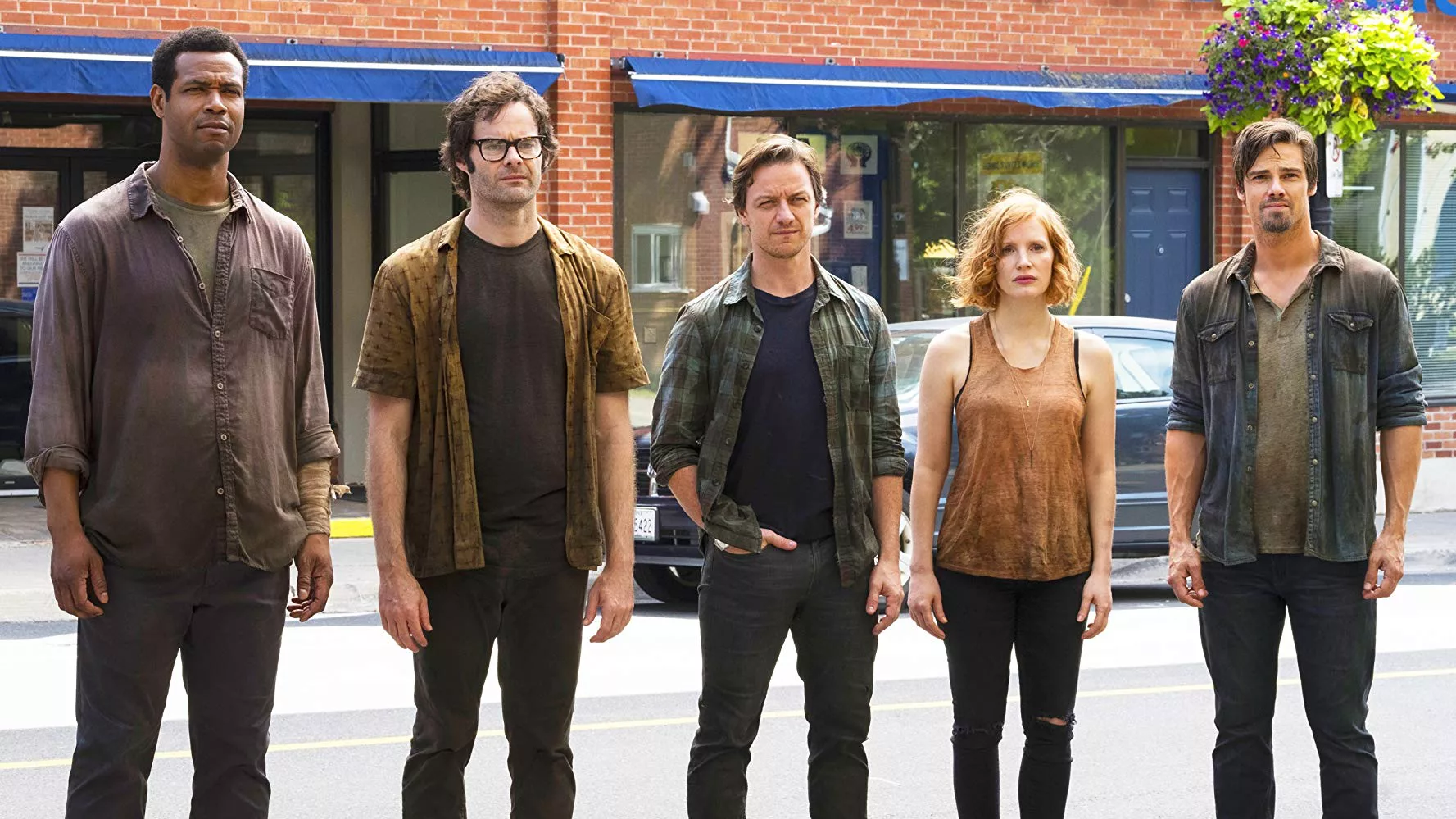 Photo: 'It Chapter Two'/Warner Bros. 
It Chapter Two is the supernatural horror sequel to its first chapter in 2017, It, both directed by Andy Muschietti and based off Stephen King's exemplary 1,138 word novel. It reintroduces the kids from the first chapter as mostly successful adults who've done their best to move on from the traumatic summer of 1989. James McAvoy plays the main protagonist, Bill Denbrough, who has become a novelist with an actress wife, Jessica Chastain plays Beverly Marsh as a well known, Chicago-based fashion designer, Bill Hader plays Richie Tozier as a famous LA based comedian, James Ransome plays Eddie Kaspbrak who is ironically a NYC based risk assessor, Andy Bean plays Stanley Uris who has become a wealthy partner of an accounting business, and Isaiah Mustafa plays Mike Hanlon who is the only one to have stayed in Derry, working as a local librarian. Clearly, most of them have moved far away from their haunted hometown to create new fates for themselves; however, it's clear that there are still remnants of their past that terror them. Once Mike notices that It has broken out of his hibernation and is starting to create new havoc, he calls for "The Losers Club" to reunite and defeat Pennywise as they had promised each other as children. 
It Chapter Two Addresses Layers of Trauma
Although many of the adults seem to have weary memories of what had gone down in their childhood, the impacts are clearly blended within their adult personalities. It's seen that Beverly has suffered further abuse through her romantic relationships, Bill still mourns his brother's death, Eddie is still a hypochondriac due to his mother's toxic impact and his now similar wife, and Mike still suffers from trauma due to not leaving Derry. When the adults reunite, the thought of facing Pennywise isn't any less terrifying regardless of their age and prior experience. It also goes to show that many people can't just outgrow trauma and it naturally takes time to get over rough experiences. In the film, we see Pennywise take on multiple other forms besides his infamous clown appearance (which most of us personally find the most scary).  His intentions are to return as even more horrifying than before in order to place his revenge on The Losers Club. He chillingly says, "I've dreamt of you. I craved you. I've missed you!" Bill Skarsgard succeeds in delivering just as much terror, perhaps even more, as he did the first chapter with his spine chilling giggles and demonic clown grin.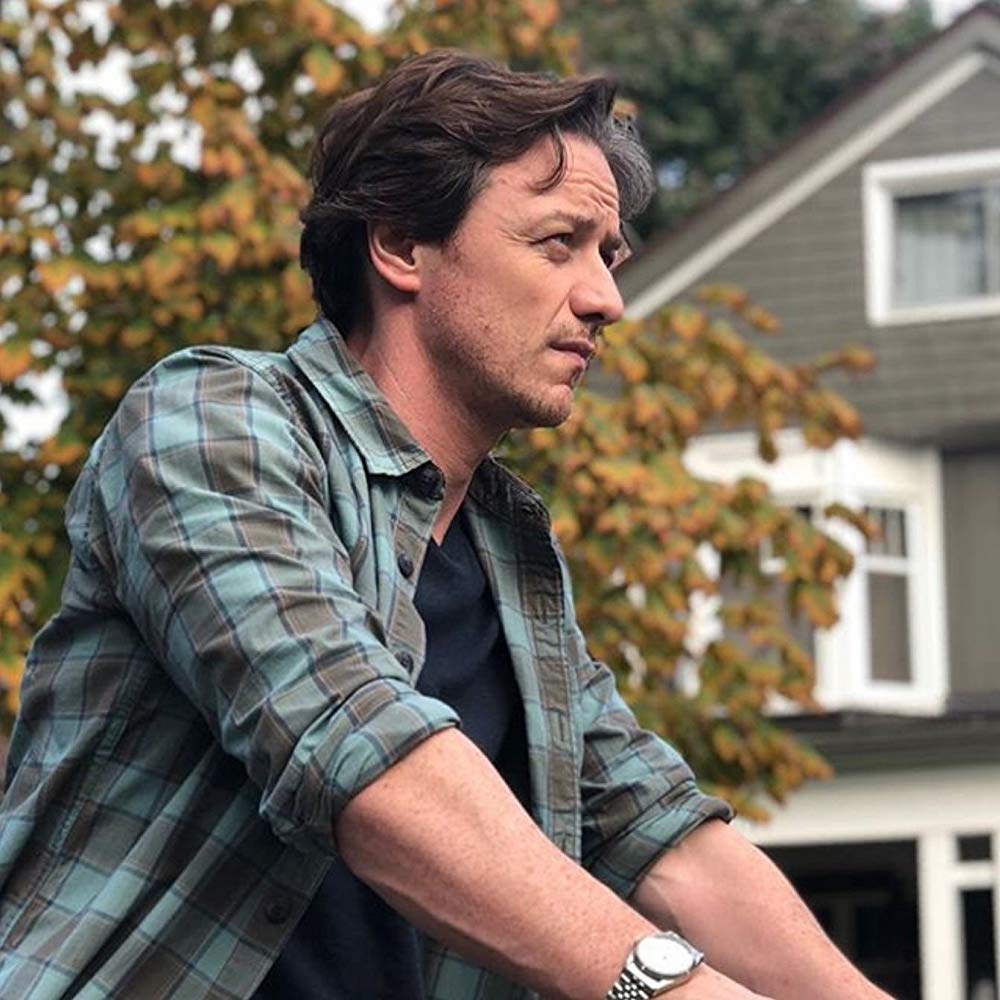 Photo: 'It Chapter Two'/Warner Bros. 
 In It Chapter Two Muschietti Adds More Humor and Nostalgia to Contrast King's Dark Storyline
What's a bit different about this chapter is that Muschietti incorporates more humor and nostalgia within the characters in replacement of too much seriousness and fear. After all, it is a children's story. When the adults reunite, we see them establish their old chemistry, teasing each other relentlessly and adding sarcastic comments about the other. It's strangely perceived as not a complete inconvenience to return to their hometown and face a new form of terror as they are together and have done it together in the past as well. We also get an abundance of flashbacks to not only give further background on the adult characters, but to (mainly) feature the fan favorites from the first chapter: Finn Wolfhard, Sophia Lillis, Jaeden Martell, Jack Dylan Grazer, Chosen Jacobs, Wyatt Oleff, and Jeremy Ray Taylor. They play their roles admirably just as they did the first time, reinforcing their past state of unity and dedication which the adults now have to resurface. This not only delivers a nostalgia within the story and its characters, but also possibly outside to a middle aged audience of their childhood and the 80s. 
Pennywise's International Impact
This film has been attracting all sorts of attention, specifically in Australia where parents are not happy about its' disturbing billboard advertisements of Pennywise grinning down on them. According to LadBible, mothers have spoken out about how the images have affected their homes and made their children feel unsafe. Even James McAvoy spoke out about his own fear at Comic-Con claiming, "I had nightmares about Pennywise quite a lot", describing the nightmares in depth. Pennywise the Dancing Clown is an iconic aspect of this film that has attracted many horror movie lovers but perhaps it's not as child friendly as Stephen King may have thought. Parents in Australia are advocating for a "MA15+ rating" and that the advertisements should be "restricted in areas frequented by children." 
Overall, this film is everything you can expect and more. The adult actors embody the teen characters' quirks and development extremely well. If you've watched the first chapter and loved it, you most definitely need to see what the second chapter has to offer. 
Cast: Jessica Chastain, James McAvoy, Bill Hader, Isaiah Mustafa, Jay Ryan, James Ransome, Andy Bean, Bill Skarsgard, Jaeden Martell, Wyatt Oleff, Jack Dylan Grazer, Finn Wolfhard, Sophia Lillis, Chosen Jacobs, Jeremy Ray Taylor, Henry Bowers
Director: Andy Muschietti
Writers: Gary Dauberman and Stephen King
Cinematographer: Checco Varese
By Juliet Poucher
More Interesting Stories From Hollywood Insider
– Why Queen Elizabeth II Is One Of The Greatest Monarchs | Her Majesty Queen Elizabeth II of United Queendom of Great Britain & Northern Ireland
– A Tribute To The Academy Awards: All Best Actor/Actress Speeches From The Beginning Of Oscars 1929-2019 | From Rami Malek, Leonardo DiCaprio To Marlon Brando & Beyond | From Olivia Colman, Meryl Streep To Bette Davis & Beyond
–  The No. 1 Show In USA – 'Elite' Is Faster, Edgier & Sexier In Season 2 – And Omar & Ander Also Known As #Omander Are Here To Steal The Title Of Most Famous/Sexiest Couple From Priyanka Chopra Jonas & Nick Jonas
–  FACT-CHECKED Series: Keanu Reeves – 12 Revelations About The Star Of 'Matrix', 'John Wick' & 'Toy Story 4′ – Did His Close Friend River Phoenix Predict Reeves' Super Stardom?
– In The 32nd Year Of His Career, Keanu Reeves' Face Continues To Reign After Launching Movies Earning Over $4.3 Billion In Total – "John Wick", "Toy Story 4", "Matrix", And Many More
– FACT-CHECKED Series: Zendaya And 15 Things You Might Not Know About The Star Of 'Euphoria', Tom Holland's Leading Lady In "Spider-Man: Far From Home' And Next Starring With Timothée Chalamet In 'Dune'
– Dame Judi Dench Urges All To Remember Forgotten Villages Of Nepal By Donating To Humans Of Our World's Nepal Campaign
– WATCH: Do People In America Choose Human Rights Or Religion? – Season 2 Of Hollywood Insider's Messages From America – Episode 1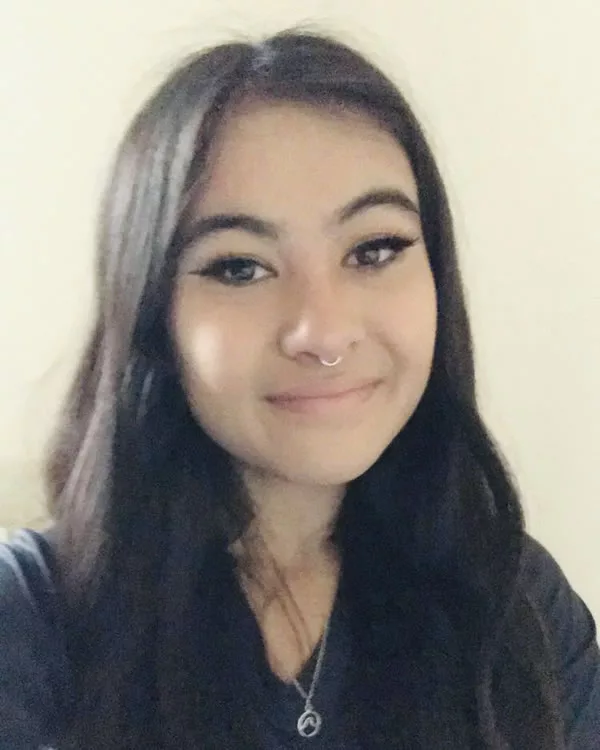 Juliet Poucher is a reviews writer for Hollywood Insider. She has a keen eye for films, art and literature, often analyzing them for hidden meanings. Hr goal with her career and duripromote entertainment with quality actors, meaningful stories, and universal messages.