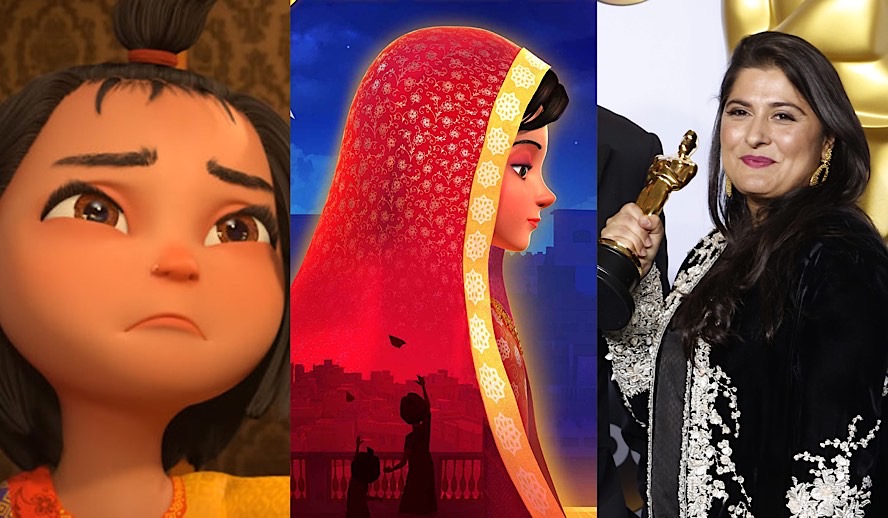 Photo: Sitara: Lets Girls Dream, Sharmeen Obaid Chinoy after her Oscar win/Kathy Hutchins/Shutterstock
Finding a true mission and purpose is rewarding and motivating, but it requires passion, conviction and commitment. These qualities are once again demonstrated by the Oscar-winning filmmaker and activist Sharmeen Obaid-Chinoy, who has made the fight for women's rights and issues her life mission. Coming March, Sitara: Let Girls Dream,  an animated film about the cultural barriers and obstacles that women face in Pakistan, will be the first Pakistani short film to be streamed on Netflix.
The main character, Pari, is a young teenager who dreams of becoming a pilot. But this deep desire is obstructed by harsh social mandates, since she is a child bride about to be married off by her father. The story is seen through the eyes of Merh, Pari's little sister, who is too young to understand the centuries old Pakistani traditions and the strict obligations that continue to be imposed on girls.
The movie has already won the best screenplay, best music score and humanitarian awards at the LA Animation Festival 2019. 
Obaid- Chinoy's humanitarian life journey
In the inspiring TED talk: How film transforms the way we see the world,  Obaid- Chinoy shares her life journey and defines herself as a "storyteller and a troublemaker." From a very early age, and with the support of her family, she has been striving quite successfully to "shake people up and make them have difficult conversations." 
The auteur has garnered many awards and is the only Pakistani filmmaker who has won two Oscars. The first one in 2012 was for Saving face, a documentary about women who are victims of acid burning. And in 2016, she was recognized by the Academy for A Girl in the River – The Price of Forgiveness.  This picture narrates the story of an 18-year-old girl murdered by her relatives to redeem family honor. In the 2016  Oscar Ceremony,  after watching the film, the Pakistani Prime Minister announced the change of the law on honor killings. For Shareem, "that is the power of film."  
Early and forced marriage as an impediment for dream fulfillment
Before the movie came to life, Obaid-Chinoy and her team did some deep research and found out that the vast majority of girls forced to marry to older men sadly regret not being able to fulfill their personal dreams. Most are required to give up school and stop seeing their friends. They are unable to become doctors, artists, lawyers or pursue any desired professional or personal path. The motion picture focuses on the need to condemn these issues and reflect upon them.
In an interview for Animation Magazine, Shareem says that Pari wants to become a pilot because, "When her aspirations are cut off and she is married to an older man, there's a moment when you realize that her dreams will never take flight — that's how the premise of the film evolved." 
A story made and developed at home
"Sitara: Let Girls Dream" was developed by Waadi Animations, the production company established by Sharmeen in Pakistan. As she expressed in "Sitara: "The Making of", there was a need for children "to see positive stories that reflect themselves in the big screen." 
The lack of high-tech equipment and modern hardware was a huge challenge for the production team. They worked hard for approximately 15 months, facing multiple obstacles such as electricity outages and server breakdowns. However, they persevered and even spent nights at the office working overtime to achieve their artistic and social goals. In addition, since there is no dialogue in the film, they had to make a concerted effort to allow the characters to shine through their actions and expressions only. 
From a very early age and throughout her life, Sharmeen has been a committed storyteller, artist and activist seeking to illuminate the cultural taboos that still endure in a large number of contemporary societies. 
In an interview with Vice Studios, she declared that, "More than a film, it is a movement that we want to start across the world that encourages parents to invest in their girls' dreams, freeing their daughters from the burdens of early marriage." 
There's a pilot aching to fly inside every human being. And thanks to Sharmeen, many girls may be able to wake up to that dream and become aware of a sky full of rights and opportunities.
By Catalina Piotti
More Interesting Stories From Hollywood Insider
– The Verified Complete List of Every Female Best Director Golden Globes Winner: Fact-Checked Series
– Stop Pitting Duchesses Kate Middleton & Meghan Markle Against Each Other, Both Can Be Great Without The Other Being Torn Down
– Video: Full Commentary & Reactions From Stars On 'Bombshell' With Charlize Theron, Nicole Kidman, Margot Robbie, Jay Roach & Team
– Why Queen Elizabeth II Is One Of The Greatest Monarchs | Her Majesty Queen Elizabeth II of United Queendom of Great Britain & Northern Ireland
– A Tribute To The Academy Awards: All Best Actor/Actress Speeches From The Beginning Of Oscars 1929-2019 | From Rami Malek, Leonardo DiCaprio To Marlon Brando & Beyond | From Olivia Colman, Meryl Streep To Bette Davis & Beyond
– 'Star Wars': From 1977 to 2020 — In 43 Years of Star Wars Films, How Has the Role of Women Changed? Carrie Fisher, Natalie Portman, Daisy Ridley, Etc.
– Video: 'Little Women' – Full Commentary & Reactions From Stars With Timothée Chalamet, Saoirse Ronan, Emma Watson, Laura Dern, Meryl Streep, Greta Gerwig, Florence Pugh, Eliza Scanlen, Louis Garrel, James Norton & Team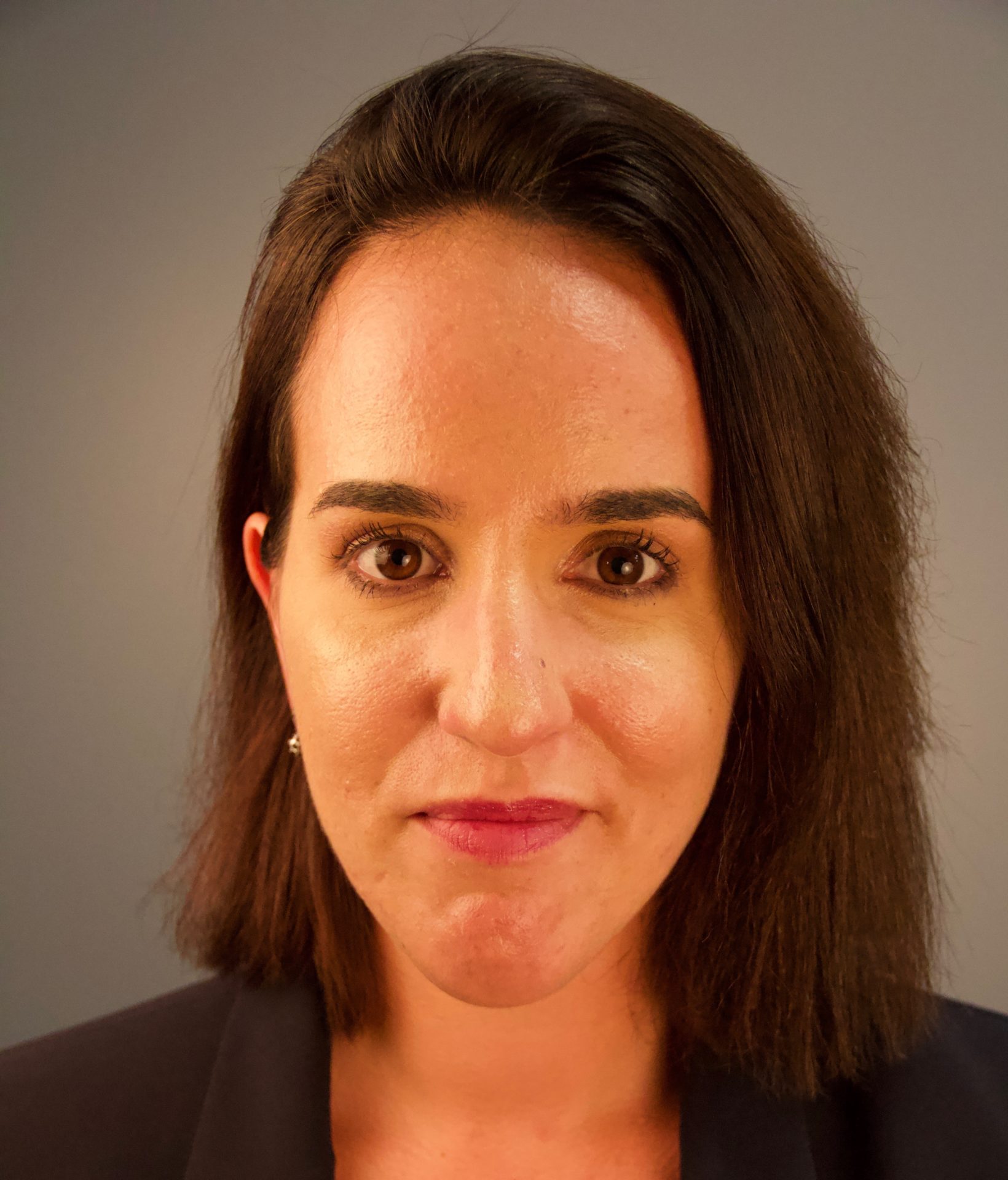 Catalina is a passionate writer who believes that global entertainment journalism can be used as a tool to make audiences reflect upon deep social, cultural, educational and philosophical matters. For that reason, she is happy to be working in Hollywood Insider with a team that focuses on meaningful content and stays away from scandal and sensationalism to make the world a kinder place for all.