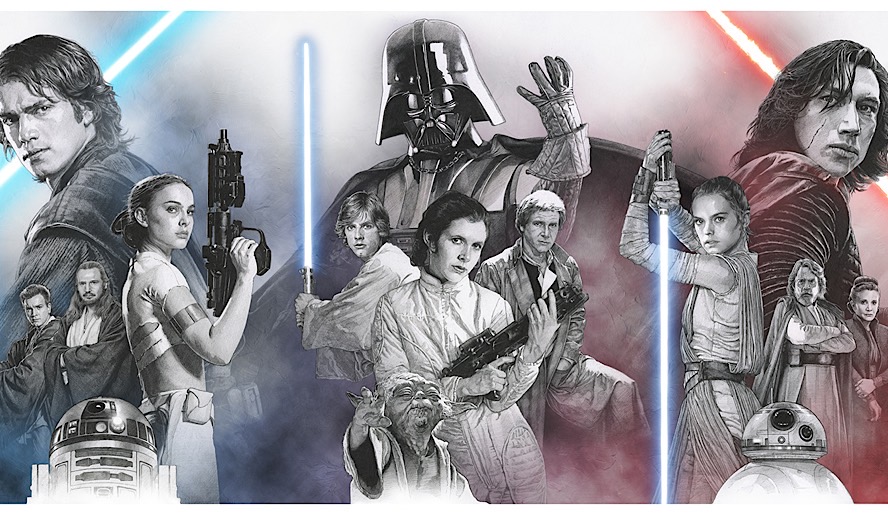 Photo: Star Wars Saga/Russell Walks
Most fans and critics agree, The Rise of Skywalker was a disappointing end to the Skywalker saga.  After underperforming at the box office and receiving the worst critical reception of the eleven films, sitting at at 52% at Rotten Tomatoes this leaves many wondering what went wrong?  
Colin Trevorrow's Different Vision for Star Wars
Issues began to arise long before the film was released.  Colin Trevorrow was originally supposed to helm the movie up until September of 2017, where he was suddenly removed due to "creative differences".  Unfortunately, Lucasfilm is no stranger to the process of reshoots and replacing directors. The Force Awakens underwent extensive reshoots up until release, Solo directors Lord and Miller were fired and replaced with Ron Howard, and Rogue One's third act was completely re-shot and changed .  This seems to be just how Disney Lucasfilm operates, like a chaotic game of musical chairs. However, why was Trevorrow fired? You may have seen leaked concept art of his film, Duel of the Fates, that never got made or even the entire script that found its way online.  Trevorrow pitched his idea for Episode IX,  and impressed Kennedy, thus got the job. After seeing multiple versions of these drafts, she was unhappy, and Trevorrow was simply unwilling to budge.  Some of the major differences that you can see in his version is that he doubles down on Kylo being a villain, Poe falls in love with Rey, and ultimately Luke rejects Kylo/Ben in a face-off. These are some hard turns to make as most people felt that Kylo was being set up as the conflicted villain, thus redemption.  Rian Johnson in particular worked hard to develop Kylo and not have him fall under the stereotype of an evil two-dimensional villain.  
Full Commentary and Reactions From Stars – Star Wars: The Rise of Skywalker
Video: Full Commentary and Reactions From Stars on 'Star Wars: The Rise of Skywalker'/Hollywood Insider YouTube Channel
Why Was Duel of the Fates Rejected?
He explains Kylo's character in his commentary of The Last Jedi, "My goal with this movie in regards to Kylo was two-fold. It was, first of all, to get more inside his head in one way and bring us more to, if not sympathy, at least some kind of reveal of his vulnerabilities in a way through Rey's eyes so that we had to go along with her on that journey without just stonewalling him and saying 'Screw that guy who killed Han Solo' to have to bring us closer to him to understand him a little better. At the same time, I knew that by the end of it I wanted to bring him closer to being the villain that he wanted to be in The Force Awakens. With Kylo […] by the end of this film he's not a Vader, but he has come into his own as a sort-of villain, but hopefully one that you now have—more importantly, that Rey now has—a level of understanding of, that he has that strength and power of 'The Supreme Leader is dead', and in a way he's earned it a little bit more. That was always kind of the goal".  You can read more about his thoughts here.  
Related article: 'Star Wars': From 1977 to 2020 — In 43 Years of Star Wars Films, How Has the Role of Women Changed? Carrie Fisher, Natalie Portman, Daisy Ridley, Etc.
Come Behind The Scenes of Star Wars: The Rise of Skywalker
Video: Hollywood Insider YouTube Channel
Trevorrow's ideas go against the character that was set up by both J.J. and Rian, thus were rejected by Lucasfilm. Not only that, but the romance presented seems a bit awkward and strange? Poe had met Rey for two minutes versus any other character she could have a romance with.  It is easy to see why this is a controversial script.    
Picking up the Pieces After Trevorrow
J.J. Abrams was not even the first director Lucasfilm approached after losing Trevorrow.  With only a year and a half to go until the release of one of the biggest films, Lucasfilm was in full panic mode.  At first they approached Rian Johnson, the writer/director of The Last Jedi, however, he said that he was not comfortable with such a tight deadline and passed on the project.  Instead, he went on to make Knives Out.  After that, they asked J.J. Abrams, who directed The Force Awakens, and he said "I had no intention to return. But when the opportunity presented itself to finish a story that we had begun with these new characters, to tell the last chapter of their story, it felt like there was a chance to do it in a way where we could go beyond, and do better than we did in Seven." With only about a year and a half to completely write, film, and edit a complete new project separate from Trevorrow's vision,  this film did not have much hope from the get go. Hindsight is 20/20, and looking back it could have benefited from a longer release schedule. Actors who worked on the film, such as Daisy Ridley (Rey) spoke out about Abrams's process, describing Abram's as very free-flowing and unplanned. She highlighted that his style of filmmaking was much more spontaneous than that of Rian Johnson, who stuck to the script and hardly shifted from his vision.  Ridley noted that the original script that she read would change onset, and the actors would not learn lines until the day of shooting. Daisy Ridley explains her experience on the set here.  It is not just Daisy who was a victim of J.J.'s impulsive planning, but Adam Driver as well. Recently, Matthew Wood, a lead sound editor on the film, appeared on the podcast The SoundWorks Collection, to discuss his work.  When asked about his strangest place he has ever recorded, he recounted a time where he had to rush out to Adam Driver's house to rerecord lines in his closet right before release.  He described, "The very last recording we did was, we had to change some lines of Kylo when he had his mask on," … I went to [Driver's] house in Brooklyn … I ended up opening up one of his closets where he had all of his suits, and I just pushed the suits out of the way and said, 'hang your head in here.' 
Related article: Streaming Style: Binged Netflix's 'The Witcher' vs Weekly 'Star Wars: The Mandalorian': Is the Binge Model Killing Prolonged Conversation?
Rendezvous At The Premiere of Star Wars: The Rise of Skywalker
Video: Hollywood Insider YouTube Channel
Lucasfilm's Odd Silence and Delays 
These are not the only strange incidents  that went on behind the scenes. Upon the release of the film, the response was among the most divisive we have seen.  Lucasfilm fell silent. Previously, the social media accounts were very active with fans, now they have resorted to posting very vague messages along the lines of "SEE THE MOVIE".  This level of inactivity and silence almost seems like acceptance. They are not retorting or defending the film, rather, they do not know how to respond to such a media whirlwind. There is no mention or acknowledgment of the positivity surrounding the fandom, either.  Such as the Reylo side of the fandom which has raised a collective 122k from various charities. Also, the art book, which would detail all of the concept images that led up to this film, has not only been pushed back months, but an early edition has been released in South Korea.  From this early edition, we could already see numerous crucial scenes and ideas for development have been either left on the cutting room floor or in this art book.  How were these scenes just…deleted? We will never know.  How was this book released preemptively? To quote Maz: Good question for another time.  Not only that but the novelization for The Rise of Skywalker was supposed to be released by now, but that was also delayed for unknown reasons.  
Why has all of this happened? Or how? If I had to speculate, it would be because of last-minute decisions and lots of key people that were uninformed. Now unfortunate talented storygroup employees are forced to clean up the mess that is being left by higher-ups such as J.J. Abrams. Or who was it? Or who were they? Star Wars saga exists because of the fanbase, so leaders at Lucasfilm must make the fanbase and their appetite for a well-made film, a top priority when making decisions. Star Wars has decades old fanbase that deserve better than a half-cooked or haphazard bureaucratic hiring decisions that have ultimately affected the fan experience. 
By Stephanie Bock
More Interesting Stories From Hollywood Insider
– Video: 'Star Wars: The Rise of Skywalker' Rendezvous At The Premiere With Reactions From J.J. Abrams, Daisy Ridley, Oscar Isaac, Adam Driver, John Boyega & Team
– Stop Pitting Duchesses Kate Middleton & Meghan Markle Against Each Other, Both Can Be Great Without The Other Being Torn Down
– Video: Full Commentary & Reactions From Stars On 'Bombshell' With Charlize Theron, Nicole Kidman, Margot Robbie, Jay Roach & Team
– A Tribute To The Academy Awards: All Best Actor/Actress Speeches From The Beginning Of Oscars 1929-2019 | From Rami Malek, Leonardo DiCaprio To Marlon Brando & Beyond | From Olivia Colman, Meryl Streep To Bette Davis & Beyond
– Why Queen Elizabeth II Is One Of The Greatest Monarchs | Her Majesty Queen Elizabeth II of United Queendom of Great Britain & Northern Ireland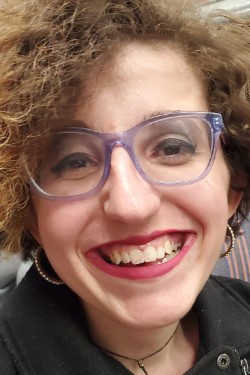 Stephanie Bock is a writer for Hollywood Insider. She is an impassioned storyteller who puts all of her energy into her writing and film. Having grown up with a strong passion for both literature and cinema, she now writes short stories, scripts, and film reviews in her spare time. As a fan of films and shows of all kinds, she enjoys discussing deep and meaningful cinema and uncovering hidden gems.