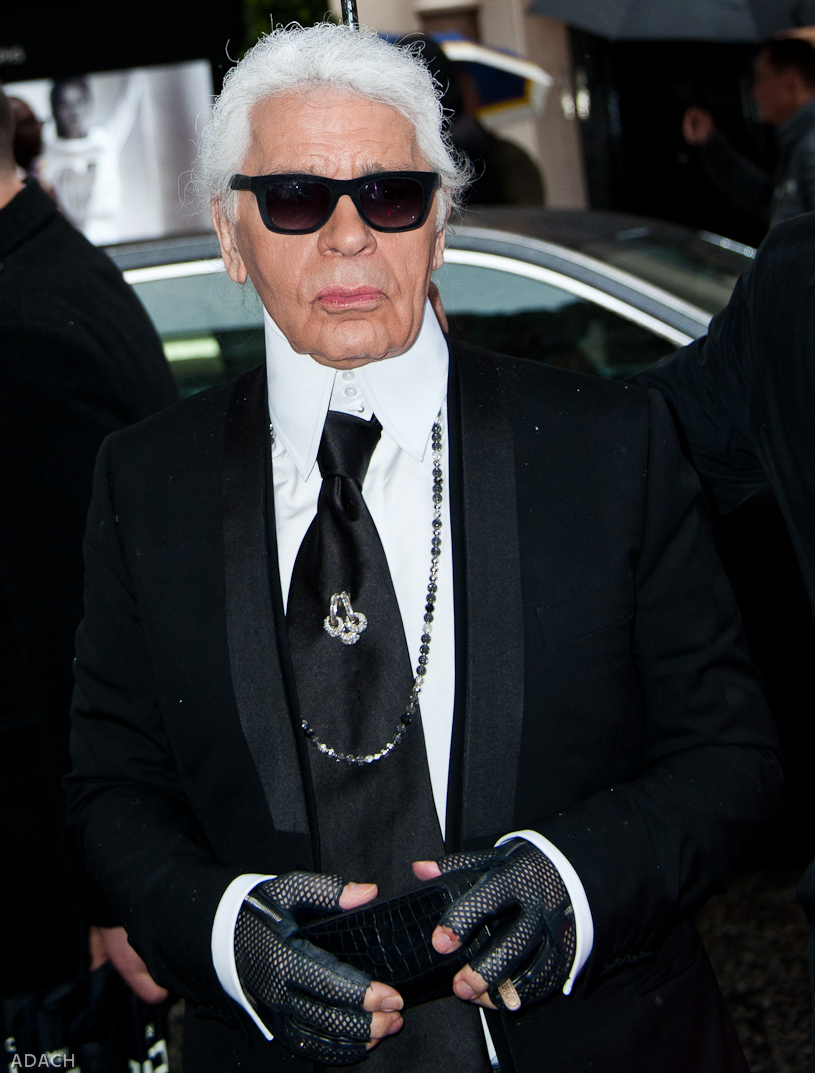 Photo:  Karl Lagerfeld at a Fendi store opening on 3rd May 2014 by Christopher William Adach is licensed under CC BY-SA 2.0
Karl Lagerfeld. Dark sunglasses, white ponytail, sharp, black, tailored clothing. Fashion designer, artist, photographer, caricaturist, interior designer, creative director of not one but three luxury fashion Houses (Chanel, Fendi, Karl Lagerfeld) and even, briefly, a voice actor (Totally Spies! The Movie). Unapologetic, controversial, insanely talented and witty. You don't have to know a lot about the fashion industry to know his name, image and accolades.
Known in recent years to have called Adele "a little too fat", proposed that Pippa Middleton (Duchess Kate Middleton's sister) "only show her back" because he didn't "like the sister's face", called the opposition to fur in fashion "childish" ("In a meat-eating world, wearing leather for shoes and clothes and even handbags, the discussion of fur is childish"), and claimed that he was "fed up" with the #MeToo movement, he was certainly not a saint and that should not be overlooked. However, he was also a dear and brilliant friend and mentor to a lot of people – something that should also not be discounted.
Here are a few facts to reveal a little more about the perplexing, walking contradiction that was 'Kaiser Karl':
1.  "I think everyone should go to bed like they have a date at the door." We'll start with what I know you're most curious about – what on earth did Karl Lagerfeld wear when he was lazing around at home? It seems Lagerfeld was a true fashion King through and through, keeping on theme with his iconic look even while he slept and worked! He believed, "Sweatpants are a sign of defeat. You lost control of your life so you bought some sweatpants." Instead, he wore "long, white nightshirts, also with wide lapels. They are in poplin, they have long sleeves, and they reach the ground." However, he admitted, he kept his hair in a looser ponytail (outrageous!) and ditched the sunglasses altogether (the horror!). He never wore them at home "because you don't need them".
2. No one knows his real birth date. Largely thought to have been born September 10, 1933, this fact is open to debate. Karl, himself, claimed he was born in 1938 … of which there is no evidence. In 2009, he told French television he was "born neither in 1933 nor 1938". In 2013, he finally declared he was born in 1935 … Although, a birth announcement was found to have been published by his parents in 1933.
3. He wanted to be a cartoonist but thought he would make more money in fashion (which he had always loved) and chose to pursue that career path instead. Nonetheless, in 2013, he fulfilled his dream with his political cartoons and caricatures regularly being published in German newspaper Frankfurter Allgemeine Zeitung.
4. "I'm very much down to earth, just not this earth."
5. Choupette (his cat) is a very rich girl, indeed. Choupette is a Birman cat, gifted to Karl by model Baptiste Giabiconi after Karl agreed to look after her while Baptise was abroad and ended up forming a bond.  "When he came back, I thought I'm sorry Choupette is mine," said Lagerfeld. Since then, Choupette has risen to iconic status alongside Karl. She currently has almost 300,000 followers on Instagram and has even made over $3 million dollars modelling. She has two personal maids and dines on Goyard dishes at the dining table, eating caviar and food prepared by world-renowned chefs. "There is no marriage, yet, for human beings and animals… I never thought I would fall in love like this with a cat," said Karl to CNN.
6.  His recommended wardrobe must-haves include a white shirt, jeans, and a jacket (whether it be a blazer, coat, etc.) Although, he did have one more tip to share, "I don't think that a woman is well dressed unless she is wearing perfume."
7. He believed every day should be perfect. In a Net-a-Porter face-to-face interview, when asked what his perfect day would look like for him, he responded, "Everyday should be perfect. It's up to you to work on it and to make the day perfect. There is no perfect day, and if there was, it would be a very sad thing because the day has only 24 hours and then how will the next day be? Up to you to make every day as perfect as possible. It's a question of will and discipline." He shared a similar philosophy on happiness as well, "Things go well when you really want them to go well. You have to make efforts towards that."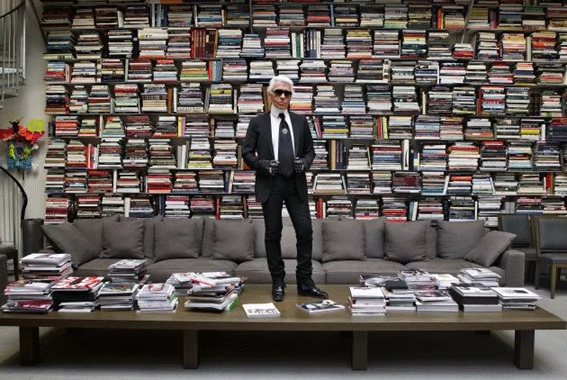 Photo:  Karl Lagerfeld at his library by Stefan Strumbel is licensed under CC BY-SA 3.0
8. His private library puts Beast's to shame. His personal collection of books was 300,000 books strong and were stacked sideways – so that he didn't have to tilt his head to read the titles.
9.  He did not like being a tourist. When asked about his decision to work on an interior designing project in Canada, he revealed that he had always wanted to visit the country but needed a professional reason to do so … and so he created one! "I hate to be a tourist … I feel like an idiot if I'm a tourist."
10. His mother never wore his designs. Karl revealed that his mother never mentioned his success in the industry, choosing to wear Sonia Rykeil dresses over his own, claiming she hated his Chloé designs. She also never came to a show, not wanting to "go see people who my son works for."
11. He's not sure he's ever created anything he's not proud of. "Maybe it happened, but I made such an effort to forget this kind of thing that I don't remember. I'm very good about forgetting." He said, looking mischievous beneath his dark sunglasses. He then went on to admit, "I'm never pleased with what I did, I always hope that I can do better, that next time will be better … For me I'm always a beginner. For me, the next collection is always the first, the next sketch is always the first."
12. "I've always known that I was made to live this way, that I would be this sort of legend."
Whatever your opinion on him, it is clear there was and is no one quite like Karl Lagerfeld. He never took himself too seriously – "I am like a caricature of myself and I like that … It is like a mask. For me the Venice carnival lasts all year long." – and he lived life with a determination to always look forward and move with the times – ahead of them, even. "The worst thing is when friends say, 'Remember the good old days?' Forget about the good old days! That just makes your present second-hand. What is interesting is now."
He inspired many and made them feel more bold in their chosen skins. Even Anna Wintour (who walked out of his 1993 Milan Fashion Week show when he employed strippers and adult-film star Moana Pozzi to model his Fendi collection) had only gushing praises for him, "… he was witty, he was wicked, he was the best kind of friend to have, he was incredibly generous and incredibly kind. He was this larger than life figure that I think we all need to inspire the world."
We will miss him.
Karl Lagerfeld has left a beautiful and fashionable mark on the heart of his fans, he passed away on February 19, 2019.
A memorial for Karl Lagerfeld will be held in Paris on June 20 at the Grand Palais, called "Karl For Ever" and organized by Fendi, Chanel and Karl Lagerfeld, for one night only. The Grand Palais is the venue where Lagerfeld has presented his CHANEL collections since 2005. It is an invite-only event and 2,500 guests are expected to attend during Paris Men's Fashion Week. 
By Bhawana Siwa
More Interesting Stories From Hollywood Insider
– When Brad Pitt, Leonardo DiCaprio and the rest of the cast of Once Upon A Time In… Hollywood brought glamour back to Cannes
– 10 facts you may not know about Ben Hardy, the Bohemian Rhapsody Star.
– Pritan Ambroase on his idols Martin Scorsese, James Cameron and positive actions needed to avert the global warming crisis
– How Hollywood continues to take a stance on climate change and speaks up to halt the crisis facing our ONE home known as earth
– Priyanka Chopra slams media for giving online trolls/bullies a larger platform to spew their harmful negativity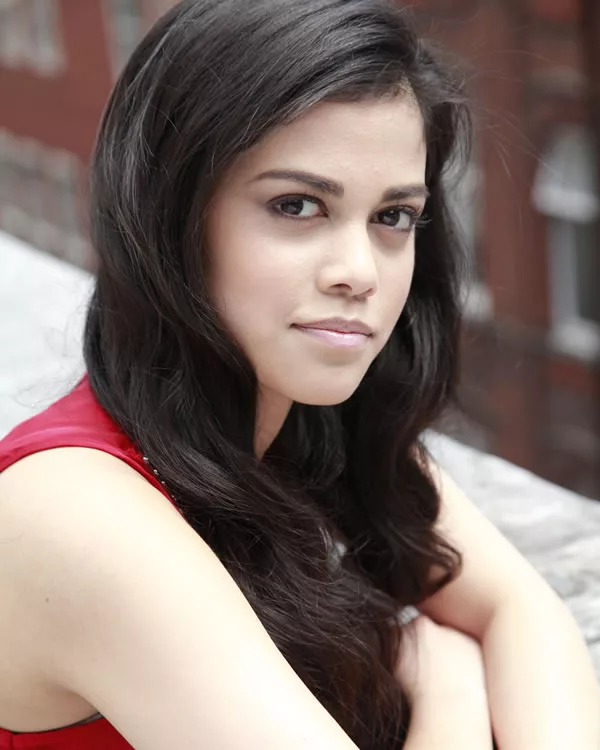 Bhawana Siwa is a writer for Hollywood Insider, writing film reviews and the occasional feature. Having grown up with a passion for finding beautiful stories, she aims to put her love of films and TV (and the hours she's spent watching them) to good use, aiding audiences to wade through the mass to find entertainment that is well-made, meaningful and that helps open their world up a little bit – exactly aligned with Hollywood Insider.