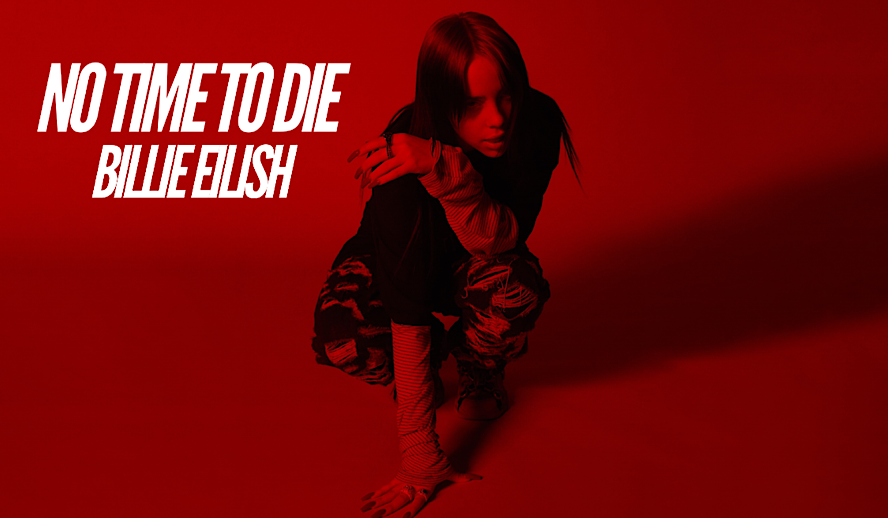 Photo: Billie Eilish/No Time To Die/MGM
The Sound of Silence 
Last month it was announced that American singer and songwriter Billie Eilish would be writing and performing the theme song for the upcoming James Bond film, No Time to Die. The spy flick, directed by Cary Joji Fukunaga and starring Daniel Craig in his fifth and final film as Bond, will be the twenty-fifth film in the James Bond franchise. The release date has been delayed to November 2020. 
The song, also titled "No Time to Die," was co-written by Eilish and her brother Finneas O'Connell. At the age of eighteen, Billie Eilish is the youngest artist to record a title track for a James Bond film. The song was released to the public on February 13th. Despite Eilish's youth and relative inexperience, "No Time to Die" portrays a great deal of subtlety and restraint. It opens with slow, melodic piano, creating a classical sound that fits the franchise's history. Orchestral elements eventually enter the mix, but it is a very gradual buildup which effectively creates a sense of excitement and finale. 
Eilish's vocals are also very impressive, betraying a somber and downbeat tone which matches the tone of the film's trailer. The lyrics also fit perfectly with a spy thriller, the chorus hauntingly proclaiming, "That I'd fallen for a lie / You were never on my side / Fool me once, fool me twice / Are you death or paradise?" The themes of lies, betrayal and espionage will no doubt fit well with Fukunaga's final product. 
The Name Is Bond….. Female Bond? Could Daniel Craig's Successor Be Priyanka Chopra, Emilia Clarke Or Lashana Lynch After 'No Time To Die'?
Video: Compilation: All James Bond 007 Opening Sequences From 1962 Sean Connery to Daniel Craig
Video: Hollywood Insider YouTube Channel
New Blood, Same Old Bond 
While writing "No Time to Die", Eilish and Finneas apparently looked back at previous Bond films and songs. In an interview with Rolling Stone Finneas explained, "We really wanted to make something that didn't feel like we were trying to copy other great songs, so it was really helpful to listen to these songs." 
Title theme songs have been an important part of the James Bond franchise since the very first film, Dr. No, released all the way back in 1962. Directed by Terence Young, based on the novel by Ian Fleming, and starring Sean Connery as Bond, this movie was the first appearance of the now iconic "James Bond Theme". The song was written by Monty Norman and arranged by John Barry, and it has seen been used in every James Bond film produced by Eon Productions. 
Related article: Coronavirus's Impact on Hollywood: Box Office Loss, Halted Productions and 'No Time To Die' Premiere Delayed? Introduction Compilation: All 'Bond… James Bond' 007 Introductions 1962 to 2020
Like Billie Eilish's "No Time to Die", Norman's theme begins very slowly and subtly, with a string ensemble easing the listener into the tune. This creates the same sort of suspense and tension as Eilish's song, which is then paid off by a massive introduction with the full orchestra. The song is stylish, exciting and victorious, and it perfectly reflects the tone of a James Bond film. 
While every following film in the franchise has utilized Norman's iconic theme, each film also has their own unique title song. 1963's From Russia with Love, the sequel to Dr. No, established the precedent of using a title theme that also shares the film's title. The song "From Russia with Love," composed by John Barry, forgoes the slow build-up of Norman's "James Bond Theme" in favor of a fast, intense opening before mellowing into a sensual rhythm. Two versions of the song exist, an instrumental version played over the opening credits and a version featuring vocals by Matt Monro.
Video: Introduction Compilation: All 'Bond… James Bond' 007 Introductions 1962 to 2020
Video: Hollywood Insider YouTube Channel
​
Lyric's On The Wall 
Over twenty-five films and more than half a century, the James Bond title themes have changed as drastically as the films themselves. However, many of the trends established by Monty Norman and John Barry have remained as important aspects of a Bond title theme. 
The last film in the franchise to release was Spectre, directed by Sam Mendes and starring Daniel Craig in his fourth picture as Bond. The title theme, "Writing's On The Wall," was composed by Thomas Newman and performed by Sam Smith. It differs from early Bond themes in a number of ways, including the fact that it does not share a title with the film. It also immediately opens with Smith's vocals, rather than beginning with a slow-build instrumental like "James Bond Theme" or "No Time to Die." 
Every James Bond Kiss From 1962 to 2020 | All Bond Girls | Sean Connery to Daniel Craig
Video: Hollywood Insider YouTube Channel
Despite the differences, "Writing's On The Wall" is still an effective title theme. Sam Smith's vocals are very effective, and he is able to create a somber and dramatic tone using only the inflections of his singing. The lyrics of the song are also very good at establishing the mood of the film and they reflect Bond's various relationships throughout the film, both romantically and professionally. The lyrics also portray danger and desperation, two important aspects of Spectre and other Bond films. 
Bond Girl 
Billie Eilish's "No Time to Die" is the latest in a long line of James Bond title themes, spanning across more than half a century. Amongst that immense pressure, and as the youngest artist ever to write and record a Bond theme, Eilish was able to create a supremely effective song. It is able to deliver what audiences have come to expect from a Bond theme musically, while also utilizing lyrics that are fitting and unique. 
Billie Eilish's "No Time to Die" is available now, while Cary Joji Fukunaga's No Time to Die will be available in theatres in November 2020. 
​By Thomas McNulty
More Interesting Stories From Hollywood Insider
– A Tribute To The Academy Awards: All Best Actor/Actress Speeches From The Beginning Of Oscars 1929-2019 | From Rami Malek, Leonardo DiCaprio To Marlon Brando & Beyond | From Olivia Colman, Meryl Streep To Bette Davis & Beyond
– Why Queen Elizabeth II Is One Of The Greatest Monarchs | Her Majesty Queen Elizabeth II of United Queendom of Great Britain & Northern Ireland
– Compilation: All James Bond 007 Opening Sequences From 1962 Sean Connery to Daniel Craig
– In the 32nd Year Of His Career, Keanu Reeves' Face Continues To Reign After Launching Movies Earning Over $4.3 Billion In Total – "John Wick", "Toy Story 4", "Matrix", And Many More
– Want GUARANTEED SUCCESS? Remove these ten words from your vocabulary| Transform your life INSTANTLY