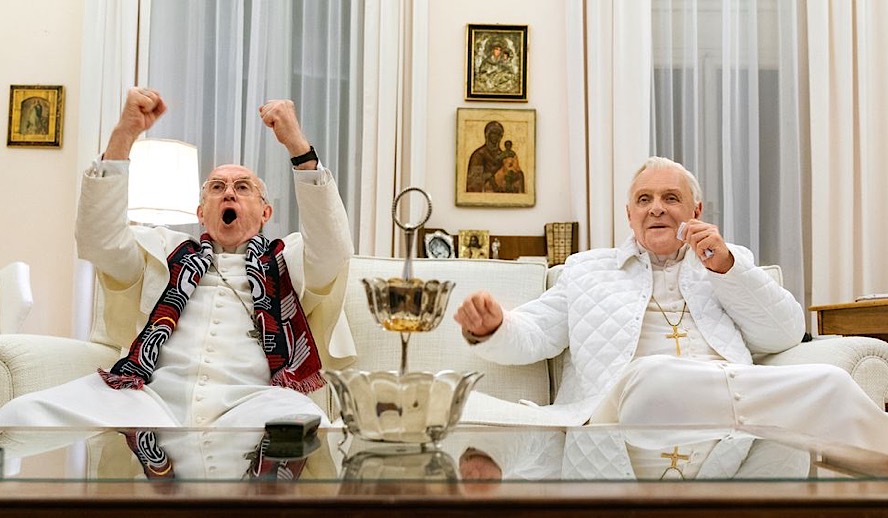 Photo: The Two Popes/Netflix
Two Popes was shaping up to be one of Netflix's strongest Oscar contenders, with legendary talent such as Anthony Hopkins and Jonathan Pryce, and such a relevant story of power that would surely catch voters' eyes.  However, by the time of release, surprisingly everyone forgot this film existed, as Netflix aggressively pushed Marriage Story and The Irishman instead.  It is quite a shame that this became almost a hidden gem, rather than a celebrated or talked about piece of art, as it is certainly on the same caliber as their other releases.  
Simple and Slow: Hollywood doesn't Make Films like this Anymore
Two Popes, written by Anthony McCarten and directed by Fernando Meirelles, is thought-provoking and intimate film that quite often does not get made anymore.  The story is focused around the historic event of Pope Benedict's sudden resignation in 2014 and passing of power to Cardinal Bergoglio.  In the current era where action and fast-paced drama seems to dominate, it is refreshing to see a film like this, where the audience is just left alone with these two men and we watch them grow closer and connect.  There are no fancy shots or sequences throughout the film, and I am actually grateful. Mostly, this story is told through vibrant wide and tracking shots as the two colleagues walk through the luxurious halls of the Vatican or the lush green summer home of the Pope.  The cinematography is clean and simple, natural lighting appears to be used throughout. This provides a sense of realism and intimacy as we sit in these rooms with the characters.  
​Jonathan Pryce and Anthony Hopkins make for a delightful duo
It is difficult to carry the weight of an entire film with just two characters, but these actors pulled it off marvelously.  That is not just due to their very charming performances, but how nuanced McCarten wrote these people and their relationship as well.  Jonathan Pryce is a stand-out performer as the warm and kind Cardinal Bergoglio. This is by no means a serious film throughout. There are many breaks in between the tension for heart-warming and funny scenes.  Those scenes we owe to Pryce and his charming and charismatic nature. Time after time, he takes the initiative in forging a friendship with Benedict trying to dance with him or making witty jokes. However, he is not just witty and charming throughout. Bergolio loves and is dedicated to God, so much so that he feels as if he is not good enough to serve him at times.  This brings about a range of emotions from Bergoglio; anger, regret, but also passion. Pryce brings layers to the Cardinal by showing the fallibility of his character. As righteous and lively as he may seem, he too, has doubts, regrets, and sins. On the other hand, Pope Benedict (Hopkins) is like a hard shell that he is trying to crack, as he shrugs off Bergoglio. Hopkins is stoic and strict throughout the film, trying not to reveal the pressure and stress he is succumbing to.  With the press and the world taking a magnifying glass to Benedict, criticizing his every move, he must save face and internalize his turmoil. Unfortunately, being on the world stage, he did not have the luxury of being so open. Hopkins portrayed him wonderfully, as well. Not only is he the spitting image of the Pope, but he displayed the conflict that this character faced emotionally, spiritually, and physically. Despite the fact that Pope Benedict, on the surface, seems like a very sure and stern man, Hopkins brings vulnerability, doubt, and uncertainty to his character.  Undoubtedly, I appreciate the character development that we experience throughout. We are charmed and fascinated by small moments, such as Bergolio singing ABBA or the fact that Pope Benedict loves an Austrian TV show about about a crime-solving dog. 
In a Time of Instability, Two Popes Provides a Light and Meaningful Message
This story is especially important or relevant to tell today, in a time of political and social divide.  Two Popes is not just the retelling of a major historical event, it is showing us the importance of reaching across barriers and attempting to understand others despite our differences.  However, these men work past that for the not just the betterment of the Church, but for their own sake. They both realize that political beliefs aside, they are very similar people.  Though this film is a work of fiction, this is a feel-good tale about two men from opposing sides who sat down and worked out their differences. The message that is trying to be conveyed is: no matter what you believe, a compromise can be achieved.  Which, in these times, feels more like a wonderful fantasy than a promise. Nonetheless, it is pertinent that we remind people of our similarities and the importance of reaching out to our fellow neighbor.  
By Stephanie Bock
More Interesting Stories From Hollywood Insider
– Stop Pitting Duchesses Kate Middleton & Meghan Markle Against Each Other, Both Can Be Great Without The Other Being Torn Down
– Why Queen Elizabeth II Is One Of The Greatest Monarchs | Her Majesty Queen Elizabeth II of United Queendom of Great Britain & Northern Ireland
– Video: '1917' – Golden Globes Winner – Full Commentary And Reactions From The Stars & Crew Including Sam Mendes, George MacKay, Dean-Charles Chapman & Team
– Video: Full Commentary & Reactions From Stars On 'Bombshell' With Charlize Theron, Nicole Kidman, Margot Robbie, Jay Roach & Team
– A Tribute To The Academy Awards: All Best Actor/Actress Speeches From The Beginning Of Oscars 1929-2019 | From Rami Malek, Leonardo DiCaprio To Marlon Brando & Beyond | From Olivia Colman, Meryl Streep To Bette Davis & Beyond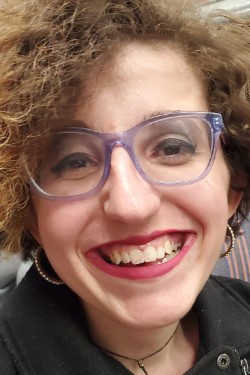 Stephanie Bock is a writer for Hollywood Insider. She is an impassioned storyteller who puts all of her energy into her writing and film. Having grown up with a strong passion for both literature and cinema, she now writes short stories, scripts, and film reviews in her spare time. As a fan of films and shows of all kinds, she enjoys discussing deep and meaningful cinema and uncovering hidden gems.