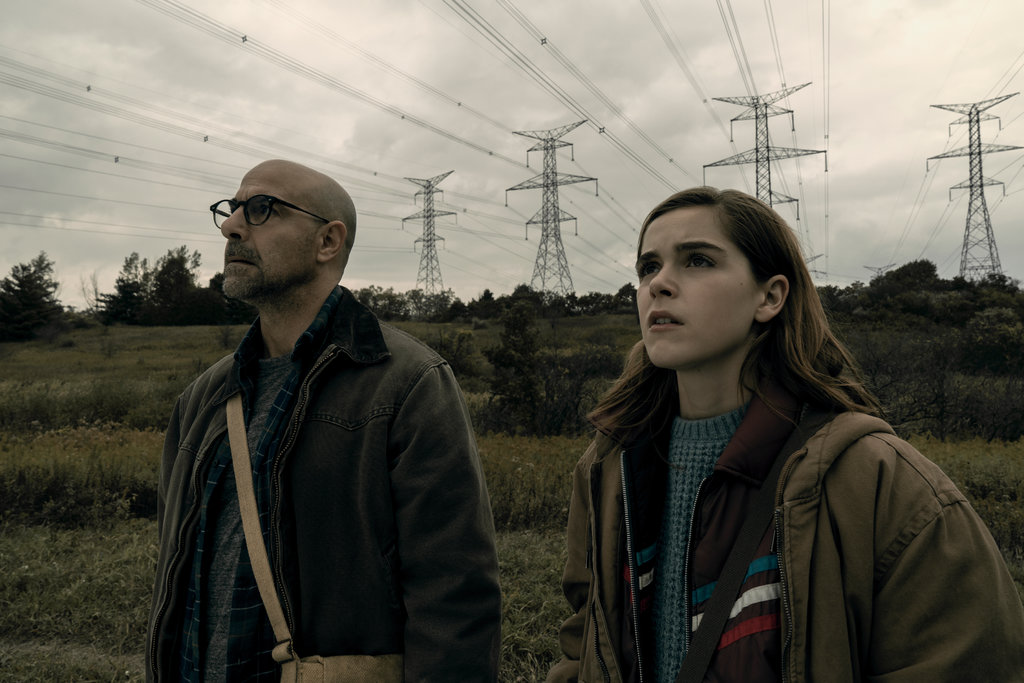 Photo: Stanley Tucci and Kiernan Shipka in "The Silence"/Netflix
The Silence is a thriller Bird Box. The main teenage protagonist, Ally Andrews, played by Kiernan Shipka, had lost her hearing only three years prior, enabling the whole family to communicate through sign language to get through the apocalypse silently. The father, Hugh, played by Stanley Tucci, leads the family into a refuge cabin in the woods where they encounter a religious cult that aggressively encourages the family to join them. The members of the cult are strangely unafraid of these beasts and identify as a unit by cutting their own tongues off. They are insistent on capitalizing on Ally's fertility, likely for the sake of keeping the human race alive. The family must then protect themselves against these beasts and this cult to survive, along with many other obstacles along the way. Ally and Hugh must take on the leadership roles to take care of the injured mother, sick grandmother, and little brother, creating a father-daughter bond through this hardship. 
Overwhelming Dominance of Technology in The
Silence
The time period of this film is set in a modern day, an industrial period set in suburban New York where the power of technology and industries are at the top. The film's introduction shows a hectic variety of factories, mysterious science experiments, the city's surplus of cars, etc. The beasts are shown more attracted to the big city, where it's the noisiest due to its excessive amount of technology and people. Both Ally and her younger brother are also shown with an obsession of social media and video games, portraying how their generation is constantly distracted and overcome by technology. Even during the apocalypse, Ally is constantly trying to get ahold of her boyfriend on her iPad, showcasing how these devices have become a necessity. There are many other instances where the use of technology has nearly caused destruction throughout the movie, but I wouldn't want to give away any spoilers.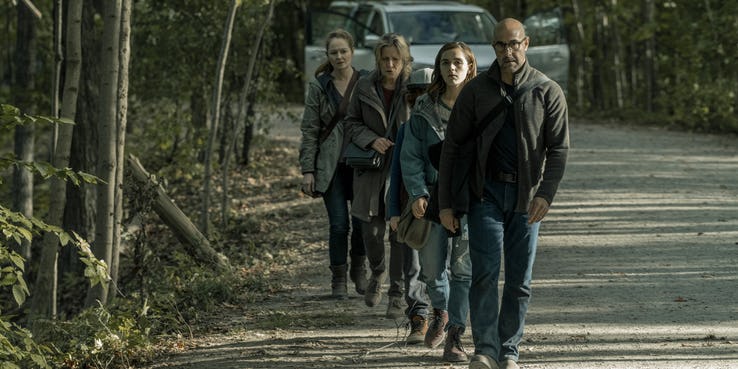 Photo: The Silence/Netflix
Shipka's and Tucci's Outstanding Portrayals of
Character Development
Shipka's character is very special in the way that she is deaf, yet has a sixth sense that enables her to feel the energy around her. Although she cannot hear when something is approaching or if a disaster is taking place, she is able to use very subtle clues to figure it out quickly. She's also shockingly good at reading lips, enabling her to communicate almost as if she wasn't deaf. She ultimately begins to make her own power moves to help her family survive, showing a rapid transition to maturity. Her father also displays a remarkable character development: He's seen in the beginning telling his son how his friend Glenn, played by John Corbett, would always stick up for him and how he wished he was as brave as him. After Glenn dies on the way to the refuge, Hugh must take the alpha role of leading his family into safety and fighting off the beasts. He begins to appear more fearless as he starts to attack these beasts and fight back against the cult.
Overall, this movie portrays the toxic impact technology winds up having on people, and how it has become bound to end their entire race. The movie ends with a question of whether the human race will learn to coexist with these beasts or if one species will dominate the other.
Cast: Stanley Tucci, Kiernan Shipka, Miranda Otto, Kate Trotter, John Corbett, Kyle Breitkopf, Dempsey Bryk, Billy MacLellan
Director: John R. Leonetti
Producer: Hartley Gorenstein, Robert Kulzer, Scott Lambert, Robert Leader, Alexandra Milchan, Martin Moskowicz, Martin Salgo, Bernhard Thur
Writers: Carey Van Dyke, Shane Van Dyke (Tim Lebbon as author)
Cinematographer: Michael Galbraith
More Inspiring Stories From Hollywood Insider
– With his new movie, Once Upon A Time In Hollywood, is Quentin Tarantino saying that he is against streaming services like Netflix?
– Read all about the hit show that's breaking all kinds of conventions, Fleabag is the groundbreaking show that was written by the creator of Killing Eve.
– Chiewetel Ejiofor's masterful directorial debut The Boy Who Harnessed The Wind
– What are the struggles of independent films in a blockbuster industry?
– A view of war through the eyes of everyday people in the blockbuster documentary They Shall Not Grow Old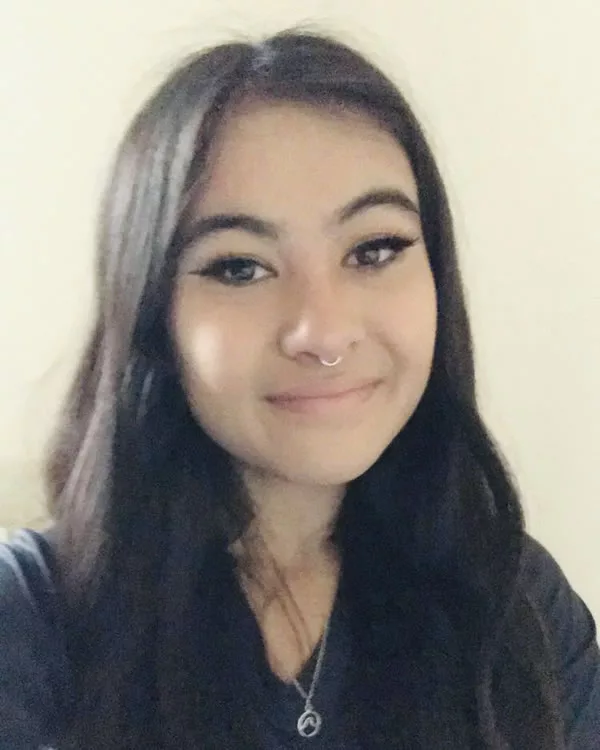 Juliet Poucher is a reviews writer for Hollywood Insider. She has a keen eye for films, art and literature, often analyzing them for hidden meanings. Hr goal with her career and duripromote entertainment with quality actors, meaningful stories, and universal messages.