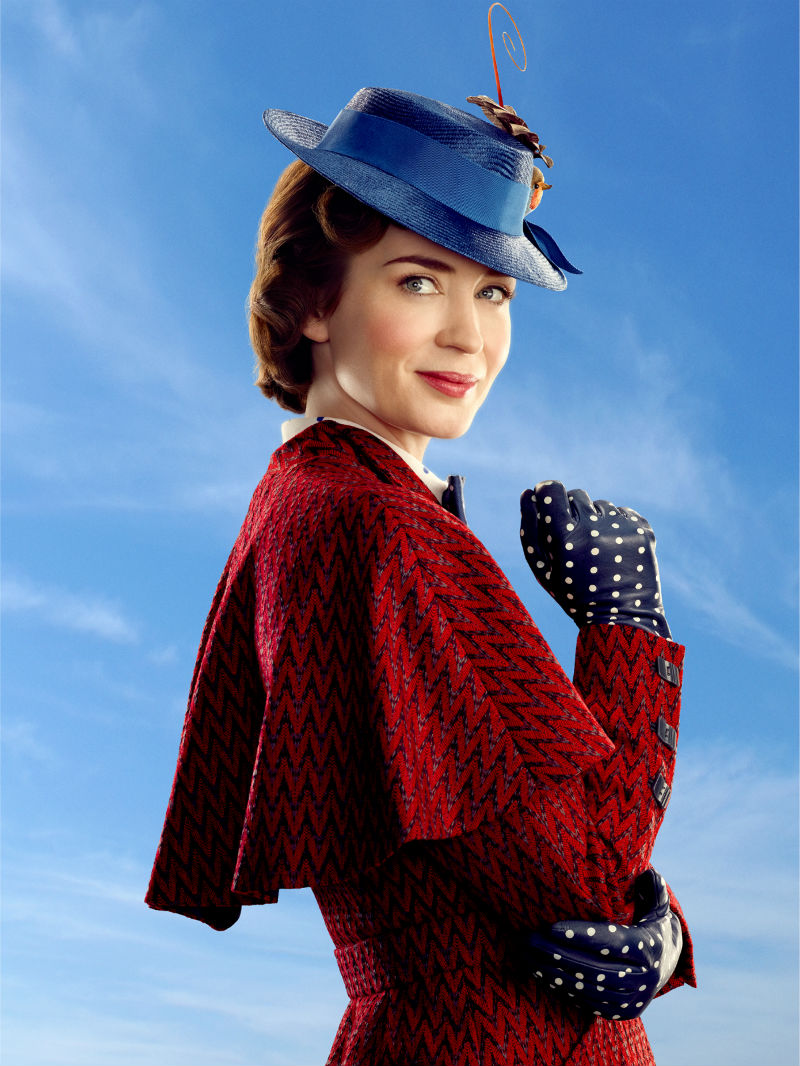 Photo: Emily Blunt as Mary Poppins/Disney
When fashioning a sequel to a classic – 54 years after the original's premiere – the creators must strike the proper balance between originality and familiarity. Too much of the former and it loses sight of the original's essence; too much of the latter and it gets tagged 'derivative.' As for Mary Poppins Returns, Emily Blunt, Lin-Manuel Miranda, and the supporting cast deliver captivating performances; however, they alone are not enough to raise this movie above its uninspired reliance on nostalgia.
Set in London during the Great Depression, Mary Poppins Returns takes place 20 years after the original. The Banks children, Michael (Ben Wishaw) and Jane (Emily Mortimer), are now adults. Also, per Disney ubiquity, Michael's wife has passed on, leaving him to father three children alone. Mary Poppins (Emily Blunt) – arriving via kite with her talking umbrella and iconic bag – comes to instill faith and save the family from an imminent foreclosure on their home. With help from Jack (Miranda), Poppins sets off on her mission to, once again, take care of the Banks children.
Jane (Emily Mortimer), John (Nathanael Saleh), Annabel (Pixie Davies, Ellen (Julie Walters), Jack (Lin-Manuel Miranda), Georgie (Joel Dawson) and Mary Poppins (Emily Blunt) in MARY POPPINS RETURNS. Jay Maidment, Walt Disney Pictures
Emily Blunt is Mary Poppins, Pixie Davies is Annabel Banks, Nathanael Saleh is John Banks and Joel Dawson is Georgie Banks in Disney's MARY POPPINS RETURNS. Jay Maidment, Walt Disney Pictures
Courtesy of Walt Disney Pictures
Courtesy of Walt Disney Pictures
Courtesy of Walt Disney Pictures
Audiences leave the theater with that placid grin customary of a day at the park or a night at the carnival. For that slight smirk that crawls across Miranda's face while performing "Trip a Little Light Fantastic" is undisputably contagious. Emily Blunt's depiction of Mary Poppins creates that effervescent feeling in your chest (that Andrews could summon with the wink of an eye). Blunt's approach – a little rough around the edges – feels original; thus, in response to her authenticity, the familiar feeling refills our hearts. Unfortunately, her originality does not make up for the film's lack thereof.
In a rather calculated manner, Mary Poppins Returns pays homage to the melodies of the original, yet in doing so, fails to develop a narrative arc capable of striking a unique cord. Before the movie even begins, viewers know that it's destined to have a happy ending. It's Mary Poppins. Anything less would be utter blasphemy. However, the film does not merely exist within strict confines; it fails to explore new themes or offer a plot trajectory of its own.
In both films, Mary Poppins teaches the Banks children the importance of completing their chores by bringing magic to the menial moment. In the original, they have to clean their room. In the new version, they have to take a bath. Dick Van Dyke, in the 1964 film, plays chimney-sweep Bert, while Miranda plays a lamplighter. Both function as the blue-collar worker with a heart of gold and the imagination of a childhood innocent. Not to mention, while "Trip a Little Light Fantastic" is enjoyable, it's a direct counterpart to "Step in Time!" from the original. Both numbers function as an archetypal crowd-pleaser, involving multiple cast members and highly detailed choreography. The parallels are so evident that, frankly, they feel lazy.
Meryl Streep is Cousin Topsy in Disney's Mary Poppins Returns. Jay Maidment, Disney
Emily Blunt is Mary Poppins, Joel Dawson is Georgie, Pixie Davies is Annabel and Nathanael Saleh is John in Disney's MARY POPPINS RETURNS. Jay Maidment, Disney
Jane (Emily Mortimer), Michael (Ben Whishaw), John (Nathanael Saleh) and Georgie (Joel Dawson) greet Mary Poppins (Emily Blunt) upon her return to the Banks' home in Disney's original musical MARY POPPINS RETURNS, a sequel to the 1964 MARY POPPINS which takes audiences on an entirely new adventure with the practically perfect nanny and the Banks family.
From the mimicry in the narrative to the familiarity of the music, Mary Poppins Returns fails to be more than a sweet, yet unmemorable, two hour and ten-minute nostalgia ride. While the songs in Mary Poppins Returns, written and composed by Marc Shaiman and Scott Whitman, are commendable on a technical level, they do not reverberate in your mind for days on end. They do not have the same sticking power as "Supercalifragilisticexpialidocious;" kids are still trying to say that one backward! The music of the original is timeless; the tunes from "Mary Poppins Returns" will likely fail to retain such staying power.
When it comes sequels, it's always a risk; when it comes to musical sequels, well, everyone remembers Grease 2. This is not to say that Mary Poppins Returns does not have its merits, for it inspires reminiscence and creates bonding experiences for families. It places a bright light in a dark theater and brings nothing less than joyful noise. However, in trying to capture the heart of its predecessor, Mary Poppins Returns is like a child on the ice; afraid to veer out on his own, he stays close to the wall and fails to skate without mother's hand.
By Joshua Lezmi 
More Interesting Stories From Hollywood Insider
– How Academy Award Nominee and "star" of Netflix's Roma is utilizing her platform and standing up for domestic workers on an international scale
– Bollywood's first mainstream lesbian romance wins hearts all over the world 
– Netflix's Elite is a show where being gay is a non-issue and gay couples are celebrated
– Olivia Colman's status as powerful actress is confirmed by eccentric period film The Favourite
– Why Rami Malek cannot be blamed for the director Bryan Singer's faults