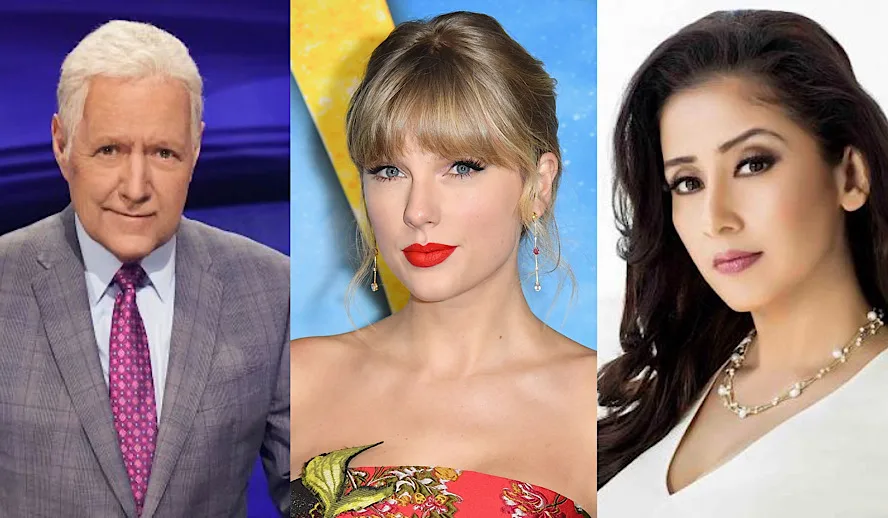 Photo:  Alex Trebek, Taylor Swift and Manisha Koirala 
As true with many elements of the universe, there must be a balance, a ying and yang. Dualism helps Earth maintain a balance – morally, ethically, and physically. Understanding that concept, it's hard to comprehend on a logical level why humans so abundantly experience the horrifying disease known as cancer. Cancer develops when abnormal cells divide uncontrollably and destroy body tissue. In 2019 alone,  the United States lost over 606,000 individuals to cancer. Perhaps the anecdote is hidden in plain sight, such as in the bark of a tree indigenous to a small province in Tanzania? Maybe in the ivory tusk of a narwhal? Wherever it may be, scientists have yet to discover it. One aspect of suffering from an illness such as cancer is having to break the unfortunate news to loved ones. What happens when your life unfolds in the spotlight? Do you have to share the news, straight from the horse's mouth? Or is it preferably something you keep under wraps as to avoid media scrutiny? 
There are elements to consider in each option. Risking your personal experience and privacy by sharing your battle with the world may be a catch-22, you avoid media speculation but open yourself up to scrutiny. Being transparent with your situation may be the lesser of the two evils. Releasing the information yourself makes the battle for an exclusive headline less salacious. On the plus side, public support and well wishes can be cathartic, a boost or motivation to keep in your back pocket for the tough times. 
What is, Cancer sucks?
Illness in the world is more commonplace than it should be. Naturally, it doesn't care if you're rich or poor, famous or anonymous, illness doesn't discriminate. In March 2019, Alex Trebek, America's beloved Jeopardy! Host shared tragic news– he was diagnosed with Stage 4 Pancreatic Cancer. For perspective, there is no stage 5. Let's do "No thank you" for $500, please. *frantically rings buzzer* What is, life is absolutely unfair? Correct. Vowing to continue to host the game show as he has for the past 30 years, he has showed no signs of slowing down. Although his appearance shows signs of wear, such as the characteristic of discolored skin associated with chemotherapy, Trebek remains as precise as ever. Pancreatic cancer is considered incurable, with the five year prognosis of surviving with the disease at a mere 7%. Most humans live their daily lives without sight of the finish line, but in this case, a sense of impending mortality is on the radar for the stoic host. Sitting for a candid interview with ABC News, Trebek shared, "Throughout my life, I've always wondered about how courageous a human being I was. I just look at it as it's a part of life. Does that mean I'm courageous because I'm dealing with it? No. I could be scared to death and I'd still have to deal with it." He also shared that the love and support from fans from around the world makes him feel so much better in times of depression and sadness. It is a reflection of his endurance to be so forthcoming with his struggle, allowing fans and media to hear details about his battle in his own words, on his own terms. 
Related article: Mental Health in Hollywood/Public Eye: From Britney Spears to Pete Davidson, How Mental Health Issues & Awareness Play Out In Hollywood
Taylor Swift revealed her mother, Andrea Swift, is suffering from a brain tumor which was discovered by doctors during chemotherapy for an existing cancer. Not many details have been shared, but Taylor has stated that she plans to scale back from touring in 2020 to support her mother's care as needed. Hopefully, prying paparazzi and overzealous media outlets will step back from trying to break exclusive details on Andrea Swift's health, in order to allow time for treatment and privacy. Taylor is typically outspoken with her fans, and if she wants to share details of her mother's treatment, it should be on her and her family's terms and not because an image surfaces of her mother leaving a doctor's office. Media must allow space for peaceful healing. No human, but especially one who is suffering, should be subject to living life to a soundtrack of heckling reporters and flashing cameras. It is worth noting- celebrities don't owe us anything. While the forum they've chosen comes with instant scrutiny, they are not indebted to give society anything against their free will. Privacy is one of those things. As a basic human right, it should actively be respected.
Related Article: Nicotine Products and Smoking Alternatives Are Still Being Advertised – What Does This Mean For Today's Youth
With positivity as her weapon against cancer, Bollywood legend Manisha Koirala conquered the illness
Some people rightfully retreat when faced with an illness to heal away from the spolight. And they are right in doing that. While there are others ike Alex Trebek who fight on in the spotlight. And they are right in doing that too. Each are allowed to make their own decision on how to deal with it. One such figure is the legendary Bollywood actress Manisha Koirala who was faced with the diagnosis of cancer in the glare of media spotlight. She trended on twitter with the news that tore her life apart. Instead of succumbing to the negativity, she shared her battle and journey with the entire world. The enormous outpouring of love and support from her fans all over the world has helped her in many ways. Throughout her struggle, she has been the ambassador for optimism. In fact, she even credits the diagnosis with being the wake up call that she needed to better her life. You can read all about her journey in her book Healed: How Cancer Gave Me A New Life. Today, she stands victorious having defeated her ailment, and is now back on the top of her career with amazing roles in movies mesmerizing her fans all over again. 
Hollywood Insider sends positive thoughts and prayers to Alex Trebek, Andrea Swift, Manisha Koirala and everyone in the world who is or was suffering from illness. Cultivating healing vibes and happy thoughts for recovery!
For more information on cancer research or donating to the cause, please visit the American Cancer Society website or call (877) 227-2345.
"The question is not how to get cured, but how to live." – Joseph Conrad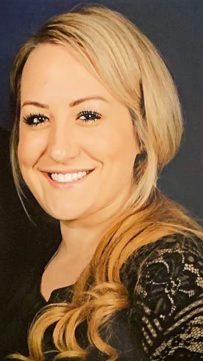 Raquel Kokkoros is currently a writer for Hollywood Insider. Enchanted by the illustriousness of cinema, Raquel is proud to contribute to a team that prioritizes quality journalism and respect for the entertainment business being utilized as a tool to better the world. Raquel believes in emphasizing elements of film and television that deserve an unbiased platform. Proud to provide an optimistic stage for the diverse offerings of Hollywood, Raquel enjoys writing from a fair, understanding, and truthful perspective –  a philosophy that embodies the ethos of Hollywood Insider.