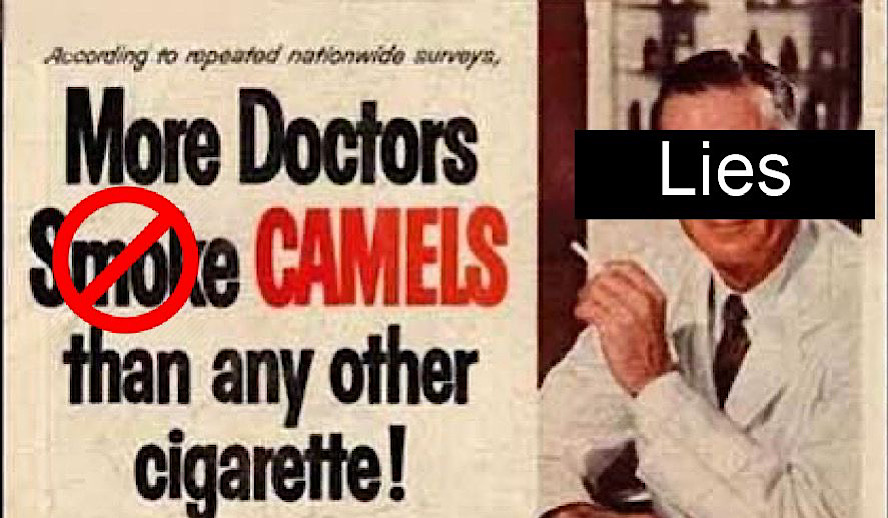 Photo: Old Smoking Advert Lying To Consumers
August 7, 1954, E. Cuyler Hammond, Ph.D., and Daniel Horn, Ph.D.—two scientists working for the American Cancer Society—published preliminary findings of a cohort study in the Journal of the American Medical Association. The conclusion of their discoveries is apparent: "It was found that men with a history of regular cigarette smoking have a considerably higher death rate than men who have never smoked or men who have smoked only cigars or pipes," the researchers wrote. This study opened the floodgates of an anti-smoking campaign that swept through the world. Researchers connected the dots between cigarettes and an eye-poppingly long list of illnesses and maladies that are still being added today, with new technologies and chemicals on the rise. 
By April of 1970, Congress has banned the advertisement of cigarettes on radio and television. Despite this, many magazines, newspapers, and billboards sported various ads for Big Tobacco. In 1984, cigarette companies were compelled to place U.S. surgeon's general's warnings on all cigarette packs and advertisements under the provisions of the Federal Cigarette Labeling and Advertising Act. 1997 saw The Tobacco Master Settlement Agreement, banning outdoor billboards, and public transportation advertising of cigarettes in forty-six states. Restrictions on cigarettes were further tightened in 2010 with the passage of the Family Smoking Prevention and Tobacco Control Act. This ensured that tobacco companies were prohibited from sponsoring sports, music and other cultural events and bars the display of their logos or products on T-shirts, hats, or other apparel.
While Smoking-Awareness Has become More Widespread, in Recent Years, Other Nicotine-Based Products Have Filled The Void
However, these bans and regulations are only applicable to cigarettes and tobacco— leaving smoking alternatives such as e-cigarettes, vapes, JUULS, and other nicotine-based products to grow. While teen smoking is still a risk, vaping and JUULS have become much more prevalent in teens and young adults. According to Vox, JUUL's early advertising campaign was heavily directed towards younger users, instead of an older adult who can't kick the smoking habit. Perhaps the most alarming was their use of social media platforms and influencers. It is a well-known fact that the internet is ruled by middle and high-school kids— ensuring that tags like #juul, #juulvapor, #switchtojuul, and #vaporized live on.
The FDA has also issued a warning letter to JUUL, saying that the company violated federal regulations because it had not received federal approval to promote and sell its vaping products as a healthier option to smoking. With more than 400 people sickened by vaping-related illnesses and five deaths which have been linked to vaping making headlines, this calls into question as to how "safe" these products really are. Another recent development is JUUL CEO, Kevin Burns, being replaced by K.C. Crosthwaite, who had been chief growth officer at tobacco company Altria, a major investor in JUUL. JUUL also said it has a new marketing strategy: It will suspend all TV, print and digital ads and will stop some of its lobbying efforts. The company said it is committing to fully support and comply with any new federal policy related to vaping products. The FDA is weighing regulations to ban all flavored e-cigarettes, which some consider particularly attractive to young users.
Technology Has Changed, and Regulations Need to Keep Up With The Times
The world has come a long way from the days when doctors recommended cigarettes for stress relief. Most children are brought up with the mentality that smoking is bad and will kill you. While this is scientifically proven to be true, new methods of using nicotine are relatively untested, leaving us as a guinea pig generation. This is becoming more inherently true as the death count climbs and illnesses multiply. While nothing can completely eliminate the risk of becoming addicted to nicotine-based products, there are ways to significantly reduce the chance. With the acceleration in technology and science, the restrictions that are applied to Big Tobacco need to be updated with the industry. Making sure that advertisements are appropriate for the target audience, and that they don't take advantage of social media. 
The standards of health and public safety have come leaps and bounds from what they were only thirty years ago. Currently, we're behind the curve of new trends and developments in our society. Read the warnings on the label, don't dismiss them thinking they won't apply to you.  Changes can still be made before it's too late, awareness and understanding need to be spread. Regulations must be updated as the times move on. Schools and parents must be made aware of the dangers and how to circumvent the effects. 
CALL TO ACTION: Make sure that if you know someone under the age of purchase who is using a nicotine-based product, that you tell someone! The danger of becoming addicted and the resulting health problems are a big issue in today's society. Watch for advertisements and be wary of promotional material. The world is changing, and the standards need to change with it.
By Kaysheri Ann Haffner
More Interesting Stories From Hollywood Insider
– The Verified Complete List of Every Female Best Director Golden Globes Winner: Fact-Checked Series
– Stop Pitting Duchesses Kate Middleton & Meghan Markle Against Each Other, Both Can Be Great Without The Other Being Torn Down
– Video: Full Commentary & Reactions From Stars On 'Bombshell' With Charlize Theron, Nicole Kidman, Margot Robbie, Jay Roach & Team
– Why Queen Elizabeth II Is One Of The Greatest Monarchs | Her Majesty Queen Elizabeth II of United Queendom of Great Britain & Northern Ireland
– A Tribute To The Academy Awards: All Best Actor/Actress Speeches From The Beginning Of Oscars 1929-2019 | From Rami Malek, Leonardo DiCaprio To Marlon Brando & Beyond | From Olivia Colman, Meryl Streep To Bette Davis & Beyond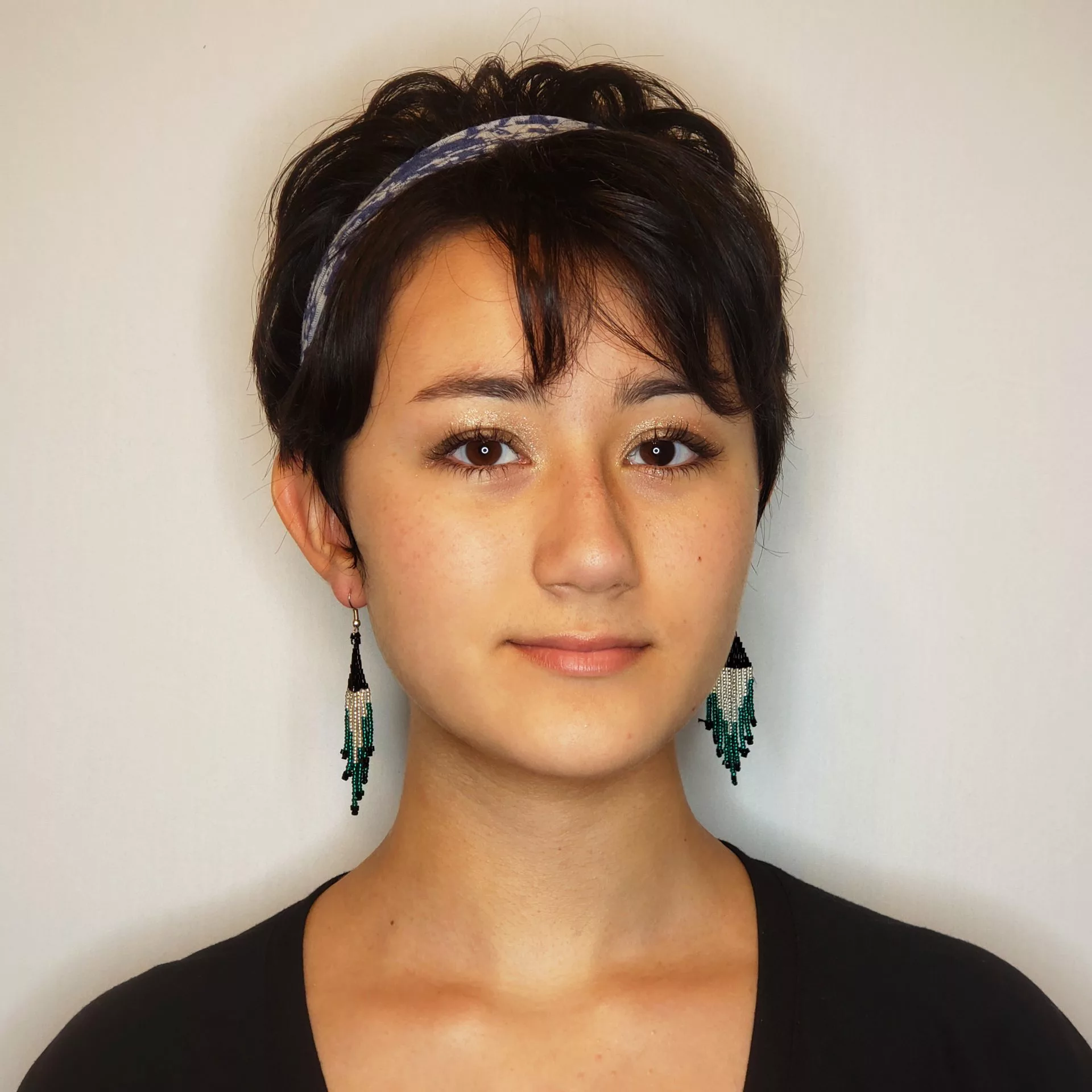 Kaysheri Haffner is a teenager, writing to give a platform to the voice of teens, through Hollywood Insider. She is excited to be writing for a unique and respected publication which strives to bring relevant information to the forefront of today's society. Using journalism and her writing skills, she hopes to influence fair and meaningful content in the entertainment industry- and Hollywood Insider supports all of these ideals and more.