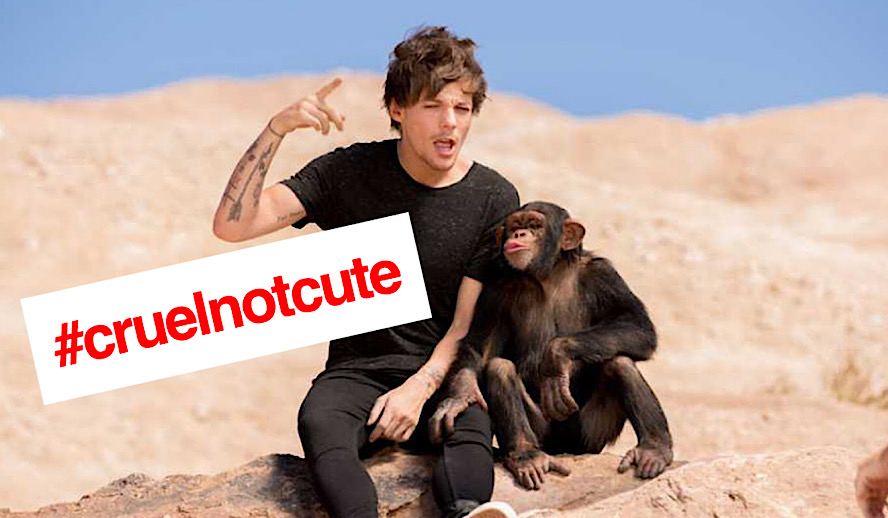 Photo: Eli The Chimp and Louis Tomlinson in One Direction music video/SME (Photo modified upon the advice of North American Primate Santuary Alliance)
"No animals were harmed in the making of this film" is a widely recognized sentiment attached to the end credits of filmed media featuring the use of animals. The American Humane Society has exclusive jurisdiction over the fair and ethical treatment of animals in media. The non-profit organization oversees the use of animal actors in American-produced film and television productions. In recent years, the wellbeing of animals in entertainment has become a primary concern and a controversial topic. On May 17, 2017, the Ringling Brothers and Barnum and Bailey Circus ended their 146-year run under the Big Top. Long, costly legal battles with animal rights activists coupled with weakening attendance led to the final curtain call. It was clear – crowds didn't want to see animals being forced to perform against their primal instincts. The same partiality was projected onto animal actors, especially those of exotic breeds. While it's widely business as usual for big and small cats, dogs, and bears, primate species are being phased out in favor of the more ethical, less risky CGI. Since primates are typically phased out of acting during adolescence, Hollywood is left with a sole survivor named Eli, the last trained primate actor in Hollywood. Eli's last film credit was a Bollywood film called Zero, with one of the biggest stars of Bollywood, Shah Rukh Khan along with Anushka Sharma and Katrina Kaif. He has also starred in a One Direction music video with Louis Tomlinson, Harry Styles, Zayn Malik, Liam Payne, Niall Horan and Danny Devito. Despite his retirement, Eli is the subject of a documentary about his struggle to find a forever home – an independent production called The Last Chimpanzee.
Eli is The Last of the Mohicans
Chimpanzees have been acting in films for the past eight decades. Eli was employed by Working Wildlife, but had been let go in March 2019 due to outbursts on set – a commonality for juvenile chimps. After his forced retirement, Eli was transported to a financially struggling nonprofit sanctuary in Los Angeles. The facility closed in August, leaving Eli under the care of the California Department of Fish and Wildlife. He is now an orphan, with the California DFW trying in vain to find Eli long-term placement. The life expectancy of a male chimp in captivity is 32 years, meaning there are many years ahead to consider for Eli's future. His final bow on screen saluted good riddance to his acting journey, but the real journey was just beginning. We seldom take the roof over our heads for granted, failing to appreciate the comfort and mental security it provides. Considering chimpanzees share approximately 96% of the same DNA as humans, it's safe to assume Eli is feeling unsettled and uneasy. Coupled with his age appropriate rage behavior, Eli is an emotional challenge for his handlers. The task at hand is challenging, as Eli is not a domestic animal, but also not suitable for life in the wild. He has lived in captivity thus far, and adapting him to a life in the wild would be too emotionally and physically challenging. Alternatively, only experienced handlers can successfully deal with Eli, as his outbursts are arduous and dangerous. Expecting wild animals to act under command is a daunting task, coupled with Eli's temperament, he is a Roy Horn/Montecore attack waiting to happen. A Chinese proverb can be considered an ominous warning; Wait long, strike fast.  
​Wild Animals Living Domestically
The way someone reacts to stress tells a lot about their personality. Assuming the 4% of Eli's primitive instinct is leading his stress-induced behavior, it's safe to say he is a ticking time bomb. If the incident with Siegfried and Roy's white tiger isn't enough to express the misconceptions of domesticating a wild animal, comparing apples to apples may help. In 2009, a previously docile domestic chimpanzee named Travis snapped and ravaged a woman's face and body, leaving her blind and completely disfigured. Charla Nash, Travis' attack victim, had known him for years and was close friends with his owner, Sandy Herold. Herold raised Travis as a "member of the family" for 14 years before unleashing his suppressed primitive instincts. This rampage resulted in Nash losing her eyelids, lips, nose, and hands- all to Travis' bloodthirsty frenzy. This should be proof that, although depicted as innocent and quirky in the media, wild animals should not be treated as domestic beings. The option of Eli being released into a domestic living situation in the long or short term is unrealistic, leaving a quality, skilled care facility as the only option. With primates being used in lab research studies more than ever before, a reputable, humane facility is becoming incredibly difficult to find. Eli is too old to act, too delicate to live as a domestic animal, and too precious to be poked, prodded, and poisoned for the sake of research. What options does poor Eli have? The future looks bleak for this Pan troglodyte, but since there is a spot for everyone on this Earth, we need to help him find it. After the bright lights from the production of his One Direction video fade, there is a chimp left standing alone in the shadows, homeless. Here's to hoping this article will bring the spotlight back to Eli, finding the perfect haven for him to reside. 
For volunteer opportunities with Eli's current caregiving organization, The California Department of Fish and Wildlife, visit https://wildlife.ca.gov/Explore/Volunteering. 
For more information on the progress of Eli's documentary, visit https://www.thelastchimpanzee.org
"We are all creatures of this great earth-interconnected in ways beyond understanding." -Unknown.
By Raquel Kokkoros
More Interesting Stories From Hollywood Insider
– The Verified Complete List of Every Female Best Director Golden Globes Winner: Fact-Checked Series
– Stop Pitting Duchesses Kate Middleton & Meghan Markle Against Each Other, Both Can Be Great Without The Other Being Torn Down
– Video: Full Commentary & Reactions From Stars On 'Bombshell' With Charlize Theron, Nicole Kidman, Margot Robbie, Jay Roach & Team
– Why Queen Elizabeth II Is One Of The Greatest Monarchs | Her Majesty Queen Elizabeth II of United Queendom of Great Britain & Northern Ireland
– A Tribute To The Academy Awards: All Best Actor/Actress Speeches From The Beginning Of Oscars 1929-2019 | From Rami Malek, Leonardo DiCaprio To Marlon Brando & Beyond | From Olivia Colman, Meryl Streep To Bette Davis & Beyond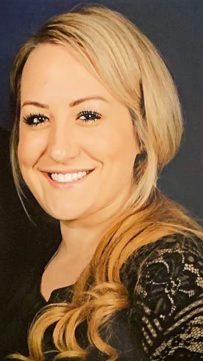 Raquel Kokkoros is currently a writer for Hollywood Insider. Enchanted by the illustriousness of cinema, Raquel is proud to contribute to a team that prioritizes quality journalism and respect for the entertainment business being utilized as a tool to better the world. Raquel believes in emphasizing elements of film and television that deserve an unbiased platform. Proud to provide an optimistic stage for the diverse offerings of Hollywood, Raquel enjoys writing from a fair, understanding, and truthful perspective –  a philosophy that embodies the ethos of Hollywood Insider.