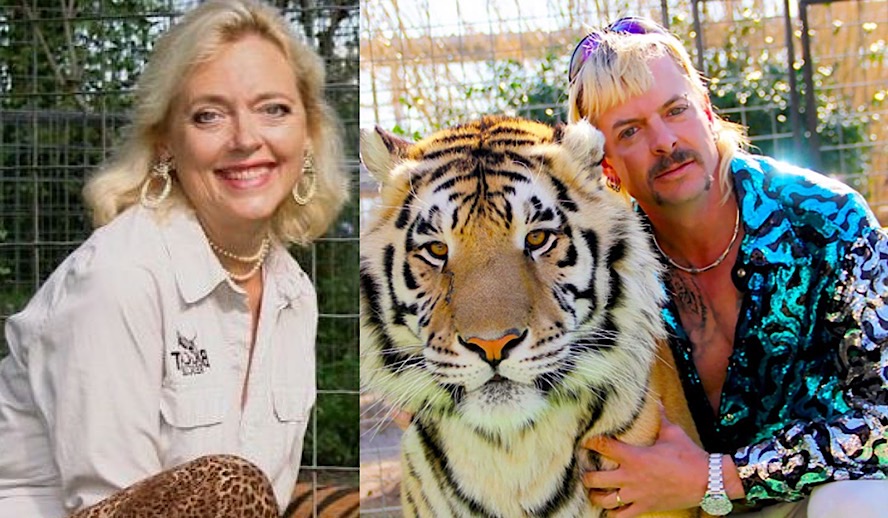 Photo: Netflix
Before you read any further, do we smell a Tiger King sequel, perhaps a whodunnit murder mystery called 'Carole Baskin: Making of a Murderer?'  or ' The People Vs Carole Baskin: American Crime Story' – you can thank us later Netflix – or you can thank us by letting the Hollywood Insider team be a part of the writing room for the sequel.
If there's been one thing dominating the internet over the past couple of weeks, it has been Netflix's Tiger King. If on the very off chance that you haven't heard about the uber-popular series, we're here to let you know all about it. The true-crime docuseries centers around the odd antics of Joe Exotic and has incredible twists and turns you would never expect. Murder, cats, and the politics of big cat ownership this show has a hint of everything. The show premiered on Netflix on March 20th, and it quickly became an internet sensation. Tiger King memes flooded the internet, and people across social media platforms suddenly became investigators in their own right, after hearing all of the scandal involving Joe Exotic and his big cat arch-nemesis Carole Baskin.
Who is Joe Exotic?
Joseph Maldonado-Passage or more commonly, Joe Exotic, was once the proud owner of the Greater Wynnewood Exotic Animal Park in Oklahoma. He is eccentric, enthusiastic, and he loves big cats. Donning his bleached mullet and bold wardrobe, Exotic can be seen throughout the mini-series making his own web show talking all things big cat ownership and rules. In addition to owning the zoo, Exotic has made several country albums and even ran for Governor of Oklahoma in 2018. Exotic was a bit of an oddball growing up and after the tragic death of his brother in a 1997 car accident, he made a promise to himself that he would open up the zoo in his brother's honor. That is exactly what he did, and he rose to fame quickly.
Related article: EXCLUSIVE: Ayushmann Khurrana Interview – India's Tom Hanks is Transforming Bollywood and Indian Society while Destroying Toxic Masculinity
We have to let you know that SNL's Kate McKinnon is signed to play Carole Baskin on a limited series inspired by Joe Exotic's life, Tiger King and podcast. Guess all the names being considered for Joe Exotic – Rob Lowe, Dax Shepard, Jared Leto, Edward Norton? Oh and according to Rob Lowe, Ryan Murphy is involved? We are far too excited.
There is nobody Joe Exotic dislikes quite like the CEO of Big Cat Rescue, Carole Baskin. Throughout the series we see Joe and other members of his zoo discussing the other big names in the big cat world. Two of the most important names to crop up are Doc Antle and Carole Baskin. Exotic and Baskin are known to have had an epic feud, going back and forth for years, and one of the main plots of the series is Exotic's prison sentence for his murder for hire plan against Baskin. Baskin accused Exotic of abusing animals several times, but Exotic thought she was doing just the same if not worse! We won't spoil it for you, but this feud is a star of the series.
​Related article: FACT-CHECKED Series: Timothée Chalamet and 32 Things About This Extraordinary Superstar
Lions and Tigers and Madness Oh My! – Why Tiger King has Gained So Much Attention 
Right amid the coronavirus quarantine orders, Tiger King was released on Netflix. Before the show was even an idea, Exotic had been recording his and his staff's every single move on the zoo grounds for ages. He had a web show, JoeExoticTV, where he talked about other big cat owners and what he was up to at the zoo. It's no doubt that Exotic has the perfect personality for the camera, and he knew it too. Obsessed with these exotic cats, Joe Exotic knew he had exactly what he needed to give some fame to his name. So, he started breeding the big cats and charging visitors for cub petting – an activity that is taken very seriously in the exotic cat world. 
Related article:  FACT-CHECKED Series: Keanu Reeves – 12 Revelations About The Star Of 'Matrix' & 'Tory Story'
Directed by Eric Goode and Rebecca Chaiklin, the mini-series offers content that you truly have to see to believe. Each episode is heightened in antics whether it be a murder plot, an all-pink wedding with three men, or Doc Antle casually on an elephant. If you love twists, turns, and all-around insanity this show is the perfect one for you. No two episodes are the same, and we promise you'll be more educated on the big cat business than you ever could have imagined!
Can anyone help us with these questions that have been bugging us since we watched the show?
Did Carole Baskin kill her husband? Yup, we are thinking what you are thinking.
Yes, we agree Joe Exotic committed a crime of trying to hire someone to murder Carole Baskin. Yes, caging big cats should be illegal – but isn't Carole Baskin guilty of that same crime? She charges people money to enter her big cat 'rescue sanctuary' right? Isn't the ONLY sanctuary for big cats – actually the open wilderness and their natural habitats like Africa, Asia, etc?
Shouldn't the changed will of Don Lewis be the biggest indicator for Carole Baskin's crime?
Also why didn't Carole Baskin's missing husband's family get at least 50% or more of his fortunes?
Why the heck does Don Lewis' will say DISAPPEARANCE? That's more fishy than fish. 
By Rebecca Breitfeller
More Interesting Stories From Hollywood Insider
– A Tribute To The Academy Awards: All Best Actor/Actress Speeches From The Beginning Of Oscars 1929-2019 | From Rami Malek, Leonardo DiCaprio To Marlon Brando & Beyond | From Olivia Colman, Meryl Streep To Bette Davis & Beyond
– Why Queen Elizabeth II Is One Of The Greatest Monarchs | Her Majesty Queen Elizabeth II of United Queendom of Great Britain & Northern Ireland
– Compilation: All James Bond 007 Opening Sequences From 1962 Sean Connery to Daniel Craig
– In the 32nd Year Of His Career, Keanu Reeves' Face Continues To Reign After Launching Movies Earning Over $4.3 Billion In Total – "John Wick", "Toy Story 4", "Matrix", And Many More
– Want GUARANTEED SUCCESS? Remove these ten words from your vocabulary| Transform your life INSTANTLY