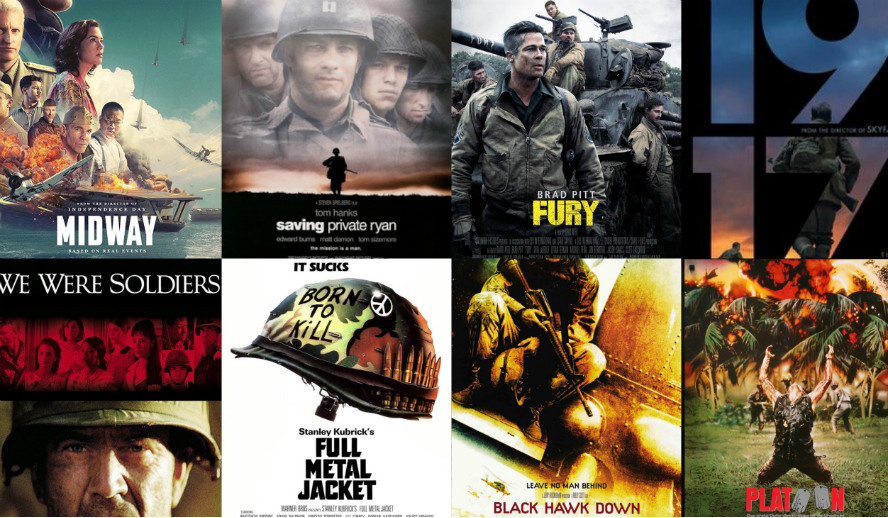 Photo: Posters of Military Themed Movies
Military films have been abundant in Hollywood for decades. Transcending standard demographics, these films have the ability to connect with many viewers on different levels. Appealing to veterans, grandchildren, and others who have heard tales of their elders' nobility, these films captivate viewers like fireworks on Independence Day. Hollywood has created both fictional and satirical movies based on military and war, but fictional depictions are arguably the most forceful on the senses. Military films have an innate capacity to influence society's view of soldiers and the military as an organization. 
The Few. The Proud. 
Less than 1% of the U.S. population is currently serving in the military. This modest measurement shows that there is much of society who has no personal experience with military service. Hollywood's portrayal of military is a key factor in shaping the public's idea of what it means to serve. A hefty responsibility rests on Hollywood's star-studded shoulders. How do you accurately portray sensitive war scenarios whilst entertaining viewers? Developing fictional characters in war biopics is a slippery slope, but hasn't prevented films from showcasing disrespectful military stereotypes. If historically accurate, could a straight edge soldier be entertaining? Would Jarhead (2005) have been appealing to viewers if the soldiers were portrayed minus the negative undertones? Did the brutal hazing ritual of branding "USMC" (an acronym for the United States Marine Corps) on new members contribute to the film's appeal? The portrayal of Marine life in Jarhead was artfully contrived to entertain, while lacking the nobility and camaraderie that is true of service members. One may argue that Hollywood should not set the precedence by which we develop opinions, while others can argue that accountability comes with the platform. Is it fair to burden film producers with the responsibility of influencing society's views on military?
You can also watch or listen to this article as a video or podcast by clicking on links below!
Watch the video version of this article!
Reactions From Stars on Midway
Video:  Behind The Scenes of '1917' and 
Reactions From Stars on
 'Midway'/Hollywood Insider YouTube Channel
​
Stronger as a Team.
Teamwork is a core value of the military. Despite this, Hollywood often portrays service members as rogue fighters who defy their creeds. 2008's The Hurt Locker told the story of a renegade Army Explosive Ordinance Disposal team. The two-hour film served as a battleground for reckless members diverting from their teams and defying the rules, yet prevailing. Though the film challenged the military ethos, it was entertaining to audiences as proven by winning the Academy Award for Best Picture. Since the exposure was so significant, should Hollywood have spent more time correcting inaccuracies in the film? How can they be sure their information is accurate in the first place? The United States Department of Defense often works with Hollywood as experts or liaisons for military productions. The goal of this union is multi-faceted. First, the DOD aims to protect sensitive information and prefers to have a hand in what is disclosed. Second, they intend to ensure the military is represented accurately. Note, however; not every production works with military advisory. Many large productions seek the help of an "expert," one who lacks an active role in military operations but has extensive knowledge of the topic. This is a risky move for a studio, as proven by the James Franco-led Flyboys (2006). Despite production's use of a military expert, the film had too many fallacies to ignore. From the style of the planes flown by German pilots to the inaccuracies of the WW1 timeline, Flyboys was destined for a nosedive. Shortly after the film's release, Flyboys' military expert was exposed as a fraud who admittedly falsified historical records. 
Despite minor historical inaccuracies, Hollywood has dedicated much attention to military-based films. In 2019, there have been at least 20 films pertaining to the military released in theaters. From Sgt. Will Gardner to Midway, military is a noble subject for a film maker to pursue. A serious subject deserves astute attention to details, and generally speaking, Hollywood has done an impressive job of fusing historical facts with cinematic spectacle. 
By Raquel Kokkoros
More Interesting Stories From Hollywood Insider
– Stop Pitting Duchesses Kate Middleton & Meghan Markle Against Each Other, Both Can Be Great Without The Other Being Torn Down
– Why Queen Elizabeth II Is One Of The Greatest Monarchs | Her Majesty Queen Elizabeth II of United Queendom of Great Britain & Northern Ireland
– Video: Come Behind The Scenes of Oscar Worthy & Golden Globes Nominated "1917" With Director Sam Mendes, George MacKay, Dean-Charles Chapman & Team
– Video: Come Behind The Scenes During The Making of 'Star Wars: The Rise of Skywalker' With J. J. Abrams, Adam Driver, Daisy Ridley, Oscar Isaac, John Boyega & Team
– Video: Full Commentary & Reactions From Stars On 'Bombshell' With Charlize Theron, Nicole Kidman, Margot Robbie, Jay Roach & Team
– A Tribute To The Academy Awards: All Best Actor/Actress Speeches From The Beginning Of Oscars 1929-2019 | From Rami Malek, Leonardo DiCaprio To Marlon Brando & Beyond | From Olivia Colman, Meryl Streep To Bette Davis & Beyond