Photo: Disney 
Ever since it's announcement, millennial fans who grew up watching Lizzie McGuire were ecstatic to be getting an updated return on Disney+.  Or so many have thought. 
Production grinded to a halt after show runner and creator Terry Minski was suddenly fired from the show just after two episodes were finished.  After both Terry and Hilary Duff said that they were proud of the two episodes they have recorded, fans speculated what could have possibly went wrong.  Though, she has been subtly hinting at her issues with the series. Hilary Duff soon took to Instagram after the show had been cancelled and took a screenshot of the "Love, Simon" film that has since been renamed to "Love, Victor" and moved to Hulu, as it was deemed to inappropriate for young audiences.  Many interpreted this Instagram story as a sly message that she was not given creative freedom, and instead, was forced to be child-friendly. Keep in mind that Lizzie McGuire has aged to be over thirty by this time. I am not sure that the same childish antics would work for a thirty year old, especially since their core audience has aged along with her.  
Related article:  FACT-CHECKED Series: Keanu Reeves – 12 Revelations About The Star Of 'Matrix' & 'Tory Story'
Duff Makes a Public Plea on Instagram to Save her Show
After days of silence, Duff has made a plea on Instagram confirming many fans' theories stating "Was incredibly excited to launch Lizzie on D+ and my passion remains. However, I feel a huge responsibility to honor the fans' relationship with Lizzie who, like me, grew up seeing themselves in her. I'd be doing a disservice to everyone by limiting the realities of a 30-year-old's journey to live under the ceiling of a PG rating. It's important to me that just as her experiences as a preteen/teenager navigating life were authentic, her next chapters are equally as real and relatable. It would be a dream if Disney would let us move the show to Hulu, if they were interested, and I could bring this beloved character to life again."  As we have seen Love, Simon be moved to Hulu, she begged that Lizzie McGuire receive the same treatment. There just seems to be a fundamental disagreement with how her character should be handled. Early script leaks show that the plot involves "cheating and sex", drama that you would expect a thirty-year-old to be dealing with. However, after the show was initially cancelled, a representative from Disney said "After filming two episodes, we concluded that we need to move in a different creative direction and are putting a new lens on the show." This "new lens" that they are referring to is a return to the old, child-like, and nostalgic version of the show.   
​Related article: Timothée Chalamet and Saoirse Ronan: The Young Powerhouse Duo That Is Dominating Hollywood Together
Why is Disney Holding Back Creativity?
It does not quite make sense for Disney to try to keep this character in a teen-phase of her life, as both Duff, the character, and the audience have aged.  If you return Lizzie back to her teenage antics, younger audiences will not be nostalgic for that era, because they were not raised on it. Only people of a certain age are interested in this show because they watched the original.  Audiences want to see where the characters are today, how they matured, where they are going, etc.
Related article: 'The Way Back': Ben Affleck's Most Emotional Role Proves To Be His Comeback on Personal and Professional Front
They are not interested in a reboot of what they saw already. Unfortunately, child-friendly content for Disney is the most reliable source of income for them.  The company seems to be wary of straying away from that, as they have been purging any iffy content from their streaming service and even cautious of making PG-13 films. They should know that much of their child audience has grown and matured. Thus, we want more mature content.  
By Stephanie Bock
More Interesting Stories From Hollywood Insider
– A Tribute To The Academy Awards: All Best Actor/Actress Speeches From The Beginning Of Oscars 1929-2019 | From Rami Malek, Leonardo DiCaprio To Marlon Brando & Beyond | From Olivia Colman, Meryl Streep To Bette Davis & Beyond
– Why Queen Elizabeth II Is One Of The Greatest Monarchs | Her Majesty Queen Elizabeth II of United Queendom of Great Britain & Northern Ireland
– Compilation: All James Bond 007 Opening Sequences From 1962 Sean Connery to Daniel Craig
– In the 32nd Year Of His Career, Keanu Reeves' Face Continues To Reign After Launching Movies Earning Over $4.3 Billion In Total – "John Wick", "Toy Story 4", "Matrix", And Many More
– Want GUARANTEED SUCCESS? Remove these ten words from your vocabulary| Transform your life INSTANTLY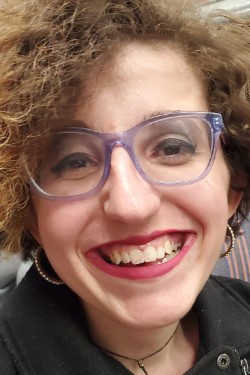 Stephanie Bock is a writer for Hollywood Insider. She is an impassioned storyteller who puts all of her energy into her writing and film. Having grown up with a strong passion for both literature and cinema, she now writes short stories, scripts, and film reviews in her spare time. As a fan of films and shows of all kinds, she enjoys discussing deep and meaningful cinema and uncovering hidden gems.