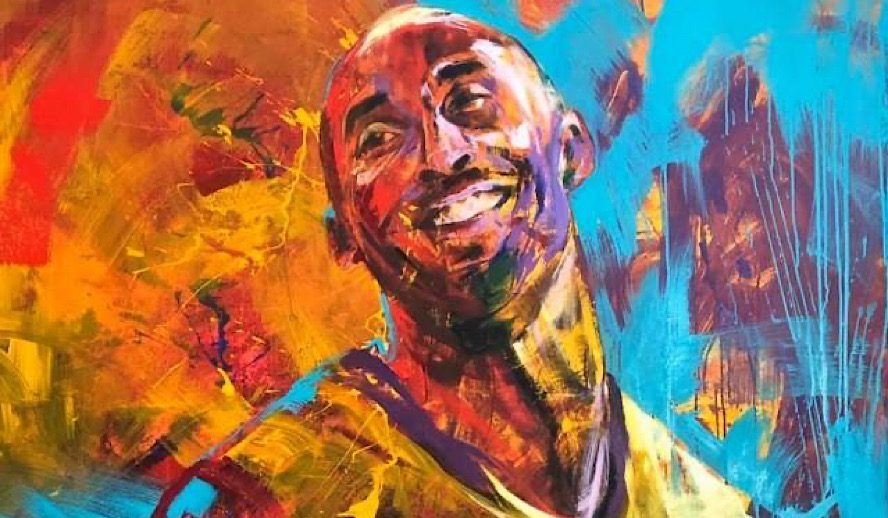 Video version of the article below
Photo/Video: Painting by Celeste Lecaroz/Hollywood Insider YouTube Channel
​Arguably the most tragic event in recent memory, Kobe Byrant's shocking passing, alongside his daughter Gianna and seven others, has overcome the world with grief and sorrow. People everywhere have honored the icon in their own unique way while supporting wife Vanessa and her three other daughters in this time of loss. There is no question the legacy that Bryant has left behind for us as we celebrate and cherish his life both on and off the basketball court. 
To honor him, here are 32 facts that cement Kobe's status as a legend: 
Iconic for His Drive to Win No Matter the Cost
Bryant had a tenacity and competitiveness that was at the core of everything he did, both in basketball and in life, off the court. He hated to lose, and that set him apart from his competitors. 
      2. His Words of Wisdom and Inspirational Quotes
As a man of many talents, Bryant knew the type of attitude and mindset needed to thrive in a tough world such as ours. He has a plethora of honest and wise quotes that he has shared to help others and his words will carry on. These quotes ring true then and will do so for decades to come.
      3. Fought Through and Overcame Adversity
Bryant's competitive edge shined through the countless adversities he battled throughout his life, batting down each one. From injuries to marital struggles, assault claims, and disputes with his own teammates (specifically Shaquille O'Neal), Bryant found a way to cool the waters, and win over people around him and prove his worth time and again, cementing an idea that he would never lose. A friend of mine who has looked to Bryant as an idol growing up said "you kept waiting for the report that Bryant would just walk out from the wreckage carrying Gianna in his arms unscathed. Until you realize he's not and he's as human as the rest of us. But no one thought he could actually lose."
     4. Inspired Those Who played the Game of Basketball
Kobe wasn't just a basketball icon in the United States. Nations around the world were impacted by his drive for success. He changed an entire generation of young basketball hopefuls, giving them inspiration that to this day they all carry regardless of whether they play B-ball anymore or not.
   5. Was an Influential Leader in the Black Community
The clear impact that Bryant had on black athletes  throughout the nation is remarkable, so much so that the National Museum of African-American History and Culture, one that he and his wife helped launch, would pay many tributes to him and his life both as a player and helping communities everywhere.  
Related article: Dearest Kobe Bryant, This Is Our Tribute To You And Your Darling Daughter – We Love You, Always and Forever!
  6. Pushed Himself and Everyone Else Toward Greatness
Kobe's training, attack mentality, and excellence were driven by his innate desire to be great. Kobe also loved doing anything he could to help others around him thrive. Whatever he did had to point to the goal of winning, success, and being great. Teammates were pushed by Kobe to be at their best during every moment. He helped the young generation learn this aspiration to be great and was relentless in his pursuit of that greatness. He didn't just want to achieve greatness, he wanted to embody the attribute and be synonymous with the word, and that this, in turn, would inspire all those around him. Do you guys get how great he is? We just used the word a dozen times to explain it. 
"The most important thing is to try and inspire people so that they can be great at whatever they want to do." 
7. He Was the Ambassador of the After School All Stars
The title Bryant held for ASAS was more than a title. He had a passion for cultivating growth in the young generations and creating environments where they could thrive and feel safe. He gave those with dreams bigger than themselves hope and the practical skills to learn and go after those dreams. 
"It's important for our youth to feel supported in an environment where people care and will help guide them to do the right thing and pursue their dreams."  
     8. The Black Mamba 
Kobe created his own nickname The Black Mamba which was based on the film Kill Bill because he could strike on an unsuspecting opponent at any moment. It quickly caught on and is now the singular nickname we associate with the icon. 
     9. Oscar, Emmy winner
Yep. Athlete, philanthropist, businessman, author, and filmmaker. And as you'll see later on, he probably would have gotten an EGOT‌ given time. Gifted and carrying great vision, his short film Dear Basketball which is based on a poem Bryant wrote won critical acclaim including an Academy Award and Sports Emmy. 
     10. He is an author
The Black Mamba wrote a book based on his mentality and sports lifestyle which he named The Mamba Mentality: How I Play for others to take and apply to their lives. 
     11. Two-time Olympic Gold Medalist
Competing in the Olympics is impressive enough, but Bryant would never have been okay with anything less than a win, leading the USA to two Olympic wins that added to an already cemented legacy at the time. 
     12. From High School Straight to NBA
Bryant was one of the early prep-to-pro players in 1996. What is incredibly impressive about this fact is how his jump paved the way for more players years later to do the same as teams saw Bryant's success and became more open to drafting earlier than usual. One Lebron James comes quickly to mind as he has Bryant to thank for going 1st overall in 2003. 
   13. Lived in Italy for 8 Years, Speaks Italian fluently
Kobe's father, Joe Bryant, moved the family to Italy so he could play ball and while living there he became fluent in the language.‌ He also spoke Spanish fluently and dabbled in various other languages so that he could swear and trash talk at players on the court without them knowing what he was saying to them. Pretty clever eh?
  14. Lakers All-Time Leading Scorer
Now we get to some of the stats that while aren't the whole picture of Kobe but speak volumes to the great athlete he was. He's one of the most productive NBA players ever, currently fourth all-time and first in Lakers history. 
     15. Longest Playing Guard (20 seasons)
Even despite the injuries, Kobe played for a record length of time at over 57 thousand minutes and roughly 40 full days of balling. Kobe was known for playing through various other injuries so as to help his team win regardless of the risk and pain it put him through. He was tough as nails and everyone knew it. 
     16. 18 Straight All-Star Appearances, and 15 Starts 
And another record stat for Bryant. His 18 straight All-Star appearances and NBA‌ record 15 starts showed the respect and love the basketball community had for Bryant, an all-star game in which he regularly dominated. Speaking of…
     17. Four All-Star MVPs
Tied first for most MVPs in the All-Star game, Kobe never slowed down, dominating the game's star-studded match, putting on yet another show for the world to see his greatness.
     18. Slam Dunk Contest Champion
Now he's just showing off. You can witness the finesse and skillful moves as Kobe won with ease here.
     19. Ten 50 Point Games
Kobe had more of these bad boys than any other player in history. While he missed more shots than anyone else in history, when he was on, he would absolutely wreck other teams where they looked lost trying to keep up. 
     20. The 81 Point Game
The 81 point game is the second greatest performance and maybe the greatest second half (where he scored 55). Losing to a bad Raptors team in 2006, Kobe flipped a switch, coming back from an 18 point deficit to defeat and give LA the 122-104 win. This is greatness in its purest form. 
     21. All-Time Laker Leader in 16 Categories
He is the greatest Laker ever. No question. His ownership of 16 critical stats as a Laker reveal this trait. He gave everything to Las Angelas and their fans, forever loving and cherishing what he did for them. 
      22. 40 Points Against Every Other Team 
No team was safe from The Black Mamba's deadly bite, well everyone except the Lakers.  
     23. A Finale for the Ages: 60
Bryant's final game was full of fireworks. Accumulating a monster 60 points, a record for points scored at his age of 37. Unlike many athletes who go out with a whimper, Bryant put one more stamp of greatness in his basketball passport that was filled to the brim at that point. For lots, that is the end and you enjoy life after retirement, but for Bryant, his life was just getting started now that he could leave basketball behind.
     24. Averaged 25 PPG
Thanks to the 60 point game, Bryant was able to enter a prestigious group finishing his career with an average of 25 points per game. Though some have even hit 30, none of those players play as long as Bryant, stretching himself out to the fullest every year. 
     25. Missed More Than Anyone Else
But it added to his competitive drive and legacy (26 thousand baskets made, 14 thousand missed). Though some saw it as selfishness, Bryant always took the chance to add points and win games. It came with a cost at times but paid off more than not. He was ruthless and dominated his time on the court, his 40 thousand plus shots taken shows that.  
     26. Created Granity Studios, a Multimedia Entertainment Company
Kobe had lots of plans for life after basketball, one of which was the creation of his multimedia company which helped produce his Oscar-winning short film, Dear Basketball.
     27. Planned to Turn Books into Films, Broadway Shows
Other aspirations were to take a series of books he helped create and turn them into feature films and Broadway shows. Kobe's creative vision was always present and his office was never filled with basketball memorabilia but instead fantasy books and such. He was a nerd at heart and couldn't wait to get the producer-director part of his career rolling.
     28. A Gifted Musician
Bryant was a gifted musician, as part of the rap group The Kid with the Golden Arm, a solo career with an album in 2000 and even taught himself classical pieces on the piano.
     29. Special Relationship with Gianna
Bryant loves all of his daughters. That is clear. We also could see the special bond forming between the late father and daughter. Gianna reignited Kobe's love for basketball which persuaded him to teach her AAU team and start the Mamba Sports Academy. 
     30. Was a Genius and Learned Business
Kobe almost didn't play basketball. He was that smart in school. His first love was basketball, but he always kept his business hopes on the back burner. As his career came to an end, he worked constantly, calling and texting successful businessmen at all hours of the night to pick their brains and learn. From various companies, investments, and artistic endeavors, he was one of the most multi-talented men alive. 
     31. Work Ethic Matched That of MJ
Kobe's workout routines and training were the stuff of legends. Even in high school, he would practice from 5 AM straight through till 7 AM the next day, or at the Olympic practices where he wouldn't quit until he hit 800 shots. Maybe he'd use benchwarmers to practice and try new moves on. He didn't just go to the gym or shoot some hoops, he breathed basketball, studying and learning the opponents' weakness. 
     32. Family first
Lastly, but maybe most important, he loved his family. Kobe "survived" as the only man in the house with four daughters and his wife and loved every second of it. He didn't just talk the talk, he lived it with his family first and foremost. The joy they brought to him was abundant and truly set him apart as a man who wanted to give his family the best possible life he could. 
​By Merrick Sinclair
More Interesting Stories From Hollywood Insider
– A Tribute To The Academy Awards: All Best Actor/Actress Speeches From The Beginning Of Oscars 1929-2019 | From Rami Malek, Leonardo DiCaprio To Marlon Brando & Beyond | From Olivia Colman, Meryl Streep To Bette Davis & Beyond
– Dearest Kobe Bryant, This Is Our Tribute To You And Your Darling Daughter – We Love You, Always and Forever!
– Why Queen Elizabeth II Is One Of The Greatest Monarchs | Her Majesty Queen Elizabeth II of United Queendom of Great Britain & Northern Ireland
– Video: '1917' – Golden Globes Winner – Full Commentary And Reactions From The Stars & Crew Including Sam Mendes, George MacKay, Dean-Charles Chapman & Team
– Video: Full Commentary & Reactions From Stars On 'Bombshell' With Charlize Theron, Nicole Kidman, Margot Robbie, Jay Roach & Team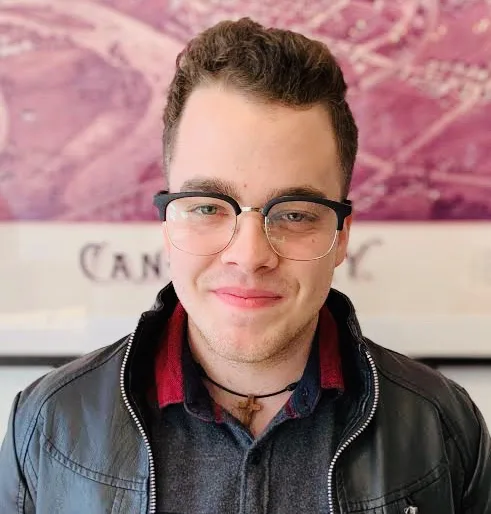 Merrick Sinclair is a film journalist with a passion for cinema, Hollywood and filmmaking since a young age. Merrick focuses on reviews and features here at Hollywood Insider, and takes careful thought as to the impact cinema has on culture and what that means for us. Whether they be old or new, blockbuster or independent, Merrick understands the role movies have on society and how each individual has their own unique experience with movies. Merrick hopes to unpack his observations with clarity for readers while allowing them to walk away with their own opinions on any given topic.