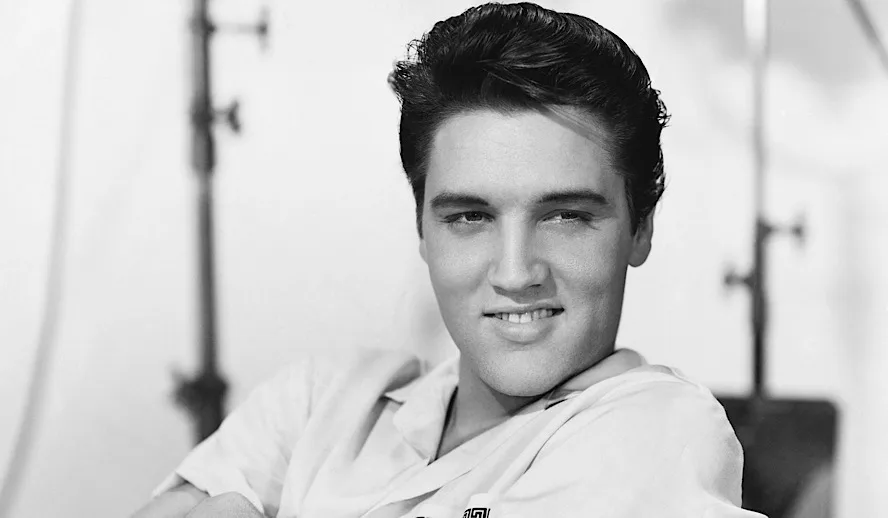 Photo: Elvis Presley
On January 8, 1935, A Big Hunk o'Love named Elvis Presley graced the world with his presence. He became one of the most significant pop culture icons of the 20th century before passing away at the young age of 42. Before he Jailhouse Rock–ed his way to a realm beyond Graceland's gates, Elvis had 18 number one hits and 38 top ten hits on the Billboard charts. To this day, he remains the best-selling solo artist of all time, racking up an estimated 600 million to one billion in album sales. While fans were All Shook Up when he passed away, his memory lives on in his timeless music and film portfolio. 43 years after his death, new generations Can't Help Falling in Love with Elvis' musical prowess. He was a natural-born entertainer; a Renaissance man in Blue Suede Shoes.  He broke ground in the entertainment world, bringing controversial hip gyrations to the stage when such public behavior was considered nearly blasphemous. Fans were Crying in the Chapel when he passed, but never failed to celebrate the beauty of his music and films. What is it about Elvis Presley that captivates generation after generation, influencing performers to this day? Was it his charming looks, stage presence, or sultry vibrato tunes that still makes fans swoon? Our Suspicious Minds have a feeling it's a combination of Elvis' talents that make him such a revered cultural icon. Didja' Ever think Elvis would be relevant decades after traveling into his final Hawaiian Sunset? Don't Be Cruel, I'll Surrender the Elvis puns… It's Now or Never. 
A Pivotal Gyration in Pop Culture
Elvis' unique sound and style blended and distorted social and racial boundaries. His music was unpredictable, as he managed to alter his voice to suit each song. Ranging from deep, ethereal ballads to rockabilly tunes, his diverse musical range makes it all the more appealing. His unique existence is hard to duplicate, yet oddly enough, Elvis was born as a twin. His brother, Jessie, was stillborn. This tragedy left Elvis to grow up as an only child. His life was shroud in church, where he frequently joined the gospel choir. His humble beginnings transitioned to a monumental singing career and by 1956, he was an international sensation. During his live performances, promoters warned Elvis not to gyrate his hips, a move that pushed the lines of acceptable with television censors. His famous televised performance on The Ed Sullivan Show in 1956 was filmed from the waist up due to his refusal to restrict his dance moves. This memorable broadcast changed the face of pop culture. Elvis pushed the boundaries of entertainment. Instead of pushing back, the boundaries bent to accommodate the King.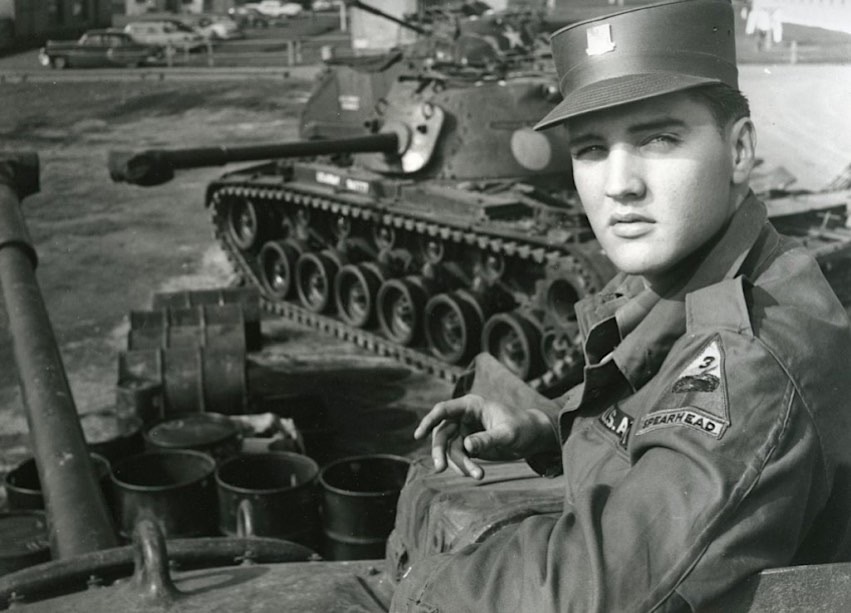 Elvis' Charitable Soul and Heart
Aside from demonstrating his incredible musical and acting talent, Elvis expressed humility and kindness throughout his life. During his career peak, Elvis selflessly devoted himself to military service. Rather than pursuing an offer to live in priority housing and serve his time as an entertainer, he chose to serve as a regular soldier. Controversial dance moves and questionable lyrical innuendo turned some against him, but his nobility and restraint in exercising privilege due to fame earned public respect. His philanthropic gestures are celebrated to this day as shown by his substantial donations to the Salvation Army and St. Jude's Children's Hospital. Years after his passing, his estate continues to execute many charitable donations in his name. Proudly gifting charities during the holidays, it has been said that Elvis has donated so much money to organizations anonymously that it is impossible to gauge the impact his donations made. Aside from his controversial dance moves, it's hard to find any negative portrayal of Elvis in the media from his prime entertaining careers.
Vacating the Throne
As everything in life, there is an equal balance. For every action, an equal and opposite reaction. While fame followed this God-loving crooner, so did pandemonium, stress, and illicit drug use. Elvis' downward spiral into the world of the unspoken dragged him to an early grave. While Elvis' striking good looks gave many adoring fans a figurative heart attack, the ailment literally led to his passing. Having lost his physique due to drug abuse, Elvis became a caricature of his former self. Viva Las Vegas-era Elvis was spectacular, to say the least. Fans were happy to witness his return to the spotlight but perturbed by his uncharacteristically strange demeanor and overall appearance. There was no guarantee that his fan base would follow him to the stage, as he had retired from live performance. After his two-year Army service, drugs became a stronghold in his life, with years of drug use putting strain on his heart and contributing to his demise. It's ironic that the King of Rock n' Roll took his last breath while seated on the porcelain throne. While the place of his death has become somewhat of a quirky Snapple fact, his legacy is left widely untarnished. Charitable and entertaining are just a few of many adjectives used to describe the late raven-haired hunk. Graceland, his former home, has become a museum dedicated to his fascinating life. Over the last 30 years since the gates of Graceland opened to tourists, between half a million and 750,000 visitors a year walked through the doors. In the past four years, attendance is up roughly 35,000 visitors annually. It remains the second most-visited private home in the United States, trailing the White House. 
At the time of his death, Elvis was worth an estimated 4.9 million dollars. In 2019, it was estimated that Elvis Presley Enterprises has a net worth of 200 to 400 million dollars. The use of his image on merchandise and memorabilia contributes to the continued celebration of his legacy. Elvis Presley shared his talent with the world and left us with at least 35 films, over 50 studio, soundtracks, and live albums, and memories as joyful as his gyrating hip motions. Time has proven that his music transcends generations, socio-economic barriers, and age. It serves as a tool for unification and is arguably the most meaningful aspect of Elvis' monumental legacy. 
Elvis would have celebrated his 85th birthday on January 8, 2020. Happy Birthday, Elvis! 
"Until we meet again, may God bless you as he has blessed me." – Elvis Presley
​By Raquel Kokkoros
More Interesting Stories From Hollywood Insider
– The Verified Complete List of Every Female Best Director Golden Globes Winner: Fact-Checked Series
– Stop Pitting Duchesses Kate Middleton & Meghan Markle Against Each Other, Both Can Be Great Without The Other Being Torn Down
– Video: Full Commentary & Reactions From Stars On 'Bombshell' With Charlize Theron, Nicole Kidman, Margot Robbie, Jay Roach & Team
– Why Queen Elizabeth II Is One Of The Greatest Monarchs | Her Majesty Queen Elizabeth II of United Queendom of Great Britain & Northern Ireland
– A Tribute To The Academy Awards: All Best Actor/Actress Speeches From The Beginning Of Oscars 1929-2019 | From Rami Malek, Leonardo DiCaprio To Marlon Brando & Beyond | From Olivia Colman, Meryl Streep To Bette Davis & Beyond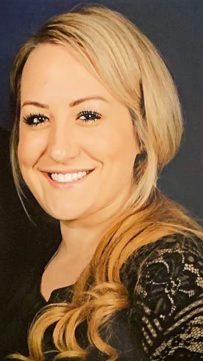 Raquel Kokkoros is currently a writer for Hollywood Insider. Enchanted by the illustriousness of cinema, Raquel is proud to contribute to a team that prioritizes quality journalism and respect for the entertainment business being utilized as a tool to better the world. Raquel believes in emphasizing elements of film and television that deserve an unbiased platform. Proud to provide an optimistic stage for the diverse offerings of Hollywood, Raquel enjoys writing from a fair, understanding, and truthful perspective –  a philosophy that embodies the ethos of Hollywood Insider.