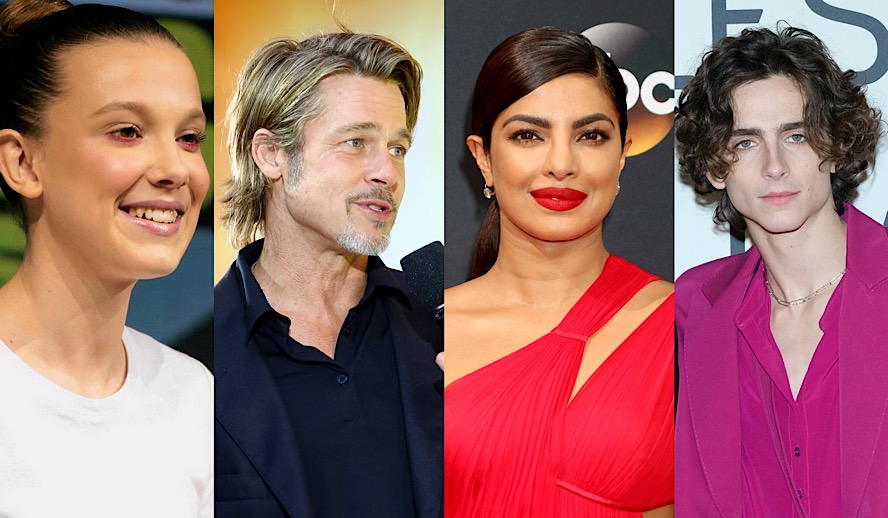 Photo:  Millie Bobby Brown/Gage Skidmore, Brad Pitt/Tim P. Whitby, Priyanka Chopra/Kathclick ,Timothee Chalamet/Olivier Vigerie
Clothing is considered an essential element for existence. From the beginning of time, humans wore animal furs and loin clothes to cover their bodies. It's a must, whether it's to maintain heat or modesty or to practice good hygienic habits. As time progressed, clothing has also become a vehicle for self-expression. Collectively, society is obsessed with outward appearance. It makes sense that the global apparel market has grown in value to 1.5 trillion dollars in 2020. This statistic proves the demand for apparel and shoes is alive and well, and supports the fact that we value fashion. While this can be a harmless obsession, it can also translate to an unhealthy expectation and pressure to appear "perfect."
Most prominently during award season, fashion and outward appearance becomes of utmost importance, especially due to the value placed on clothing and accessories during the red carpet walk. "Who are you wearing?" has become the most commonly asked question from the press to the stars, with each star sharing who designed their dress or had the opportunity to curate their overall look. It's a great endorsement for fashion designers, an opportunity to showcase their textiles in front of millions. Aside from the actual awards, the fashion hits and misses is the next most popular topic. An internet search for "red carpet fashion" generates over 100,000 results in .003 seconds. Red carpet fashion is the term coined for the outfits worn on the red carpet at high profile gala celebrity events, such as film premieres and award shows.
Aside from award shows and premieres, the annual Met Gala, also known as the Costume Institute Gala, has become one of the hottest events in the entertainment world. It is notorious for having an extreme theme, requiring the exclusive guest list attendees to wear a unique ensemble matching the theme. With Hollywood putting such significance on what we are wearing, what is the societal effect? Does the self-esteem of society play the martyr in the reality show known as life? The pressure to dress to perfection dumps an unwelcome burden on individuals who aim to mirror what they see on-screen. Self-acceptance and a "be yourself" campaign is promoted, but on the same token, a perfection-seeking expectation is practiced every time an award show airs. The pre-show red carpet broadcast can sometimes last as long as the actual ceremony. To what end? What contradicting message is this sending to society's youth, children in their formative years who are arguably the most impressionable demographic?
Related Article: Will the Diversity in Victory of Last Year's Oscars 2019 – 91st Academy Award Winners Ever Be Repeated?
Related Article: Video: '1917' – Golden Globes Winner – Full Commentary And Reactions From The Stars & Crew Including Sam Mendes, George MacKay, Dean-Charles Chapman & Team
​SAG Awards and Millie Bobby Brown: She Looked Stunning, Leave Her Alone!
Millie Bobby Brown, the 15-year-old actress of Stranger Things fame, walked the red carpet at the 2020 SAG Awards with cast members of the hit Netflix thriller. Immediately, social media lit up with criticism ripping the young star and her stylists for an outfit the internet deemed "too mature" for her age. For a young girl who made a New Year's resolution to be "more authentic" to be the subject of such harsh criticism is unfortunate. In December 2019, she posted an untouched, makeup-free photo on Instagram along with a positive sentiment: "Next year, I hope we can all appreciate how beautiful we all are. its tough with insecurities and being young in an industry that's so critical but I think self love and care is what I strive for as a person. being u(sic) to the absolute fullest unfiltered and truthful. always n forever." She sealed the caption with a symbolic butterfly emoji. 
Millie: 1, Internet Trolls: Zilch
It's hard to justify the internet backlash over an outfit the savages behind the keyboards deemed too mature for her to wear when she is free to wear whatever she wants! Lady Gaga is revered for her outlandish outfits which have seen her wearing RAW MEAT, yet MBB is crucified for a white suit-dress and white pants?  How is it that the 15-year-old is the mature one in this situation? Millie has remained resilient despite being dragged through the mud by internet trolls. Brown mentioned the outfit was "exactly what she wanted and more." Despite her pleasure with her outfit, the scathing depths of the internet deemed the look "disturbing" and compared her to a child bride. The only positive feedback we've been able to find came from Harper's BAZAAR, calling MBB's look "Very glam 80's bridal." Complimentary and true, her look was glam and even if we didn't agree, the choice remains hers and hers alone, and who truly cares was ridiculous feedback the internet has for a 15-year-old's outfit? It doesn't seem that the target of the criticism values it much, either. Kudos to the young woman who was courageous enough to face hundreds of flash-bulbs and press outlets clamoring for an interview… it's more than we can say for ourselves. 
Dear internet: let's allow a teenager to be herself, tik tok to her heart's content, and exist in a world where her choice of clothing isn't scrutinized as if she wore some strategically-placed banana leaves to an award show. But truthfully, should she be brave enough (she is!) to branch out like that, more power to her. Perhaps even a fruit basket hat ala Carmen Miranda? Miss Chiquita, eat your heart out!
Good luck to all the Oscars red carpet tonight.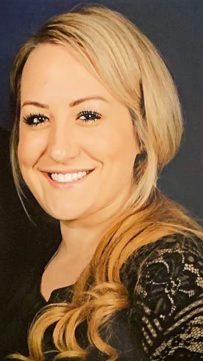 Raquel Kokkoros is currently a writer for Hollywood Insider. Enchanted by the illustriousness of cinema, Raquel is proud to contribute to a team that prioritizes quality journalism and respect for the entertainment business being utilized as a tool to better the world. Raquel believes in emphasizing elements of film and television that deserve an unbiased platform. Proud to provide an optimistic stage for the diverse offerings of Hollywood, Raquel enjoys writing from a fair, understanding, and truthful perspective –  a philosophy that embodies the ethos of Hollywood Insider.