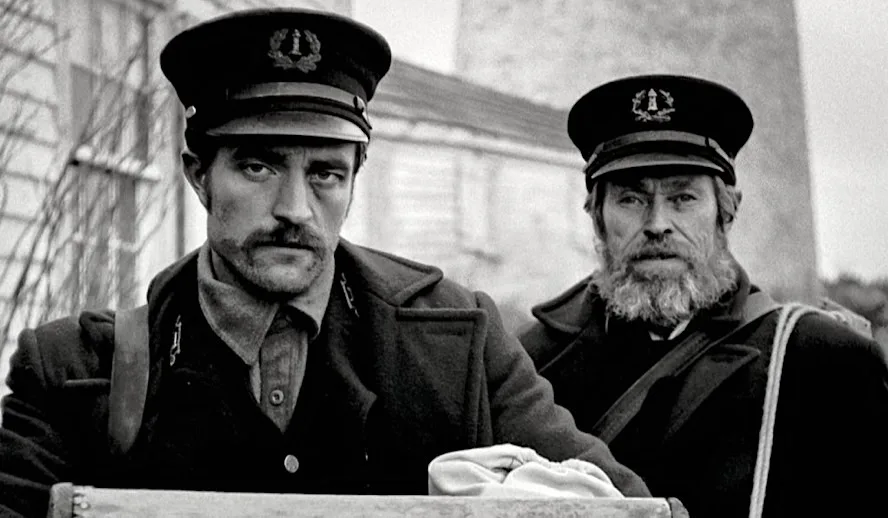 Photo: The Lighthouse/A24 Films/Focus Features
Young up and coming director Robert Eggers had set himself up quite nicely with his 2015 debut film, The Witch. This period piece set in the 17th century surprised critics and horror fans alike with its ability to whisk audiences back in time while delivering tension-filled scares dripping with imagery. It came as no surprise, then, when his second film, The Lighthouse, was also a success. What may have surprised some, however, was the compilation of strange, atmospheric details, mythical themes, and abnormal cinematography that Eggers used to bring this New England sea tale to life.
Centered around lighthouse keepers Ephraim Winslow (Robert Pattinson) and Thomas Wake (Willem Dafoe) during the 1890s, Eggers pits the sanity of both men against each other during what is supposed to be a four-week stay on a desolate island guarding and caring for the titular lighthouse. Thanks to a stellar script and story from Eggers and his brother, Max Eggers, the film rides on the dialogue between the two men, whose emotions range from humorous brotherly love to sworn enemies willing to devour the other for survival. That said, the script isn't the only A-plus facet of the film. The decision to use camera lenses from the 1920s and 30s paired with a 1.19:1 aspect ratio gives a claustrophobic sense while pushing the audience close to the viewpoints of the two men, specifically Winslow (Pattinson). The imagery used in the film is especially provocative thanks to the black and white coloring (Eggers knew that the film would not work unless shot in black and white). It is no surprise that this film has been nominated for an Oscar in the cinematography category.  
Greek‌ Mythology, Edgar Allan Poe, and 19th Century New England Horror
The strength of Eggers' filmmaking style is seen in his willingness to transcend narrow stylistic confines, allowing us to forget what box this film fits into, and instead watch the art being displayed before your eyes. The Lighthouse does that by serving as a metaphorical adaption of two famed Greek gods: Proteus and Prometheus. These Greek stories play out in a unique New England setting that is refreshing while holding their themes within its stormy details.
Greek mythology isn't the only aspect that helps The Lighthouse transcend genres. Eggers' brother, Max, originally came up with a very simple idea: finish what Edgar Allan Poe started. Poe began a final story titled The Light-House before his mysterious and untimely death prevented him from finishing. It was Max who took it upon himself to finish the story, asking his brother Robert for help. The two worked together to combine Lovecraftian influences, historical events, and of course, Greek mythology, and out came The Lighthouse. Great artists borrow from and use the work of others to create something new and original. Eggers knew how to do this to near perfection, as is demonstrated in the film.
​​
A Tale of Two Careers: Topsy Turvy and Critical Darling
Robert Pattinson has had a remarkable career up until this point. Despite almost derailing his career as Edward in the now laughable Twilight Saga, Pattinson has gone above and beyond to remove himself from the franchise. Being patient, Pattinson built a strong rapport with the indie genre community with a handful of projects. Pattinson is a talented actor who can disappear into his roles with an uncanny ability to do any accent asked of him. His performance in The Lighthouse highlights all of his strengths as an actor. He can turn from quiet and likable to vicious and insane on a dime. That in and of itself is a common thing asked of actors, but it normally comes off as over the top and weird. Pattinson is believable in this film when he changes, creating a comedic, unhinged, and nerve-wracking portrayal of Winslow that may just be his best work, right next to Good Time.
While Robert Pattinson struggled and worked to win back public image, Willem Dafoe has been a critical darling since he received wide recognition for his portrayal as the heroic Sergeant Elias Gordon in the Vietnam film Platoon. It has been nothing but versatile, unique, and memorable roles for Dafoe, from historical figures, heroes, twisted villains, and indie dramatic roles. Dafoe continued his versatile resume with The Lighthouse. His contrasting performance next to Pattinson helps elevate an already great film. Winslow (Pattinson) is a dynamic, ever-changing character, while Wake (Dafoe) is a boisterous, monologue-giving, godlike presence on the small island as he shows his Shakespearean acting chops to boot. 
I am not a huge horror fan but a film that teamed two of my favorite actors of the 21st century with an ambitious director made for quality filmmaking at its finest. The Lighthouse is an original story that incorporates Greek mythology and rides two powerhouse performances that will capture your mind in this period piece that is must-watch cinema. In a world full of epic biopics and superhero films, Robert Eggers' The Lighthouse shines brightly, just as the titular structure does. 
With their win at the Cannes Film Festival – FIPRESCI Prize at Directors' Fortnight/Critics' Week, I am not surprised by their Oscar and BAFTA nominations. Best of luck at the Academy Awards and BAFTA to The Lighthouse and cinematographer Jarin Blaschke.
By Merrick Sinclair
More Interesting Stories From Hollywood Insider
– Stop Pitting Duchesses Kate Middleton & Meghan Markle Against Each Other, Both Can Be Great Without The Other Being Torn Down
– Why Queen Elizabeth II Is One Of The Greatest Monarchs | Her Majesty Queen Elizabeth II of United Queendom of Great Britain & Northern Ireland
– Video: '1917' – Golden Globes Winner – Full Commentary And Reactions From The Stars & Crew Including Sam Mendes, George MacKay, Dean-Charles Chapman & Team
– Video: Full Commentary & Reactions From Stars On 'Bombshell' With Charlize Theron, Nicole Kidman, Margot Robbie, Jay Roach & Team
– A Tribute To The Academy Awards: All Best Actor/Actress Speeches From The Beginning Of Oscars 1929-2019 | From Rami Malek, Leonardo DiCaprio To Marlon Brando & Beyond | From Olivia Colman, Meryl Streep To Bette Davis & Beyond