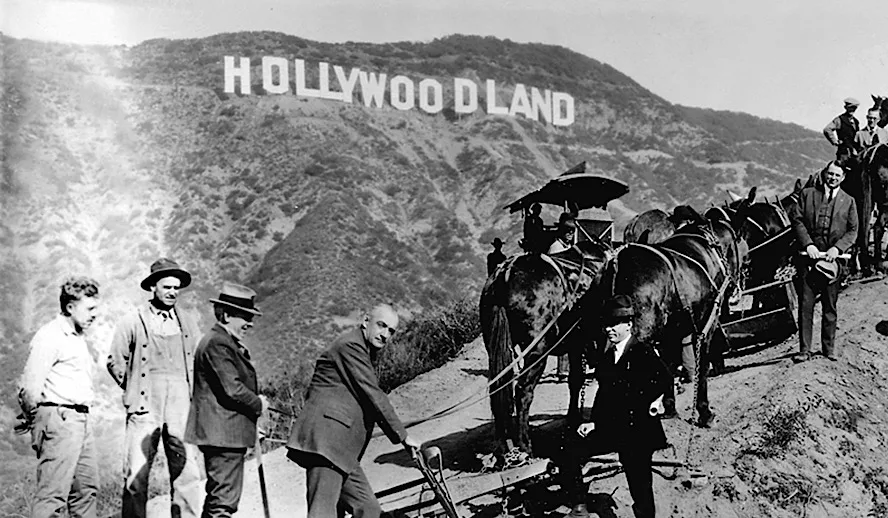 Photo: A 1929 publicity photo – Hollywoodland groundbreaking photo (Bruce Torrence Collection / Hollywood Sign Trust)
Budgeting for a film is one of the most arduous tasks involved with bringing a story to the screen. Movie profitability is a complex topic, having to budget for contractual needs, union-established rates, and every other aspect of production. While studios want to increase their budgets to make a more valuable product, this isn't always the case. The general consensus feels you need to spend money to make money, with evaluations of the target audience, industry performance as a whole, and current societal climate considered during production and release. Every dollar spent must be raised and repaid in order for the project to break even, at best. With such large amounts of money at stake, bringing a movie to life is a substantial investment. All elements considered; studios often attempt to seek reprieve to offset their spending. Introducing: The United States Filming Tax Incentive. The concept is simple- the production receives a benefit for filming in a given state. This program has drawn many productions to various areas of the country, but is the exodus worth it?
The Physical Location of Hollywood is So Last Year
As of August 2019, roughly 30 of the 50 states offer a filming incentive. The positive outcomes of production budget offsets regarding filming location and employment opportunities have proven the incentives effective. Each state offering the incentives set the perimeters for their individual programs, working the offerings into their fiscal year budgets. For example, the state of Georgia has one of the most rewarding filming incentive programs in the industry. The 20% transferrable tax credit expenditure is offered for theatrical and television productions with a budget of $500,000 and up. If the production agrees to promote the state of Georgia as a location in the end credits of the film, an additional 10% expenditure tax credit can be applied. According to Georgia's Film Office, most productions filmed in Georgia qualify for the 30% credit. Post-production expenditures may also qualify, but only if the footage was filmed in Georgia.  In 2019, Georgia brought in roughly 2.9 billion dollars from the film and television industry. At any given time, there are roughly 40 productions shooting across the state. Will this make Georgia the new home of Hollywood? As of February 9, 2020, there are currently 34 productions filming in Georgia. In 2018, only ten of the top 100 movies at the box office were filmed in California. Georgia was responsible for 15. Can we officially call Georgia "Hollywood of the South" now?
Related Article: Watch: Reaction From Stars On The Making Of Once Upon A Time In… Hollywood | Leonardo DiCaprio, Brad Pitt, Margot Robbie & Quentin Tarantino
Video: Hollywood Insider YouTube Channel​
​Is the Producer Named Rockefeller?
A sizeable chunk of a film's budget is consumed by the production costs. Likewise, cast, writers, producers, the director, and post-production expenses also increase the budget, thus increasing the amount needed to break even. A production isn't necessarily considered a financial success when it crosses the profitability mark. Studios are seeking to exceed their bottom line by a long shot. Evaluating the success of a film is a difficult task, considering all expenses and marketing efforts for a new release. Despite the earnings from a theatrical run, studios have several other methods for recouping a risky, large investment placed in a production. This element is two-fold. Typically, if a film flops during opening weekend, efforts to market the film past home distribution means, such as toys and other retail goods. Additionally, crossing over from theatrical release to digital and home distribution welcomes the inevitable profit decrease. Often, a film's cast has back-end contractual agreements with production studios, which entitles them to a portion of the at-home viewing earnings. The retailer who sells the product also makes a portion of the sale, and the rest is transferred to the studio. After this, the studio has to consider expenses associated with distribution. With so many hands in the proverbial pot, it's understandable why a production studio would seek any form of alleviation available to offset their expenses. After all, the studio is running a business, and not every business decision can coast on the coattails of a failed release disguised as a "passion project." With the most profitable film of 2019 earning over 2 billion dollars worldwide during its theatrical release (Avengers: Endgame, are your ears ringing?), how much money is enough? If you're John D. Rockefeller, the answer is, "just a little bit more."
Related Article: A Tribute To The Academy Awards: All Best Actor/Actress Speeches From The Beginning Of Oscars 1929-2019 | From Rami Malek, Leonardo DiCaprio To Marlon Brando & Beyond | From Olivia Colman, Meryl Streep To Bette Davis & Beyond
Even through the convoluted, flaming hoops of Hollywood accounting, it's clear that the tax incentives offered by various states are beneficial for the film industry. They are crucial to keep the entertainment industry thriving, and benefit the local economy by creating jobs, boosting local business patronage, and driving tourism to the respective states. Aside from Georgia, Massachusetts and Louisiana are each listed as "five-star" states for filming incentives on the list curated by Film Production Capital. Five stars signifies the best states for filming from a financial perspective, with the previous three states as the only states to have earned such coveted ratings. Nine states have earned the "Four-star" rating, including New York, Connecticut, and other states in New England. No matter which state a studio chooses as production host, it is clear the entertainment industry is healthy and thriving. Let's hope each state continues to maintain filming tax incentives in their fiscal budgets, giving cinephiles everywhere hope for the film industry for years to come.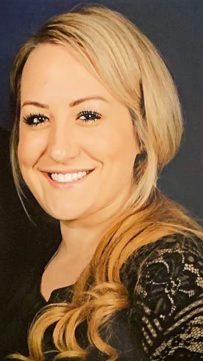 Raquel Kokkoros is currently a writer for Hollywood Insider. Enchanted by the illustriousness of cinema, Raquel is proud to contribute to a team that prioritizes quality journalism and respect for the entertainment business being utilized as a tool to better the world. Raquel believes in emphasizing elements of film and television that deserve an unbiased platform. Proud to provide an optimistic stage for the diverse offerings of Hollywood, Raquel enjoys writing from a fair, understanding, and truthful perspective –  a philosophy that embodies the ethos of Hollywood Insider.