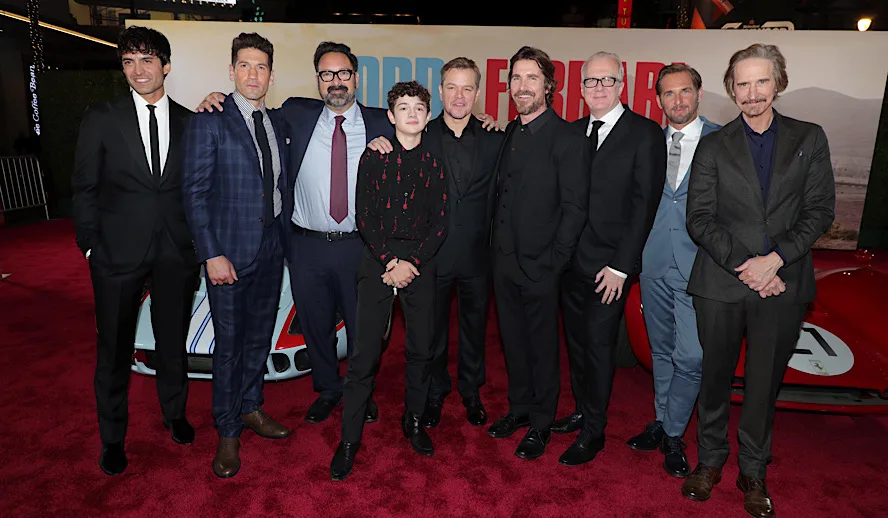 Photo: Francesco Bauco, Jon Bernthal, James Mangold, Director/Producer, Noah Jupe, Matt Damon, Christian Bale, Tracy Letts, Josh Lucas, Ray McKinnon, Eric Charbonneau/20th Century Fox. 
In the latest edition of Hollywood Insider's 'Reactions From Stars'– we focus on 'Ford v Ferrari'. Watch Christian Bale, Matt Damon, James Mangold, Jon Bernthal, Josh Lucas, Noah Jupe and team give their views on the making of 'Ford v Ferrari' during the premiere and more. For more comments, watch the full episode. Perhaps this film and/or star/s will also be nominated for an Oscar? 
List of Accolades for Ford v Ferrari: 
Click here: Behind the scenes of Ford v Ferrari
For more reaction videos and behind the scenes from famous celebrities who have brought us amazing movies, visit Hollywood Insider's YouTube Channel by clicking here. Have you subscribed to Hollywood Insider's Youtube Channel yet?
Part 1 – Reactions At Premiere From Stars on Ford V Ferrari 
Part 2 – Reactions From Stars on Ford V Ferrari 
Part 3 – Reactions From Stars on Ford V Ferrari