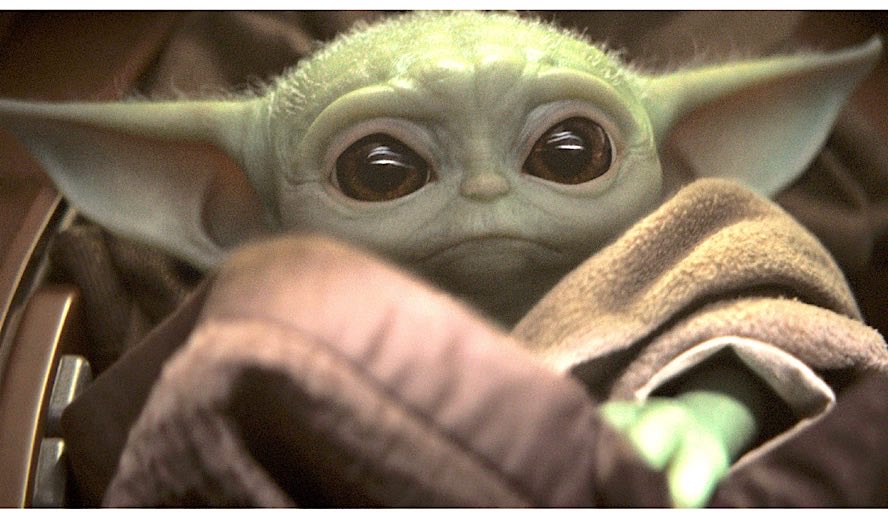 Photo: 'Stars Wars: The Mandalorian'/Disney+
A sweet baby. A tiny kitten. A teacup Yorkie wearing a cowl neck sweater- things that would make even a sociopath let out an audible sigh of endearment. Now, we can add "Baby Yoda" to the list. He's not even the baby version of our beloved Yoda, but that didn't stop the internet from bestowing the moniker upon him. Fans of the Disney + original series The Mandalorian have been introduced to a new generation of Yoda's species. Referred to as "The Child", we learn that this pint-sized creature is actually 50 years old. This television series takes place after the fall of the Empire, but before the emergence of the First Order. That means this character is presumably not the same creature as Master Yoda, who became a ghost during Return of the Jedi. However, the Child could potentially be related to Yoda, because he can use the force. The adorable saucer eyed creature with a peach fuzz covered head and colossal ears has captured our hearts. Regardless of his origin, his angelic face and tiny stance has triggered a cult obsession, whether or not you are a fan of the Star Wars franchise. Baby Yoda's cuteness transcends the fan base and plants his tiny self in the hearts of anyone who gets a glimpse of him. What is so endearing about him? Why are humans predisposed to weaken at the sight of something cute? 
Is it Science or "The Force"?
Humans are psychologically wired to care for the young. We feel compelled to help a needy cute baby. The desire to care for them is an evolutionary feature; we want humans to propagate, so we help the young survive. This feeling is related to viewing something beautiful, an adjective given to the things which please our eye. Something we find cute triggers a change in dopamine levels and thus soothe us. Our psyche is bias based on evolutionary behaviors passed down from our ancestors. As a result, we feel a physical change when we see something cute. Baby Yoda is compact, and our brain loves miniature things because they condense lots of intricate visuals within a very limited space. That richness of features makes them highly appealing to our senses. Since humans are nurturers by nature, small things make us act with care. Baby Yoda checks off all of the boxes for us, and I'm ready to accept him as a child of my own. At the thought of swaddling Baby Yoda and rocking him to sleep, I'm sadly reminded that he is older than me. Life isn't fair sometimes.
Reactions From Stars on The Mandalorian
Behind The Scenes – The Mandalorian
Video: Reactions From Stars and Behind the scenes of 'The Mandalorian'/Hollywood Insider YouTube Channel
Baby Yoda must have used Jedi mind tricks to permeate the internet meme game. It is impossible to log on to social media these days without seeing an image of Baby Yoda accompanied by a witty meme. It's hard to believe that two months ago, we didn't know Baby Yoda existed. We were blissfully unaware of the tiny Baby Yoda-sized hole in our hearts until he traveled through the vast desert of Tatooine to implant himself in our psyche. In The Mandalorian, we learn early on that the bounty hunter has been tasked with seizing and retrieving a 50-year-old suspect. To his surprise, the suspect is none other than my sweet little child Baby Yoda himself. Baby Yoda is the new Gerber baby. He travels around in a egg-shaped pod, puts things (frogs) in his mouth, and utters adorable sounds. He's the cerebral equivalent of a one year old human. A gut punch of cute, he is.
Adorable, Sweet, And A Marketing Dream
Prior to the release of The Mandalorian, Baby Yoda's image was not used to promote the show. Consider him a pleasant surprise, as the world wasn't privy to the existence of this endearing little creature until the show premiered. Released in November 2019, Disney + launched with the first episode of The Mandalorian debuting on the service the same day. Since he wasn't used in the early marketing for the series and was kept completely under wraps, viewers don't yet have the pleasure of shopping for official Baby Yoda merchandise. No Baby Yoda toys tucked under Christmas trees this year. No Baby Yoda slippers hugging children's icy toes on cold winter mornings. Was this a carefully plotted ploy to encourage hype around Baby Yoda products? Or, was this a foul, ill-timed mistake at the hands of Disney executives? The previous is likely, as it would have been extremely difficult to mass produce merchandise within the weeks of the show's debut in time for the holiday shopping season. In mid-December 2019, Disney announced the pre-order release of officially licensed Baby Yoda merchandise. As a result of the lack of pre-holiday distribution, it has been reported that Disney allegedly has left $2.7 million dollars on the table thanks to the Internet's collective obsession with Baby Yoda. Had Disney pushed for the release of Baby Yoda products in time for the holidays, it could have spoiled the plot for the new series. Thanks to the viral success of Baby Yoda, the public is eagerly awaiting the release of officially licensed Baby Yoda merchandise. Many items, such as stuffed toys and Funko Pops of the button-nosed munchkin have already sold out in the pre-order phase of release; a trend which will likely perpetuate until distributors can keep up with demand. Placing an order for merchandise now will guarantee a Baby Yoda product at your doorstep when they are shipped starting in March 2020.  Season 1 of The Mandalorian ends on December 27, 2019 and has already been renewed for a second season. Season 2 will debut in Fall 2020, as confirmed by showrunner Jon Favreau. Fingers crossed we will see even more Baby Yoda in season two, and learn more about the history of this huggable green being. The Mandalorian is available for streaming on Disney +.
Viewers may be confused on his origin, where he came from, what he did, but as long as he loves us, we don't mind. Now, please excuse me while I fall down a rabbit hole of Baby Yoda memes to a soundtrack of 90's Backstreet Boys hits. 
By Raquel Kokkoros
More Interesting Stories From Hollywood Insider
– Stop Pitting Duchesses Kate Middleton & Meghan Markle Against Each Other, Both Can Be Great Without The Other Being Torn Down
– Why Queen Elizabeth II Is One Of The Greatest Monarchs | Her Majesty Queen Elizabeth II of United Queendom of Great Britain & Northern Ireland
– Video: Full Commentary & Reactions From Stars on 'Star Wars: The Rise Of Skywalker' With J. J. Abrams, Adam Driver, Daisy Ridley, John Boyega, Oscar Isaac, Keri Russell, Mark Hamill & Team
– Video: Come Behind The Scenes During The Making of 'Star Wars: The Rise of Skywalker' With J. J. Abrams, Adam Driver, Daisy Ridley, Oscar Isaac, John Boyega & Team
– Video: Full Commentary & Reactions From Stars On 'Bombshell' With Charlize Theron, Nicole Kidman, Margot Robbie, Jay Roach & Team
– A Tribute To The Academy Awards: All Best Actor/Actress Speeches From The Beginning Of Oscars 1929-2019 | From Rami Malek, Leonardo DiCaprio To Marlon Brando & Beyond | From Olivia Colman, Meryl Streep To Bette Davis & Beyond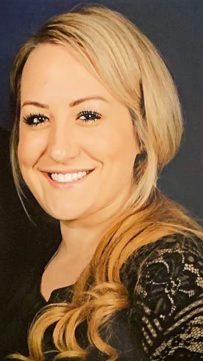 Raquel Kokkoros is currently a writer for Hollywood Insider. Enchanted by the illustriousness of cinema, Raquel is proud to contribute to a team that prioritizes quality journalism and respect for the entertainment business being utilized as a tool to better the world. Raquel believes in emphasizing elements of film and television that deserve an unbiased platform. Proud to provide an optimistic stage for the diverse offerings of Hollywood, Raquel enjoys writing from a fair, understanding, and truthful perspective –  a philosophy that embodies the ethos of Hollywood Insider.