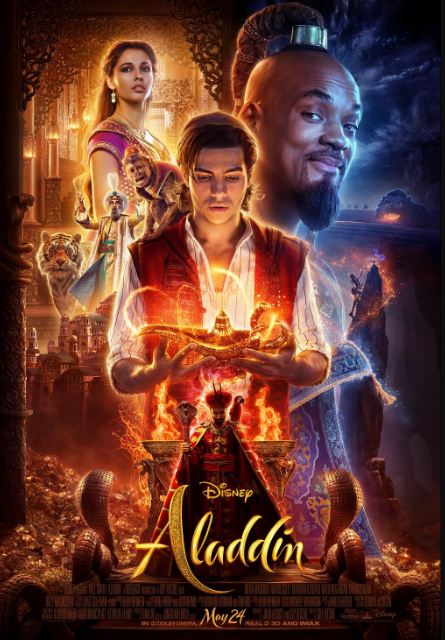 Photo: "Aladdin"/Walt Disney Pictures
For Hollywood Insider's series known as "Trailers With A Scoop Of Trivia", we bring to you Disney's live-action film Aladdin which releases on May 24, 2019. 
Anyone with an inkling of a magical childhood is going to be protective of Aladdin. Guy Ritchie directs and Will Smith takes on the mammoth task of playing Genie – not because of the character but due to the megastar and loved-by-all actor Robin Williams having become Genie, not played, but he was Genie, in the original animation.
Walt Disney Pictures' team is made up of Smith along with actors Naomi Scott (Jasmine) and Mena Massoud (Aladdin).
Aladdin Trivia: 
1. The filmmakers took an extensive casting call to find actors of the right ethnicity for the film, having an Arabian setting. In the end, the cast comprised of actors of Arab/Middle Eastern/Central Asian/South Asian descent:
2. Will Smith was offered to play Holt Farrier in Dumbo but decided to star in this film instead. This makes him the third actor to choose a live-action remake of a Disney Renaissance film over a live-action adaptation of a Walt Disney animated movie. Emma Watson was offered the titular role in Cinderella but chose to play Belle in Beauty and the Beast instead. Also, Danny DeVito was offered to play Maurice in Beauty and the Beast but chose to play Max Medici in Dumbo instead.
3. To be released several months before the original's 27th anniversary.
4. Mena Massoud was born a year before Aladdin and Naomi Scott was born a year after it.
5. Actress Naomi Scott's brother had been the biggest fan of Will Smith, with a life-size cutout of the star in his bedroom since he was a kid. 
By Hollywood Insider Staff Writer
More Interesting Stories From Hollywood Insider
– When Brad Pitt, Leonardo DiCaprio and the rest of the cast of Once Upon A Time In… Hollywood brought glamour back to Cannes
– 10 facts you may not know about Ben Hardy, the Bohemian Rhapsody Star.
– Pritan Ambroase on his idols Martin Scorsese, James Cameron and positive actions needed to avert the global warming crisis
– How Hollywood continues to take a stance on climate change and speaks up to halt the crisis facing our ONE home known as earth
– Priyanka Chopra slams media for giving online trolls/bullies a larger platform to spew their harmful negativity