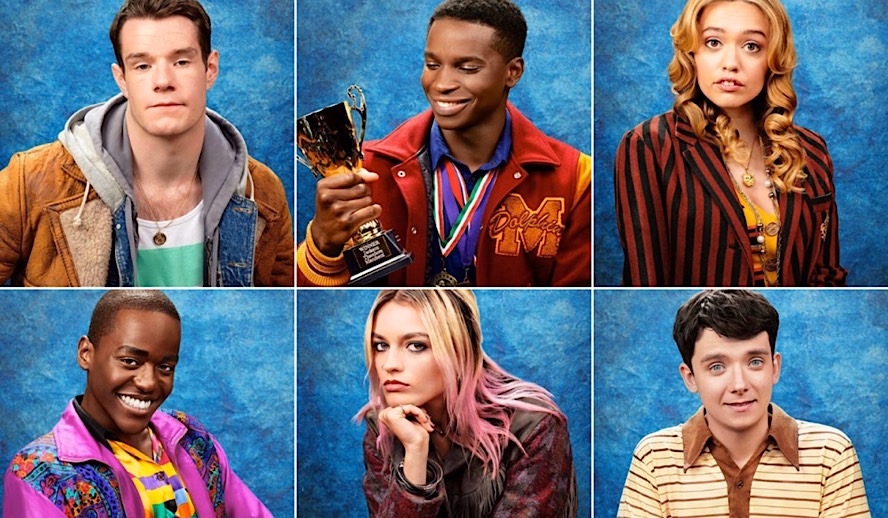 Photo: Sex Education/Netflix
Netflix can't stop. And they don't want to stop. With every coming week, it seems something new is released for immediate consumption. This couldn't be more true with their latest release: Sex Education Season 2. It is here, and it picks up right from where we left off last year with a sense of seamless continuity. Season 2 feels like a direct extension of its predecessor, which isn't always the case with later seasons of a tv series, whether it be lazy writing or sudden time jumps. But Sex Education smartly grows the premises, issues, and developments present in last year's debut season while also adding a handful of additional arcs and characters to its already large cast (18 main cast members to be exact). 
Give creator Laurie Nunn credit for delivering a unique and original premise that is exceptionally relatable for almost everyone and everywhere. It almost surprises me that in the decade that was the 2010s, we didn't get this type of show until '19 when Netflix was willing to take on the series and mesh it with the creative flair they have become synonymous for. 
10 Times The Characters, Drama, and Spunk? No Problem.
Sex Education manages to stay focused despite the abundance of new material the writers brought to the table (what successful show doesn't, keyword being successful) which is a testament to the direction. That said, this Netflix Original's strengths lie in its characters. Asa Butterfield fits right in as the awkward teen Otis who has a sex therapist for a mother while his co-star Emma Mackey shines as the layered Maeve, who has proven she's more than just a Margot Robbie look-a-like. Ncuti Gatwa is stellar as always, with a poppy, superstar performance as Eric Effiong. Other performances from Gillian Anderson (Dr. Jean Milburn), Connor Swindells (Adam Groff), Kedar Williams-Stirling (Jackson Marchetti), and Aimee Lou Wood (Aimee Gibbs) stood out among the crowed cast (18 main cast members alone), as each received time dedicated to their characters as they journeyed through certain events, both present and past, that have satisfying conclusions for all four. The plethora of characters never feels exhausting within the eight-episode season run and acts as easy binge-watching for all. 
The Teenage Life Updated
Life isn't so simple in 2020. Though has it ever been? Regardless of your opinions, the issues tackled in great detail by Sex Education are relevant and current: identity, suicide, and class are all topics brought to question alongside the main topic, sex. These issues are within each character and perfectly demonstrate what life in 2020 is like for most teens around the globe to great emotional and comedic effect. The various struggles that pull and throw the cast around may actually be the reason so many characters are needed. Each character represents, at different levels, the topics and challenges that face the world today. Even the parents, teachers, and others aren't free in this show from the emotional weight that lies on our shoulders today. Also notice that most of the advice given to the teens in need is from another teen due to the school's failure to teach the teens these issues head-on. Is this a comment on the school system today? I'll let you decide.
That Good Ol' Netflix Flair
Have you noticed that nine out of every ten Netflix shows have that same coloring, production design, and overall consistency? Yeah me too. And I like it; it's a very welcoming and safe look. I think Netflix knows that. Sex Education was and is no different. And after the September release of The Politician (a show about teens struggling with current issues) the similarities on the surface seem endless. That said, the color, production, and high school setting are where the similarities end as Sex Education has a lot more to offer teens watching than the former did. The camera and technical aspects used in Netflix Originals are much more stunning compared to most any other television network. The first show to strike me as film-like was Stranger Things and ever since then, Netflix has continued to provide great film equivalent series year after year. Sex Education's soundtrack, lighting, and color are fun and can easily attract young viewers. But once you get past the humor, pop, and excitement that is high school, Sex Education hits you with the aforementioned drama and emotion that brings it up a notch when compared to the many other teen shows. 
While Netflix only gets one or two major smash successes for every ten average releases due to the lack of meaty material, Sex Education stood above the technical and fun with authentic characters that you can relate to. The arcs and decisions keep you wanting to know how everything turns out and, for the most part, are satisfying. Of course, that doesn't mean a third season can't continue, undercut, or shake up those arcs, but whatever the future be, the show seems to be in good hands.
By Merrick Sinclair
More Interesting Stories From Hollywood Insider
– Stop Pitting Duchesses Kate Middleton & Meghan Markle Against Each Other, Both Can Be Great Without The Other Being Torn Down
– Why Queen Elizabeth II Is One Of The Greatest Monarchs | Her Majesty Queen Elizabeth II of United Queendom of Great Britain & Northern Ireland
– Video: '1917' – Golden Globes Winner – Full Commentary And Reactions From The Stars & Crew Including Sam Mendes, George MacKay, Dean-Charles Chapman & Team
– Video: Full Commentary & Reactions From Stars On 'Bombshell' With Charlize Theron, Nicole Kidman, Margot Robbie, Jay Roach & Team
– A Tribute To The Academy Awards: All Best Actor/Actress Speeches From The Beginning Of Oscars 1929-2019 | From Rami Malek, Leonardo DiCaprio To Marlon Brando & Beyond | From Olivia Colman, Meryl Streep To Bette Davis & Beyond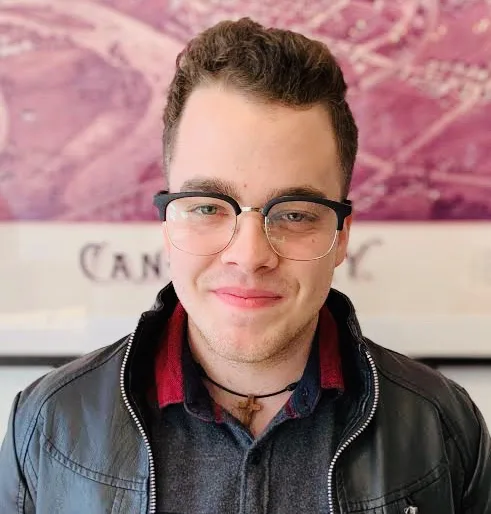 Merrick Sinclair is a film journalist with a passion for cinema, Hollywood and filmmaking since a young age. Merrick focuses on reviews and features here at Hollywood Insider, and takes careful thought as to the impact cinema has on culture and what that means for us. Whether they be old or new, blockbuster or independent, Merrick understands the role movies have on society and how each individual has their own unique experience with movies. Merrick hopes to unpack his observations with clarity for readers while allowing them to walk away with their own opinions on any given topic.