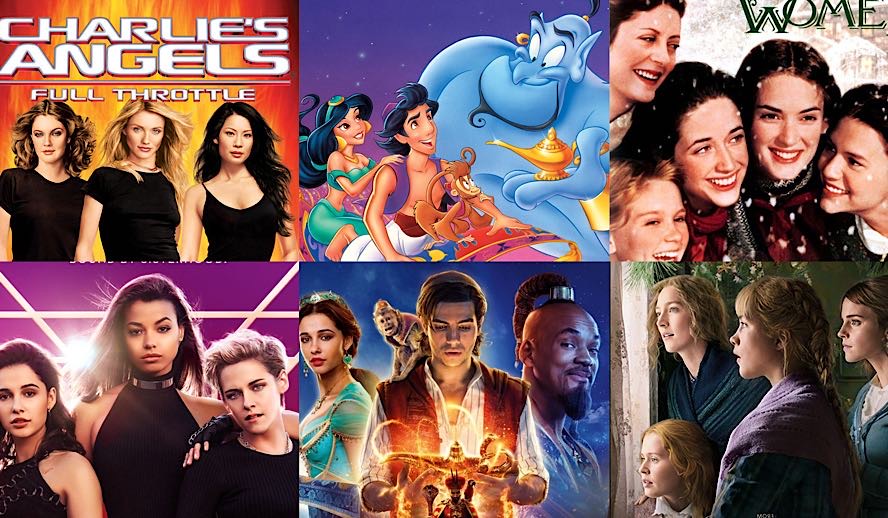 Photo: 'Charlie's Angels', 'Aladdin', 'Little Women'
Revenge is a dish best served cold. Kindness is a dish best served warm. Nostalgia is a dish best served deep-fried to the point of losing its original flavor.
Or, is the original flavor rejuvenated with new flavors, elating those who consume it? It depends who is consuming, this according to a study conducted by Casumo, titled "Remake My Day". While breathing new life into an old story is not a new concept, we are knee-deep in the era of remakes. As of late, Disney's live action takes on classics have been released by the dozen. The Jungle Book, Cinderella, Beauty and the Beast, Dumbo, Aladdin, The Lion King. Reading this list would seem that one was naming films from the Disney Vault. Alas, this is not necessarily the case. Each of these films has received the live action treatment within the past few years. Viewers have experienced Mowgli in human form, Cinderella leave her shoe at the ball, and Dumbo become a doe-eyed CGI concoction with baby blues as clear as Bahamian waters. Is the world suffering from remake fatigue? For those who are, be warned. Disney and many other studios are dishing out remakes faster than their theme park's signature Dole Whip with no end in sight. The popularity of each release dictates the future of the remake, and box office numbers have generally supported the latest reimaginations. Strap in tighter than the harness on Space Mountain, we are going for a ride through new territory with very familiar landmarks, twists, and turns lighting the way.
Remakes Aren't Exclusive to The House of Mouse
While Disney remakes have been popping faster than microwave popcorn, they aren't the only studio to be riding the nostalgia wave. While the exuberant Mary Poppins returned in 2018 to glowing reviews and numerous Oscar nominations, Universal Pictures debut Halloween slashed its way to the top of October 2018's box office. The notorious psycho harvested the second biggest opening weekend in October history. Following the large boot prints left by Michael Myers, 2019 saw the remake of 1989's Child's Play and Pet Sematary. Film rating aggregator website "Rotten Tomatoes" gave Pet Sematary a 57% score on the Tomatometer, and Child's Play received a 63%. While both premiered to lukewarm reviews, it is likely the nostalgia factor played a role in driving audiences to theaters. The success of both the remakes of It (2017) and Halloween (2018) spawned a resurgence of horror classics, with It: Chapter Two rounding out its theatrical run earning upwards of 470 million at the global box office. Halloween's release pulled in over 255 million globally, igniting a series of sequels scheduled for release in October 2020, Halloween Kills, and October 2021, Halloween Ends.  
Full Commentary & Reactions From Stars on LITTLE WOMEN
Full Commentary & Reactions From Stars on CHARLIE'S ANGELS
Video: Reactions From Stars on 'Little Women' & 'Charlie's Angels'/Hollywood Insider YouTube Channel
​With the success of many remakes under studio's belts, there have been some debut to mediocre reviews and low ticket sales. Charlie's Angels, the reboot written and directed by Elizabeth Banks, came to life supported by a 48 million+ budget. Unfortunately, the film's reception fell short with its global box office earnings falling short of 55 million. This demonstrates a huge gap in revenue when compared to the previous Charlie's Angels remake in 2000, starring Drew Barrymore, Cameron Diaz, and Lucy Liu. The film had an estimated budget of 93 million, but earned a global total of 265 million. The disparity between the two can be indicative of two things; a lack of interest in the retelling, or a lack of star power or promotion. Both films were released in November 2000 and 2019, subsequently. Is this steep downfall a sign of what's to come? Or, is it a mere indication of an outlier that missed its mark?
What Lies Ahead 
Fortunately, the film industry has analytical data to quantify success. Box office sales, ratings, and public feedback all play a role in determining hits and misses on the silver screen. A definitive indicator of a future box office success lies in examining the past. Examining factors that contribute to a film's cultural impact can also provide studios with a hint about viewer's interests. A compelling example of this is the cultural popularity of nostalgic Nickelodeon cartoons, such as Rugrats, Hey Arnold!, and Dora the Explorer, the latter of which received its live action wings this past summer. In 2018, it was announced that Paramount and Nickelodeon Studios were developing a live action Rugrats film. Tommy Pickles and crew were originally slated to premiere domestically on January 21, 2021 until Paramount announced without explanation that it would be shelving the film for the time being. While a plethora of 90's kids let out a collective sigh, there is still a possibility for the film to come to fruition. It was a part of a re-launch of the Rugrats brand, and was scheduled to coincide with the release of a new Rugrats television series. Only time will unveil the fate of this particular live action endeavor, but if we can be sure of anything, it's a guarantee that the live action genre is far from over. Naysayers fall silent as filmgoers of the world rejoice in the reimagination of old classics, reveling in the nostalgia and excitement that remakes bring. Viewing live action remakes as an independent sector of filmmaking is the key to appreciating the creativity and unique prowess that invigorates these classics for a new generation. 
By Raquel Kokkoros
More Interesting Stories From Hollywood Insider
– Video: 'Rendezvous At The Premiere' of Charlie's Angels With Reactions From Stars – Kristen Stewart, Naomi Scott, Ella Ballinska & Director Elizabeth Banks
– Video: Rendezvous At The Premiere Of 'Little Women' With Reactions From Timothée Chalamet, Emma Watson, Louis Garrel, Saoirse Ronan, Greta Gerwig, Laura Dern, Etc.
– The No. 1 Show in USA – 'Elite' is Faster, Edgier & Sexier In Season 2 – And Omar & Ander Also Known As #Omander Are Here To Steal The Title Of Most Famous/Sexiest Couple From Priyanka Chopra Jonas & Nick Jonas
– Why Queen Elizabeth II Is One Of The Greatest Monarchs | Her Majesty Queen Elizabeth II Of United Queendom Of Great Britain & Northern Ireland
– A Tribute To The Academy Awards: All Best Actor/Actress Speeches From The Beginning Of Oscars 1929-2019 | From Rami Malek, Leonardo DiCaprio To Marlon Brando & Beyond | From Olivia Colman, Meryl Streep To Bette Davis & Beyond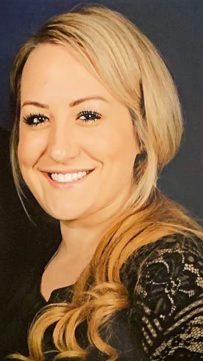 Raquel Kokkoros is currently a writer for Hollywood Insider. Enchanted by the illustriousness of cinema, Raquel is proud to contribute to a team that prioritizes quality journalism and respect for the entertainment business being utilized as a tool to better the world. Raquel believes in emphasizing elements of film and television that deserve an unbiased platform. Proud to provide an optimistic stage for the diverse offerings of Hollywood, Raquel enjoys writing from a fair, understanding, and truthful perspective –  a philosophy that embodies the ethos of Hollywood Insider.